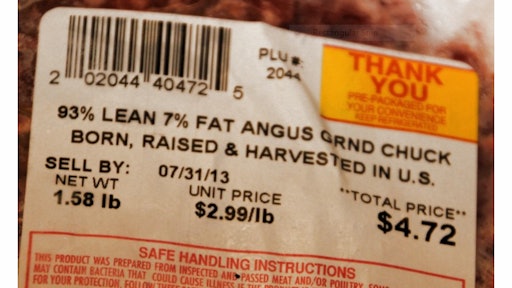 Sysco Scraps Plan To Merge With US Foods
Sysco Corp. has terminated its merger agreement with US Foods ,after the U.S. District Court in Washington, D.C., granted the Federal Trade Commission's request for a preliminary injunction to block the proposed Sysco-US Foods merger. This action also terminates an agreement with Performance Food Group (PFG) to purchase US Foods facilities in 11 markets. Under terms of the merger agreement, the termination of the transaction requires Sysco to pay break-up fees of $300 million to US Foods and $12.5 million to PFG.
"After reviewing our options, including whether to appeal the Court's decision, we have concluded that it's in the best interests of all our stakeholders to move on," said Bill DeLaney, Sysco president and chief executive officer. "We believed the merger was the right strategic decision for us, and we are disappointed that it did not come to fruition. However, we are prepared to move forward with initiatives that will contribute to the success of Sysco and our stakeholders." DeLaney underscored Sysco's confidence in its existing business with a collective focus on the highest levels of customer service and satisfaction, growing the business, reducing costs and generating substantial value for Sysco's shareholders.
Supermarket Giants Delhaize And Royal Ahold To Merge
Dutch-owned Delhaize Group – which owns the Food Lion and Hannaford supermarkets in the U.S. – and Belgium-owned Royal Ahold N.V. – which owns Giant Carlisle, Giant Landover, Stop & Shop New England, and Stop & Shop New York Metro and Peapod – have entered into an agreement to merge. The combined company, which will be named Ahold Delhaize, will have a portfolio of brands with more than 375,000 associates serving more than 50 million customers every week in the U.S. and Europe. The combined company will have enhanced scale across regions, market-leading retail offerings to serve customers' changing needs, and a strong financial profile from which to fund innovation and investments in future growth.
Jan Hommen, chairman of Ahold, and Mats Jansson, chairman of Delhaize, said in a combined statement: "This is a true merger of equals, combining two highly complementary businesses to create a world-leading food retailer. The transaction delivers a compelling value proposition for our shareholders, a superior offering for our customers and attractive opportunities for our associates."
Food Chain Workers Alliance Slams Walmart's Supply Chain Practices
A coalition of organizations called the Food Chain Workers Alliance (FCWA) recently released a report that it claims assesses the "labor conditions of workers in Walmart's food supply chain as well as the company's environmental impact worldwide," according to 24/7 Wall Street, an investor news service.  The report also noted: "So far, Walmart's commitments to improving standards appear to be mostly a public relations stunt and haven't translated to improvements in conditions for most of its food supply chain. Walmart now has an opportunity to wield its power to the benefit of workers, farmers, communities, and the environment." Walmart has adopted a responsible sourcing code of ethics that should help ensure that its suppliers comply with fair labor standards, environmental regulations and targets for purchases from small, family farmers. The FWCA contends, however, that the company's supply chain strategy "leads it to source disproportionately from places with lax local environmental and labor regulations."
FDA Seeks To Remove Artificial Trans Fats In Processed Foods
Based on a review of the scientific evidence, the U.S. Food and Drug Administration recently finalized its determination that partially hydrogenated oils (PHOs), the primary dietary source of artificial trans fat in processed foods, are not "generally recognized as safe" or GRAS for use in human food. Food manufacturers will have three years to remove PHOs from products. "The FDA's action on this major source of artificial trans fat demonstrates the agency's commitment to the heart health of all Americans," said FDA's Acting Commissioner Stephen Ostroff, M.D. "This action is expected to reduce coronary heart disease and prevent thousands of fatal heart attacks every year."
This determination will significantly reduce the use of PHOs, the major source of artificial trans fats, in the food supply. In 2013, the FDA made a tentative determination that PHOs could no longer be considered GRAS and is finalizing that determination after considering public comments.
Congress Votes To Repeal Country Of Origin Labeling For Meat
The U.S. House of Representatives voted to repeal meat labeling laws, which were widely backed by U.S. consumer groups, after Canada and Mexico threatened $3 billion in trade sanctions, according to Reuters. The House voted 300-131 to repeal country-of-origin labeling (COOL) rules on beef, pork and poultry, after the World Trade Organization ruled they discriminated against imported meat.
The Senate must still approve the repeal. If the laws are not reversed, the U.S. faces costly retaliation from its closest trading partners. Canada wants to impose just over C$3 billion ($2.4 billion) in sanctions on U.S. imports while Mexico is looking for $653 million worth of punitive measures.
DOT Grants Agriculture 2-Year Waiver From Hours Of Service Rule
America's hog, cattle and poultry farmers have been granted a 2-year waiver from the U.S. Department of Transportation (DOT) hours-of-service rule for certain drivers, according to reports. The rule, issued in mid-2013 by DOT's Federal Motor Carrier Safety Administration (FMCSA), requires truck drivers to take a 30-minute rest break for every eight hours of service. It would have prohibited drivers hauling livestock and poultry from caring for animals during the rest period.
The National Pork Producers Council, on behalf of other livestock, poultry and food organizations, in 2013 petitioned the FMCSA for a waiver and exemption from complying with the regulation.
Senate Passes Trade Bill
The U.S. Senate voted 60-37 to advance President Obama's bid for "fast track" negotiating authority, brightening hopes for a 12-nation Pacific-rim trade agreement, a keystone of his effort to expand U.S. influence in Asia. That was the minimum number of votes needed on the procedural question. The president also wants to continue a retraining program for workers displaced by international trade. House and Senate support appears adequate, but even if that measure stumbles, the long-coveted fast track bill will be on Obama's desk.
"This is a very important day for our country," Senate Majority Leader Mitch McConnell, R-Ky., said. In the strange-bedfellows politics of trade, he was among the Republican congressional leaders vital in pushing the agenda forward, with only modest help from Democrats.
Kraft Shareholders Approve Merger With Heinz
Kraft Foods Group, Inc. shareholders voted to approve the previously-announced merger agreement providing for the creation of The Kraft Heinz Co. In a preliminary count of the voting results, more than 98 percent of votes cast at the special meeting voted in favor of the transaction, representing more than 69 percent of all outstanding Kraft shares. The transaction will create the third-largest food and beverage company in North America, and the fifth-largest food and beverage company in the world. "This truly is a historic moment for our two companies as we combine to become a global food and beverage leader with an unparalleled portfolio of great brands," said John T. Cahill, Kraft Foods group chairman and CEO and future vice chairman of The Kraft Heinz Co.