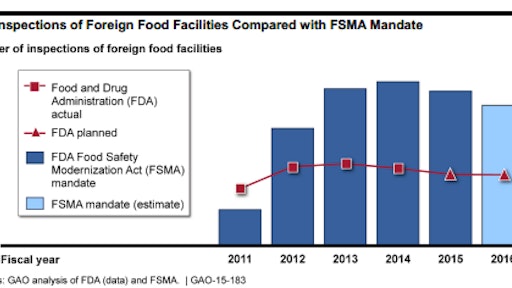 GAO: FDA Not Meeting FSMA Mandate
The Food and Drug Administration (FDA) is not meeting the Food Safety Modernization Act (FSMA) mandate to inspect foreign food facilities, according to a U.S. Government Accountability Office (GAO) report. The report was sent to a Congressional subcommittee Under FSMA, the FDA is to inspect at least 600 foreign food facilities in 2011 and, for each of the next five years, inspect at least twice the number inspected during the previous year. The GAO report presented numbers showing the FDA is not currently keeping pace with the FSMA mandate.
Obama Calls For Single Food Safety Agency                  
The President's fiscal year 2016 budget proposal includes the creation of a single food safety agency, according to the Global Cold Chain Alliance. Recommendations for a single food safety agency have been made numerous times over the 20 years, but none has been successful. Proponents cite the inefficiencies and confusion caused by having the U.S. Department of Agriculture's Food Safety Inspection Service and the FDA both having jurisdiction of enforcing food safety. 
USDA Database To Trace Foodborne Diseases                  
The U.S. Food and Drug Administration, along with federal and state public health laboratories, has built a publicly accessible genomic database to compare bacterial pathogens that cause foodborne diseases and trace them back to the sources faster and more precisely. The GenomeTrakr database leverages a laboratory process called whole-genome sequencing that identifies the complete DNA sequence of an organism's genetic material at a single time.
Feds Sue To Halt Sysco/US Foods Merger                    
The U.S. government filed a lawsuit to block Sysco Corp's proposed takeover of rival food distributor US Foods Inc. The prpoposed merger created concern that allowing the two to combine would reduce competition and give them too much pricing power.
PepsiCo And Coca-Cola Hellenic Bottling Close Russian Plants                    
PepsiCo Inc. and Coca-Cola Hellenic Bottling Co. AG are closing one plant each in Russia, citing a plunge in the value of the Russian ruble and an unfavorable economic situation. The two are the latest food and drink companies to cut production in Russia as the country slides into recession. In January, Danish brewer Carlsberg A/S said it would be closing two plants in Russia, and Danone Russia said it would consider closing some of its dairy plants should the economic situation worsen.