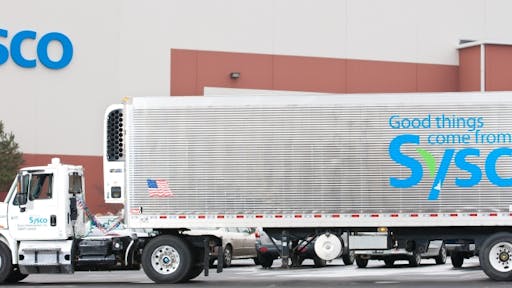 Regs Galore Hound Food Retailers In 2015
A host of regulations on nutrition, food safety and country-of-origin labels that will be released or take effect this year promises to keep U.S. food retailers on their toes in 2015, according to news reports. Just after Thanksgiving last year, the FDA released its long-awaited rule on menu labeling, which included extensive requirements for supermarkets.
"This was absolutely something that we were not expecting this type of scope at all," said Jennifer Hatcher senior vice president of government and public affairs at the Food Marketing Institute. Any retailer with 20 or more locations will need to display calorie counts for many items in the deli and bakery within a year.
Sysco/US Foods Merger Hits A Standstill
Sysco Corp. said negotiations with antitrust regulators over its planned acquisition of US Foods Inc. have reached a standstill, signaling increasing chances the government could sue to block the marriage of the two largest U.S. food distributors, despite Sysco's recently proposed agreement to sell 11 US Foods distribution centers to Performance Food Group Co., according to The Wall Street Journal.
FTC Approves Albertsons And Safeway Merger; Chains To Divest 168 Stores
Supermarket chains Albertsons and Safeway agreed to sell 168 stores in eight states to win U.S. antitrust approval for their $9.2 billion merger, the Federal Trade Commission (FTC) said on Tuesday, according to Reuters.
Albertsons, which has 630 supermarkets under various brand names, and Safeway, which has 1,332 stores, will divest stores in Arizona, California, Montana, Nevada, Oregon, Texas, Washington, and Wyoming, the FTC said.
Safeway will be delisted from the New York Stock Exchange, the companies said. The transaction was announced in March.
Target Corp. Pulls The Plug On Canada Operations
Target Corp. announced that it plans to discontinue operating stores in Canada through its indirect wholly-owned subsidiary, Target Canada Co. As a part of that process, Target Canada filed an application for protection under the Companies' Creditors Arrangement Act with the Ontario Superior Court of Justice.
Target Canada currently has 133 stores across the country and employs approximately 17,600 people.
Policy Expert: U.S.-Cuba Trade Boom Coming
President Obama's modest easing of the Cuban trade embargo will allow the U.S. to rebuild its economic relationship with Cuba, according to Kent Jones, who specializes in trade policy and institutional issues at Babson College in Massachusetts, writing in the Deseret News in Salt Lake City, Utah. Ending this economically destructive policy completely, however, will require a formal vote by Congress to end the trade restrictions, Jones claims.
The modest measures taken so far will only remove transaction costs on the small amount of trade that already exists, Jones writes. Red tape, such as burdensome financial and payment terms, perversely reduced U.S. competitiveness in selling food and humanitarian goods to Cuba, harming mainly U.S. exporters.
What's at stake ultimately is the re-establishment of a thriving trade and investment relationship between the two countries that was interrupted by Castro's revolution and central planning folly, and then aided and abetted by the embargo, according to Jones.
USDA Seeks $4.9B For Food Protection, Including FSMA Implementation
The U.S. Food and Drug Administration is requesting a budget of $4.9 billion to protect and promote the public health as part of the President's fiscal year 2016 budget–a 9 percent increase over the enacted budget for 2015. The overall request includes $147.7 million in budget authority for initiatives tied to several key areas, including the implementation of the FDA Food Safety Modernization Act and the management of critical medical products issues.
Inspectors Warn Against USDA's High-Speed Hog Inspection Program
The Government Accountability Project (GAP) released evidence it has gathered from federal meat inspector whistleblowers who currently work at pork processing plants participating in a high-speed inspection pilot program. These whistleblowers voice concerns regarding the program and warn about the potential public health implications if this plan is instituted on a national level.
GAP is making publicly available affidavits from four U.S. Department of Agriculture (USDA) inspectors that illustrate serious concerns with the agency pilot program that increases the speed of processing lines and reduces the number of trained USDA inspection personnel in the hog plants.
Mondelez International Builds $90 M Biscuit Plant In Bahrain
Mondelez International laid the cornerstone for construction of its new $90 million biscuit plant in Bahrain as the world's leading maker of chocolate, biscuits, gum and candy seeks to tap rising demand in the Middle East and Africa for beloved company brands such as Oreo, Ritz and TUC biscuits.
The company announced the project in October 2014. Full commercial production is scheduled to start early next year.
"Demand for our biscuits in the Middle East and Africa has been growing at double-digit rates and investing in a state-of-the-art facility in Bahrain will enable us to capitalize on this," said Daniel Myers, Mondelez International executive vice president, integrated supply chain. "This new investment is part of our journey to reinvent our supply chain around the world to meet growth demands, while also reducing costs and improving productivity."
Mondelez International's supply-chain reinvention plan is expected to deliver $3 billion in gross productivity savings, $1.5 billion in net savings and $1 billion in incremental cash during 2014 to 2016. These savings will be a primary driver of significant improvements in the company's base operating-income margin in the near term.
Local Food Sales Reach $12 Billion; To Nearly Double In Four Years
Like organic products before them, locally produced foods are stepping out of the shadow of their once "quirky niche" designation to claim a much more prominent—and permanent—place in the U.S. food and beverage retail-scape. Market research publisher Package Facts estimates that local foods generated $12 billion in sales in 2014, accounting for 2 percent of total U.S. retail sales of foods and beverages. Looking ahead, Packaged Facts anticipates that over the next five years, local foods will grow faster than the annual pace of total food and beverage sales to approach $20 billion in 2019.
The findings were published in the recently released report, "Shopping for Local Foods in the U.S."
Global Food Traceability Market To Post Fast Growth To 2019
The global food traceability market will grow 9.88 percent annually according to the newly-released report, Global Food Traceability Report 2015-2019, from Research and Markets. The emergence of an analytics system is one of the major trends upcoming in this market.
Food traceability systems are used to keep a record of the flow of products meant for human consumption and product attributes throughout the production process or logistics network. Since food production and its distribution is a complex process, companies consider food traceability system as the best tool to solve all food-related challenges.
Food traceability helps companies make fresh food products available to their consumers, thereby helping in reducing food-borne diseases. In many countries, such as the U.S. and the U.K., consumers are ready to pay more for products having a food traceability and point-of-origin certificate. Technologies such as infrared, RFID, biometrics, and sensors have made food traceability convenient for companies in the food industry.
UN: Deadly Disease Threatens Banana Production
The United Nations Food and Agriculture Organization (FAO) has warned that without global efforts to respond to a fungal disease affecting banana production, the $36 billion global industry, which provides a source of income or food to some 400 million people around the world, is under threat, according to The Jamaica Observer.
The agency and its partners said $47 million is needed to tackle the new and deadly Tropical Race 4 (TR4) strain of Fusarium wilt disease, part of which would be used to provide swift on-the-ground assistance to countries facing new outbreaks.
"Fusarium wilt disease has been a major challenge in the history of banana production," said FAO's head of plant protection, Clayton Campanhola.
After the devastation TR4 recently caused to bananas in parts of Asia, we have to fear its spread in Africa and the Middle East and also to Latin America (in the Caribbean), and consider it as a threat to production globally," he added..
J. M. Smucker Co. To Acquire Big Heart Pet Brands
The J. M. Smucker Co. has entered into a definitive agreement to acquire Big Heart Pet Brands in a cash and stock transaction valued at approximately $5.8 billion, which includes approximately $2.6 billion of net debt.
Big Heart Pet Brands is the largest stand-alone producer, distributor, and marketer of premium-quality, branded pet food and pet snacks in the U.S. The company estimates Big Heart Pet Brands' net sales will be approximately $2.3 billion and adjusted earnings before interest, taxes, depreciation, and amortization will be approximately $450 million for Big Heart Pet Brands' fiscal year ending May 3, 2015.
FDA Commissioner Margaret Hamburg Resigns
Dr. Margaret Hamburg, who as commissioner of the Food and Drug Administration (FDA) for almost six years has overseen public health initiatives ranging from tobacco control and food safety to personalized medicine and drug approvals, is stepping down.
Hamburg, one of the longest-serving FDA commissioners in the modern era, told Reuters in an interview that her decision was prompted by the heavy demands of the job and the sheer length of time she has held the position.
"This is a very challenging job full of opportunities to make a huge and enduring difference," she said, "but it is 24/7 and there are really really difficult decisions to make."
China Bans U.S. Poultry And Egg Imports Over Avian Flu
The Chinese government announced that it will ban all imports of U.S. poultry and egg products because of recent detections in the U.S. of highly pathogenic avian influenza (HPAI) in backyard poultry and wild birds in the Pacific Northwest, The U.S. Poultry & Egg Import Council reported.
In a joint announcement posted on official websites in China, the Ministry of Agriculture (MOA) and the General Administration for Quality Supervisi
Supervision, Inspection and Quarantine (AQSIQ) imposed nationwide restrictions on imports of processed and unprocessed U.S. poultry and eggs, effective Jan. 8. The ban also applies to breeding stock, which includes live chicks and hatching eggs.
The ban is in response to a December detection of a highly pathogenic strain of H5N8 influenza in wild birds and in a backyard flock of guinea hens and chickens in Oregon, along with separate H5N2 HPAI detections in wild birds in California and Washington State. MOA and AQSIQ imposed the restrictions despite assurances by the USDA's Animal and Plant Health Inspection Service that the influenza virus has not been found in any commercial poultry flock in the U.S.
China is a key export market for U.S. chicken, turkey and duck products. From January through November last year, U.S. exports to China reached more than $272 million.
European Union Food Labels Set To Change
As of Dec. 14, 2014, all food labels in the European Union must be designed in accordance with the new labelling rules in Regulation no. 1169/2011 on the provision of food information to consumers, according to attorneys at Bech-Bruun in Copenhagen, Denmark. Food must not be produced in "old" packages after Dec. 13, 2014. Food in packages with "old" labels may, however, be on the market until the end of its durability date.
The new rules are changed before even taking effect, the lawyers noted.
The Ministry of Food has requested a corrigendum of Regulation 1169/2011, which means that the following rules of law in the Regulation are changed:
• "Quickly frozen" will be changed to "deep frozen."
• "Sequestrants" will be changed to "Stabiliser" such that it now says both Sequestrants and Stabiliser.
• "Mindst holdbar til" will be changed to "bedst før."
• "Mindst holdbar til og med" will be changed to "bedst før udgangen af."
• "Nutritional reference values" has been changed to "nutrient reference values" (NRV).