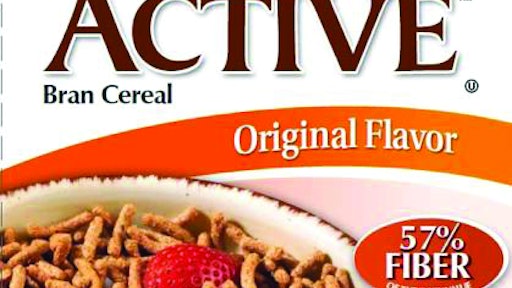 AWG Adding Nutrition Keys On Private Label Products
Grocery shoppers in 24 states where Best Choice and Always Save food products are sold will soon discover a more convenient way to learn nutritional facts on the product they're considering to purchase.
Associated Wholesale Grocers, the Kansas City, KS-based distributor of the two private-label products, is embracing the voluntary move in conjunction with the Food Marketing Institute and the Grocery Manufacturers Association, to modify food product labeling as a way to join first lady Michelle Obama's fight against childhood obesity. Nutritional information will soon be found on the front of the package and easily spotted.
"Even though the label modification is strictly voluntary, we believe it is an important and essential step in helping consumers make healthy choices when making food purchases," says Jerry Garland, Associated Wholesale Grocers president and CEO. "This service will help our members who sell Best Choice and Always Save also demonstrate a commitment to their loyal customers that they too care about healthy lifestyles."
The front-of-pack labeling will include nutrition keys that summarize important information from the nutritional facts typically found on the back or side panel of the food product. The new, easy-to-read keys will include four icons with information on calories, saturated fat, sodium and sugars. Depending on the product and available space, it may include just the calorie icon.
"We are working with our design teams and well on our way to modifying the labels on the 3,000-some food products that we distribute," adds Garland. "Certainly this doesn't happen overnight, but we expect to start rolling out the first of the front-of-pack labels in the next 160 days and then continue on for the next 12 months."
Dallas-based Ben E. Keith Beverages, one of America's largest beer wholesalers, is equipping its field sales reps with MobileDemand xTablets. The xTablets are replacing its older, less-functional handheld devices. The full-screen 7" display allows for more efficient product look-ups without having to scroll through hundreds of SKUs on a tiny screen. The built-in bar code scanner and integrated numeric keypad make it quick and easy to take inventory and enter quantities.
The Manitoba Liquor Control Commission (MLCC) in Winnipeg, Manitoba, has selected Aldata Solution's retail supply chain suite for Merchandizing Optimization and Demand-Based Replenishment to its 50 liquor stores. The MLCC supplies approximately 1,700 customers and annually processes more than 63,000 orders. The organization will use Aldata to improve assortment and Liquor Mart replenishment processes, improve supply chain efficiency and improve retail reporting and analytics.
Chiquita Brands International, Cincinnati, and its subsidiary, Fresh Express Inc., have announced that Fresh Express salads sold nationwide are now manufactured using its new breakthrough produce wash, Fresh Rinse. Fresh Rinse has been scientifically validated to dramatically reduce certain bacteria while at the same time providing high levels of freshness, taste and quality.
Westfalia Technologies Inc., York, PA, is installing an automated storage and retrieval system (AS/RS) for the Pepsi Beverages Co.'s (PBC) facility in Tampa, FL. The flexible, high-density AS/RS will meet PBC's need for maximum storage, high throughput, buffers for handling peak production from its bottling plant, and aids in preparing various types of pallets to ship to customers. Savanna.NET WCS manages and controls all products flows throughout the facility from receiving to order fulfillment.
Seattle-based Gordon Trucking Inc. is installing its second order of trailer side skirts from Freight Wing Aeroflex. The company previously installed the skirts on more than 2,200 trailers. During testing, GTI saw a 0.3 mile-per-gallon improvement, and is now adding 2,000 additional sets on its trailers. With $3.80 for diesel as a benchmark price, the company says it will save approximately $2.2 million a year in fuel costs with side skirts.
Working with Salem, MA-based Groom Energy, Americold has installed LED lighting systems from Digital Lumens in facilities located in Massachusetts, Utah and Wisconsin. The upgrades produce higher quality lighting and reduce overall energy consumption up to 90 percent or 2.3 million kilowatt hours (kWhs) annually. Over the coming months, Groom Energy and Americold are scheduled to upgrade facilities in Alabama, Arkansas, Illinois and Texas. The projects will reduce an additional 3.3 million kWhs and 3.25 million pounds of carbon dioxide annually.
U.S. Foodservice, Rosemont, IL, has purchased Ritter Food Service, a division of the Pennfield Corp. Ritter, based in Mount Joy, PA, is a specialty distributor of high quality poultry, meats and seafood, including the Pennfield Farms brand. Ritter serves more than 1,000 customers which include local retailers and restaurants in Pennsylvania, Maryland and New Jersey. Ritter's operations will become part of the U.S. Foodservice Allentown, PA, division.
Lawson Software, St. Paul, MN, has released the Lawson M3 Graphical Lot Tracker, a pre-configured supply chain traceability solution. Designed for rapid implementation and ease of use, the solution can help food companies gain greater control over food supply chain safety and quality and help them address compliance and traceability regulations introduced by U.S. and European regulatory agencies.  It helps improve supply chain visibility and helps food producers track production processes from raw materials, through production, and to the point of sale. It can also help companies manage potential product recalls.
TMW Systems has acquired Appian Logistics Software, with offices in Oklahoma City, OK.  The addition expands TMW's presence in logistics planning and transportation management for 3PLs, dedicated logistics operators, courier services and private fleets operating in retail, food and beverage distribution and restaurant supply markets among others. Terms of the transaction were not made public.
Edible Arrangements, the leader in hand-sculpted, fresh-fruit arrangements, has opened a 125,000-square-foot warehouse in Riverside, CA. The facility belongs to BerryDirect LLC which sources and manages the containers designed specifically for Edible Arrangements' fresh fruit products.  With this move, 10 new employees were added to handle the daily production needs, bringing the total number to 25 employees…. A M King has been selected to provide general contracting services for a 840,000 square foot, climate controlled food distribution facility in Black Mountain, NC, The facility will consist of 770,000 square feet of cooler and freezing space with temperatures ranging from 55° to -20°; a 20,000 square foot ice facility; and 45,000 square feet of office space. The facility will also contain a refrigeration engine room which will house a 2,700 ton, ammonia refrigeration system. The climate-controlled space includes over 20,000 product storage rack positions, 11 banana ripening rooms and 84 dock stations with full vertical levers.  The facility will also include an ice plant that will provide 75 tons of ice per day.
Companies in this article