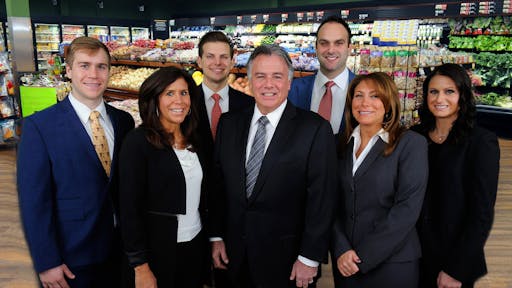 Inserra Supermarkets is Bringing Locally-Grown Produce to All 22 ShopRite Stores
From Swiss chard and collard greens to peppers, tomatoes, corn and much more, local produce—both conventionally and organically farmed—is becoming a mainstay on kitchen tables across New Jersey and New York. To meet that demand and expand its partnerships with the local farming community, Inserra Supermarkets is bringing locally-sourced produce to all of its 22 ShopRite stores this spring and summer.
"Consumers can taste the robust flavors and freshness of produce that was picked that same day or the day before," says Eric Beelitz, director of produce of Inserra Supermarkets. "That taste is important, and of course, really makes a difference."
Under Beelitz's direction, the family-owned chain has turned produce into one of its signature departments.
Inserra Supermarkets has a long-standing partnership with Abma's Farm in Wyckoff, New Jersey, and in regard to organic produce and herbs, they primarily sources those items from a distributor that works with more than 120 regional sustainable farms— primarily those in New Jersey and Pennsylvania—52 weeks a year. The company also partners with Guarino Sons Produce, Inc., a family-owned and operated wholesale produce distributor, and regularly sources produce from Winslow Junction Farm, Scordo Farm, Cassaday Farms, Circle M Farms and Pastore Orchards. Many of these farms and distributorships have been in families for generations just like Inserra Supermarkets.
"We have forecasted out our needs with all of our growers and are in constant contact with them," adds Beelitz. "As always, we aim to provide the best of the best to our customers at an affordable price point."
China Proposes Modern-day Silk Road with Transcontinental Infrastructure Project
Chinese president Xi Jinping has revealed plans for the world's largest-sprawling infrastructure project—the Belt and Road—which aims to develop trade links between China, Central Asia, Europe and Africa.
Billed as the contemporary equivalent to the ancient Silk Road trade routes that once spanned Eurasia, the vast multi-billion-dollar building project would see over 60 countries linked by road, railway and sea.
President Xi presented the globalization plan, which seeks to stimulate economic growth in the region by creating free trade areas between countries, during a two-day summit in Beijing last month.
China is estimated to be investing $150 billion each year in the Belt and Road project, with $900 billion already spent.
Smith Corona Barcode Labels Protect Against Harsh Elements
Smith Corona is an expert at producing both direct thermal and thermal transfer barcode labels for practically any application, including harsh or extreme environments, temperatures or performance requirements.
These durable labels with freezer adhesive provide strong protection against harsh elements and maintain their stick in deep freeze, frozen and chilled environments. They are great for cold storage or when your application requires a much stronger adhesive than normal. This item comes with four rolls to a box for a total of 4,000 labels.
Industry Struggles with Training as FSMA Takes Full Effect
With several of the Food and Drug Administration's (FDA) FSMA compliance dates now in effect, the industry is struggling with training.
Efforts are underway to address these challenges, with the FDA issuing more than a dozen guidance documents pertaining to the rule. In addition, tools such as model plans and templates can help companies with their food safety plans, and the agency reportedly is almost ready to publish a web-based food safety plan builder that will be freely accessible on FDA's website.
Several sources of technical assistance also are available, including state and trade associations, academia, and the technical assistance network (TAN).
Neogen Has Developed a Recall Support Services Program
Neogen Corporation has developed an innovative Recall Support Services program to better serve the needs of its food industry customers facing a product recall—or preparing for the possibility of a recall.
Neogen's enhanced Recall Support Services program emphasizes Neogen's experience and expertise, as well as testing products and services to help guide a company through a recall, and also to identify the source of contamination. The program also features Neogen's promise of absolute confidentiality throughout the process.
In the event of a food product recall, Neogen's Recall Support Services program offers:
Sample processing in any one of its world-wide labs or a recommendation of available private labs.
Immediate consulting with tech service experts according to a company's requirements, chemistry or microbiology, either via phone or our LabLive service. LabLive is a conferencing system designed to provide expert support at any time.
Expedited shipments of any Neogen diagnostic products.
On-site Neogen tech support personnel for up to 48 hours to help staff with lab testing to get through the recall.
Provide contact information for leading product recall consultants and recall implementation firms.
In the case of a pathogen-based or spoilage recall, genomic identification to speed trace back to the source.