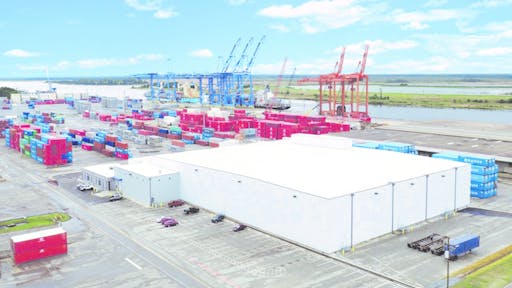 Port of Wilmington Cold Storage To Support Ag Exports
The newly opened Port of Wilmington Cold Storage (PWCS), the only in-port cold storage in North Carolina, is set to play a key supporting role for the state's agricultural exports.
According to the NC Dept. of Agriculture, the total value of ag exports exceeded $4.1 billion in 2014, an increase of more than 200 percent from 2005. Ag exports are a huge economic driver in North Carolina. Not only do they help boost farm prices and income, but they also create more than 1.2 million jobs on and off the farm in food processing, storage and transportation.
The state's top ag exports include sweet potatoes, poultry and pork, all of which require refrigerated storage and transportation.
It's expected that PWCS will attract new ag export business to the Port of Wilmington and make it more competitive against ports in neighboring states.
The PWCS facility is a state-of-the-art refrigerated warehouse, with nearly three million cubic feet of freezer and cooler space and 10,600 pallet positions. The warehouse is divided into three primary areas: a convertible room that can be used for refrigerated or frozen products, depending on customer needs; a freezer room where temps are maintained below zero degrees; and a blast freezing room where products like chicken and pork can be frozen to zero degrees within 24 hours. USDA inspection is also provided on-site, with a dedicated office for USDA personnel.
SeaLand Launches Mobile App
In December, SeaLand, the Intra-Americas regional ocean carrier of the Maersk Group, unveiled a mobile app that offers real-time visibility to import and export shipments between the Americas.
The SeaLand app offers a host of features, including: Live freight tracking; Sailing schedules - Port calls, vessels, transit times; ETAs; Push notifications - live cargo status updates; Ability to share shipment data with customers and colleagues; Local North and Latin America SeaLand office contact information; and a Shipping Guide that covers the basics of shipping.
"Our customers are on the move and like the convenience and ease of managing their shipments in the palm of their hand. Making freight information more accessible and easy to share is an important capability for today's supply chains," noted Craig Mygatt, CEO of SeaLand. "Moreover, I'm pleased that SeaLand is now digitally connecting the Americas to provide customers with a solution that will strengthen their business transactions."