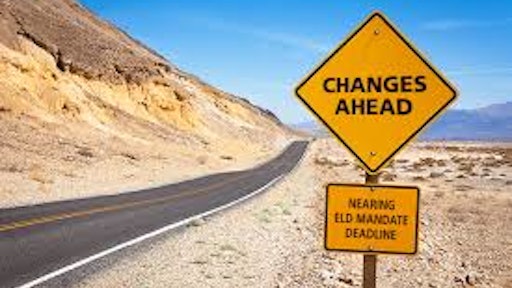 In 2017, fleet managers and others in the transportation sector will continue to wrestle with the trends and challenges they have dealt with in the recent past, such as tight capacities and a shortage of drivers—but they'll also face a few new challenges in the form of rising fuel prices, rate pressures and regulatory measures. How fleet managers respond will likely involve a mix of technology, changes to operations and business processes, and strategic innovation.
Here are five trends and challenges that are leading the way:
#1 The Capacity Crunch
Aging highway infrastructures, such as potholes and bumpy roads, can damage goods in transit. When added to an ongoing shortage of drivers; more regulations to comply with; aging trucks; and the inability of shippers, transportation companies, 3PLs (third party logistics providers) and 4PLs (logistics providers with supply chain management capabilities) to seamlessly work with each other, these factors have coalesced into what is shaping up to be a looming capacity crisis that will be felt in 2017.
"If the many components in logistics and supply chain management do not engage effectively with the transport workforce and [with the] manufacturing skills gap of the United States, crisis may be an understatement rather than an over-statement," reports Adam Robinson, director of marketing for Cerasis, a national provider of transportation management solutions, in an article titled, "Transportation Industry Braces for a Looming Transportation Capacity Crunch Crisis in 2017."
In many cases, technology can help. New analytics applications can assess routes, with data feeds that provide updates on highway construction and detours, weather, traffic counts and more. The analytics software acts on this information and can then optimize routes for fastest and safest travel times. Transportation management software (TMS) that interacts with sensors placed on vehicles and at various locational points in distribution networks also can track logistics operations; monitoring to see that trucks are promptly loaded and unloaded and that real-time communications and collaboration is occurring between the different parties in a logistical chain.
However, not all companies have, or can afford, these technologies, so when one participant in a logistics chain doesn't have the software, it breaks the chain. This management and communications problem is further exacerbated for fleet managers, who must then manage many vehicles and logistics operational chains with many different business partners at once.
This asset management problem manifests itself at the shipper-customer level, where the consequence may be not finding enough trucks or containers to handle your goods when and where you need the help—and then finding an excess of trucking and container capacity at geographical locations where you don't need it.
#2 Higher Rates
The Institute of Energy Research projects, in a report titled, "CBO Analyzes RFS: Expect Higher Gasoline and Diesel Prices," that in 2017, gasoline prices will increase 4 to 9 percent, or between 13 and 26 cents per gallon. It projects increases in the cost of diesel fuel of between 9 to 14 percent, or from 30 to 51 cents per gallon (9 to 14 percent).
"What is going to differentiate 2017 from 2016 is the combination of tight trucking capacity and significantly higher transportation costs due to the ELD (electronic logging devices) mandate later this year," says John Gaudet, vice president of business development at RLS Logistics, which provides temperature-controlled transportation, warehousing and packaging services.
Cerasis' Robinson estimates that the current per mileage fuel costs for full truckload (FTL) and less than truckload (LTL) carriers are 39 percent of total carrier costs. This also makes fuel a significant cost driver, given that only 26 percent of total per mile costs go for driver wages. For fleet managers, the cost of fuel gets multiplied exponentially, based on the number of trucks they have in the fleet. This will likely result in higher transportation costs for shippers and, ultimately, higher costs for consumer goods.
Unlike Robinson, RLS's Gaudet doesn't necessarily see a significant impact on rates from rising fuel prices in 2017, since these prices were already climbing in 2016. "At the end of 2016, the national average price for diesel fuel was $2.307," says Gaudet. "This average was the lowest since 2004, which averaged $1.809 for the year and jumped to $2.401 in 2005. Fuel prices are always difficult to predict, especially with a new administration that has pledged energy independence. However, I feel fuel prices will have little effect on rates; shippers have benefited by lower fuel surcharges in 2016. I do not anticipate fuel to impact rates as much as capacity will. When ELDs are in play, shippers should pay close attention to possible detention and other accessorial charges. These have more potential to impact budgets."
Despite the difference in opinion about fuel price impact, however, both Gaudet and Robinson see a transportation capacity crunch affecting fleet managers as well as shippers that are trying to find ways to get their goods to the markets they serve. When the impacts of investing in technology for new regulations like ELDs are added to this, pressures will push rates upward.
#3 New Regulations
When President Obama signed the Food and Drug Administration (FDA) Food Safety Modernization Act (FSMA) in 2011, it was the most sweeping reform of U.S. food safety laws in more than 70 years. The goal was to ensure the safety of the U.S. food supply by shifting the focus from responding to food contamination to preventing it.
Five years later, the FDA was still struggling to meet the mandate, finds "GAO: FDA not Keeping Pace with FSMA Foreign Inspection Mandate." The transportation industry is still struggling to meet the mandate—which requires the design and maintenance of vehicles and transportation equipment for cold storage that includes temperature and contamination controls during the transport of food, personnel training, and documented and maintained records on the training in safe food practices that has been conducted with workers, so that carriers don't contribute to conditions that could cause the food they transport to become unsafe.
FSMA compliance waivers have been given to smaller companies with the understanding that they have limited resources and will need more time to meet the mandate, but in most cases these time extensions only extend for two years. As a result, unless the regulatory climate changes, these companies are up against hard deadlines that could challenge their ability to continue operations.
Of equal significance is the ELD mandate from the Federal Motor Carrier Safety Administration (FMCSA), which requires the installation of ELDs in interstate commercial trucks and buses. According to "FMCSA Proposes ELD Mandate for Nearly All Trucks" in Transport Topics, the requirement helps enforce hours-of-service rules intended to limit driver hours and improve driver safety. Automatic logging of truck activities also reduces paperwork for carriers and ensures that drivers are not forced by carriers to drive excessive hours.
"These are regulations that have major impact," says Gaudet. "For fleet and transportation managers, it is important that they begin preparing for the FSMA and ELD mandates now. It will be imperative for them to ensure that their vendors and partners are in compliance with the rule on Sanitary Transportation of Human and Animal Food to ensure they maintain the cold chain throughout the supply chain. As a BRC Global Standards safety and quality certified company, we take the safety of our clients' food items very seriously and have been following FSMA closely. Shortly after the final ruling in April 2015, we took the necessary steps and provided training to become compliant. We shared a compliance document with our clients and allowed them to use our forms with their other providers. For us, it was just as important to protect their interests as it was our own."
Gaudet feels that the largest impact from the ELD mandate, which limits truckers to a 12-hour day, and requires electronic logging equipment to keep track of every moment that is spent on the truck, will be on trucking operations. He says that because of this continuous ELD tracking, it will be important to maximize productivity and to avoid wasteful stops.
"I believe that ELD could have a dramatic impact in the freight consolidation realm with a traditional hub and spoke model," says Gaudet. "Multi-stop truck loads will be challenged, and regional de-consolidators could flourish. … As a company that consolidates temperature controlled LTL (less than load) and ships as truck loads (full truck loads), we are preparing and building relationships with strong regional providers as well as marketing our regional service to those companies needing a solution into the Northeast. We will be expanding our cross dock this year, and are actively seeking new clients to increase volume. More volume will help to decrease the average number of stops per outbound. We are also capturing data on 'problem' receivers and delivery hours in order to best prepare for the industry-wide challenge that ELD presents."
The ELD compliance deadline is set for December 2017, which puts pressures on transportation and fleet managers. "What we've been hearing from carriers is that they are experiencing lost productivity in the range of 10 to 20 percent on truck load traffic when they implement ELD," says Gaudet. "It is still unclear what the productivity loss in the LTL arena will be with ELD, but we expect lost productivity to land in the 10 to 15 percent range. The results will be a tightening in capacity and upward pressure on both LTL and TL rates."
Todd Amen, president of owner-operator financial services provider ATBS, agrees. "[With ELD] you lose 10 to 20 percent of your ability to run miles. Essentially, it's like taking 200,000 to 300,000 trucks off the road," Amen told www.overdrive.com online in "Prediction: Rates will Jump with ELD Transition."
#4 Smart Logistics and the Internet of Things (IoT)
For many companies, ELD is just a first step into sensor-based logistics. Fleet and transportation managers are also attaching Internet of Things (IoT) sensors to braking and engine systems. These sensors relay real-time information on how fast a truck is traveling, how energy and safety conscious a driver's habits are, whether the vehicle is taking the most optimal route to its destination, and whether the vehicle is traveling at an optimal speed for road conditions. Sensors also can be attached to each individual container of perishable goods in the truck, where they continuously monitor elements inside the container such as temperature and humidity—issuing real-time warnings to a central software system at headquarters whenever there is detection of an environmental failure within a container, or the breaking of a container seal.
"The technology keeps improving, and we are exploring it now," says Gaudet. "GPS tracking that also monitors actual temperatures in the trailer is a great solution for FSMA; however, it is also an expense that someone must bear. Unfortunately, that will be the consumer."
#5 The Driver Shortage
In October 2016, the American Trucking Associations (ATA) released its U.S. Freight Transportation Forecast to 2027, which projected that between 2016 and 2027, overall freight tonnage will grow 35 percent, with the amount of freight moved by trucks growing slightly less at 27 percent.
Unfortunately, these upward trends aren't matched by corresponding increases in drivers, where the ATA estimates a shortfall of 35,000 to 40,000 drivers nationwide. Smaller transportation carriers will feel the most pressure from the driver shortage because of the need to compete against larger firms that can offer better compensation, reports the Wall Street Journal in "Driver Shortage Ripples Across Trucking Industry."
One element that is driving the shortage is the fact that many Baby Boomer-generation drivers are retiring—and younger people are opting for better paying jobs that enable them to stay at home. This younger generation has been able to find well-paying jobs near home, so they aren't opting for trucking.
Fleet managers can tackle some of these problems in creative, low-tech ways. For example, a 1,000-mile route that involves stops in cities A to the north, C to the south and B in the middle, would historically require a driver to stop for one overnight. An alternative approach would be to use two drivers in a "relay" team—with Driver One (who lives in City C), making a round trip from the City C to midpoint City B and back, enabling him to be at home with his family in City C. For the second part of the relay team, Driver Two, who lives in City A makes the trip to pick up the goods in midpoint City B and then completes goods transport to the final destination in City A, where that driver and his family live. The net result is an improvement in both drivers' quality of life, which could make it easier for the company to retain them.
Of course, this strategy doesn't work for longer routes. In these cases, trucking companies have to aggressively recruit, train and retain drivers. In other cases, fleet managers are using intermodal transportation, with trucks picking up and dropping off goods locally that are then carried by rail over the long distances, and at lower fuel costs.
Looking beyond intermodal shipping, progressive and leading-edge fleet managers also are starting to think about driverless trucks, which are already being used in remote mining operations by mining company Rio Tinto. The driverless trucks that Rio Tinto employs are able to run on a nonstop, 24/7 basis, which optimizes the assets. On the commercial shipping front, Daimler began testing its driverless Freightliner trucks in Nevada as early as 2015.
"It's not too early at all to start looking at driverless trucks," says Gaudet."Self-driving trucks are coming and will be critical to combat the looming driver shortage that the industry faces in the 2020s."
BIO: Mary Shacklett is the president of Transworld Data, a technology analytics, market research and consulting firm. Prior to funding the company, she was vice president of product research and software development at Summit Information Systems. She may be reached at mshacklett@twdtransworld.com.
SIDEBAR: Fleet Managers' Playbook for 2017
The transportation industry in 2017 will be anything but stagnant. Tight capacities and upwardly trending rates will be driven by increasing fuel, operating and compliance costs. All of these things will challenge fleet managers and logistics operators to design optimal transit routes and to actively manage these routes and their logistics, along with their vehicle assets. In this environment, there are several approaches that fleet and transportation managers should consider.
Re-cast ELD and FSMA from a "nuisance" perception into measures of return on investment. In initial analyses, measures like the ELD mandate appear to be reducing carrier and fleet capacity and performance—partly because driver hours are now limited and partly because there is always a cost to compliance that comes in the form of hard dollar investments into technology, and the reworking of business operations and training of employees to support the new compliance technology.
In this area, fleet and transportation managers can take a page out of technology investors' playbooks. That page reads that when you make a hard cost technology investment, you also should have a means of measuring your return on that investment.
In the case of the ELD mandate, it has a chance to reduce the number of highway accidents due to driver fatigue. This could bring down, or at least stabilize, the costs of liability insurance.
By building on the capabilities for electronic tracking and logging that ELD provides, companies also will be better positioned to save on fuel costs, and to incent drivers who exhibit the safest and most fuel-efficient driving practices. This helps driver retention.
ELD, which was initially perceived negatively by many drivers, according to "E-log Mandate to Push Droves of Drivers From Trucking?" on ccjdigital.com, also has the ability to change that perception. As drivers get used to the new technology and lose their fear of it, they begin to see that their manual paperwork is dramatically reduced, and they like it. The end result is that ELD could ultimately help carriers retain drivers.
Consider cloud-based transportation management systems and analytics. This generation of transportation management systems (TMS) come with integration capabilities for ELD sensors, and also sensors that monitor food safety and control the cold chain. The same systems offer real-time GPS tracking and mapping, which enables fleet and transportation managers at a glance to see where every one of their vehicles is at any given point of time. Additionally, most transportation management systems come with analytics that can help you plan what-if fleet transportation scenarios, as well as automatically taking in factors like weather, road conditions and repairs, etc., in the automated optimization of travel routes.
All of this is great news for large enterprises with plenty of spend available to them—but what about smaller mom and pop carriers?
The solution is a TMS that is hosted by a software as a service (SaaS) company in the cloud that you pay for through a monthly subscription, or in some cases, on a per use basis. In this way, you won't outlay dollars you can't afford for hardware and software. SaaS solutions are also nice because with SaaS, the vendor gives you the system—but also specialized expertise in logistics and how the technology can be used to best advantage.

Address the driver shortage. Late in 2016, at the Canadian Recruiting and Retention Conference in Toronto, focus was placed on more transportation companies improving their driver recruiting. Among the strategies suggested were using more Internet-based application processes, getting back to applicants sooner by speeding the interview process, and also circling back to applicants you might have lost to competitors 90 days later, since most turnover occurs during the first 90 days of employment. Equally important are conducting efficient and effective background checks, offering employment opportunities that drivers find attractive, and providing a culture within the company that makes drivers want to stay.
Most of these practices are low-tech due diligence that internal human resource staffs can take on—if a company has the internal personnel to do it.
In other cases, companies should consider when it makes sense to outsource some of their fleet operations to a 3PL or a 4PL. These larger logistics companies can supplement your fleet and driver pools if you are having difficulty meeting your needs.
On a more futuristic horizon, even smaller companies should not discount the option of using driverless trucks—or of contracting with larger 3PLs or 4PLS who can offer this service.
Cultivate a corporate culture. Beyond technology, it is equally important to create a corporate culture within the company that enables your employees and your customers to succeed. This requires timely, transparent and continuous communications to all stakeholders so that at the end of the day, your fleet is delivering the kind of quality service and value that your customers expect.
Companies in this article