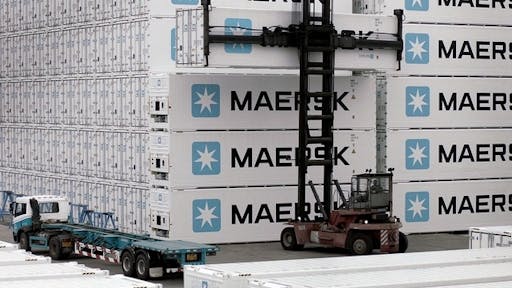 Shipping Lines Battle for Market Share in Fast-Growing Cool Market
Maersk Line has become the latest carrier to unveil extensive new investments in its cool-chain capacity. The line has ordered 14,800 new reefers this year on top of the 30,000 it acquired last year, lowering the average age of its reefer fleet—the world's largest, at 270,000 units—to 7.9 years, significantly below the industry average of 12 years.
The announcement by Maersk follows an investment announced last month by Hapag-Lloyd in 5,750 refrigerated containers for its reefer fleet, illustrating that lines have pinpointed the potential of the cold chain market, not least in developing markets.
Maritime analyst Drewry recently predicted that, by 2019, reefer containership services would carry over 23 million tons more cargo than they did in 2014, equivalent to compound annual growth of around 4 percent from the slightly more than 100 million tons of cargo carried by sea in reefer containers in 2014. That total reached around 107 million tons in 2015.
Whole Foods Takes a Stake in Delivery Service Instacart
As more Whole Foods customers choose to avoid the store by ordering online and getting groceries delivered to their homes through Instacart, the high-end supermarket chain is taking a stake in the four-year-old startup.
Instacart Inc. authorized the sale of new equity earlier this year, letting Whole Foods Market Inc. buy shares in the startup in conjunction with an expanded partnership, said people familiar with the transaction, who asked not to be identified because the details are private. Analysis by private stock market operator Equidate, based on a regulatory filing, pegged the total equity authorization at about $36 million.
The shares were added to Instacart's previous funding round at the same share price from late 2014, which valued the company at about $2 billion, according to the filing. Whole Foods and Instacart declined to comment.
Before the Whole Foods investment, Instacart raised more than $270 million, according to data compiled by Bloomberg. The San Francisco startup and its peers have benefited from a shift in an overcrowded food delivery market this year.
China Lifts Ban on Some U.S. Beef
China has conditionally lifted an import ban on some shipments of U.S. boneless beef and beef on the bone, and will also ease restrictions on Canadian beef, according to the Asian nation's agriculture ministry and its premier.
The lifting of the ban applies to imports of beef from cattle that are under 30 months old, according to a statement posted on the Ministry of Agriculture's website. The move remains subject to completion of quarantine requirements, which will be issued later, the ministry said, without providing further details.
Chinese Premier Li Keqiang told a business dinner in New York in late September that China would soon allow imports of beef on the bone from the United States.
China banned U.S. beef imports after the discovery of a case of bovine spongiform encephalopathy (BSE), or mad cow disease, in Washington state in late 2003.
"I welcome the announcement from China's Ministry of Agriculture that it has lifted its ban on U.S. beef following a recently concluded review of the U.S. supply system," U.S. Department of Agriculture Secretary Tom Vilsack said in a statement.
Robot Delivers Food in San Francisco
Starship Technologies, a company that's among several contenders seeking to crack the last-mile challenge, recently tested a robot that delivered food to homes in San Francisco.
Starship Technologies is one of many upstarts trying a more earthbound approach. Ahti Heinla, an engineer who helped start Skype, started Starship Technologies with Skype co-founder Janus Friis after entering a NASA contest to build robots to collect rock samples on Mars and the moon.
Starship's "friendly sidewalk robots" are designed to deliver parcels, groceries and other goods within a 2-mile radius, the company said, operating as a local on-demand service, rather than competing with FedEx and UPS.
While they drive — or roll — autonomously using nine cameras, GPS, sophisticated software and Starships's own maps, which are accurate to the nearest inch, they are monitored by humans in a remote location who can take over control if need be.
Starship plans to have 100 robots per human operator and to rent them out to other businesses on demand. To start, each delivery might cost a few dollars, Heinla said, but eventually the cost could be pennies per delivery.
Starship Technologies is talking to San Francisco, among many other cities, about passing laws to enable its brood to hit the streets. Washington this year became the first U.S. city to legalize "personal delivery devices" powered by electric motors on its sidewalks. That will enable Starship Technologies to do more extended tests of its R2-D2-like brood there later this year.
New Survey Shows ELD Mandate is Trucking Industry's Top Concern
The American Transportation Research Institute (ATRI), the trucking industry's not-for-profit research institute, today unveiled its top industry issues report, which includes the list of the top ten critical issues facing the North American trucking industry.
The looming implementation date of the federal mandate on the use of Electronic Logging Devices (ELDs) topped the list of trucking industry concerns, with more than 65 percent of respondents concerned about productivity impacts the industry may experience from full deployment of ELDs.
The complete results of the annual survey, which generated more than 3,200 responses from motor carriers and commercial drivers, were released at the 2016 Management Conference and Exhibition of the American Trucking Associations (ATA) meeting in Las Vegas, Nevada.
Dropping one position from its top ranking the past three years, Hours-of-Service (HOS) stayed near the top of the list due to ongoing uncertainty of a final HOS rule. Ranking third in this year's survey – Cumulative Economic Impacts of Trucking Regulations – is new to the annual list and reflects the industry's collective frustration with increasing and often costly regulatory requirements.
"The results of ATRI's survey reflect what I've heard from carriers and drivers as I've traveled the country this year on behalf of ATA," said ATA Chairman Pat Thomas, senior vice president for state government affairs at UPS Inc. "The ever-increasing regulatory burdens placed on the industry, coupled with the sluggish economy, are creating challenges for trucking as we work hard to keep America moving forward."
UPS and FedEx Announce Rate Increases
Shipping giants UPS and FedEx both recently announced rate increases across the board that will go into effect late in 2016 and early in 2017.
UPS announced that effective December 26, 2016, the UPS U.S. ground, air and international services daily rate will increase by an average net 4.9 percent. Further, UPS Freight announced an average net 4.9 percent general rate increase effective September 19, 2016.
Meanwhile, FedEx announced FedEx Express, FedEx Ground and FedEx Freight will increase shipping rates effective January 2, 2017.
FedEx Express will increase shipping rates by an average of 3.9 percent for U.S. domestic, U.S. export and U.S. import services. FedEx Ground and FedEx Home Delivery will increase shipping rates by an average of 4.9 percent. FedEx SmartPost rates will also change.
FedEx Express and FedEx Ground U.S. domestic dimensional weight divisor will change from 166 to 139.
Effective February 6, 2017, FedEx Express and FedEx Ground fuel surcharges will be adjusted on a weekly basis. Currently, adjustments are made on a monthly basis with a two month lag between the U.S. government published fuel indexes and the fuel surcharges. Adjusting on a weekly basis will reduce lag time from two months to two weeks, thus providing a closer alignment between fuel costs and fuel surcharges at the time of shipment.
Logistics Providers Challenged to Guide Shippers through Rapid Change
Logistics has changed drastically. What was once called "physical distribution management" is now just as digital as it is physical and the rapid growth of e-commerce, coupled with mobile technology, is pushing the limits of omnichannel supply chains.
"I don't think you can have a presentation anywhere without talking about omnichannel, but I prefer the term customer centricity," Fab Brasca, vice president of solution strategy for JDA Software, said at the 2016 Council of Supply Chain Management Professionals (CSCMP) meeting.
That's what the latest round of supply chain change "is all about," Brasca said during a session on the future of transportation management at the CSCMP conference. "Consumer behavior drives change and omnichannel is the result," not the other way around.
It's a simple idea, but it leads to increasingly complex supply chains, as shippers, carriers and their logistics partners are forced to create highly individual, customized lines of supply.
The Ripple Effect
Hanjin bankruptcy, harvests may boost truckload rates
By Mark Montague
Demand for truckload capacity has been steady but unspectacular of late, and through mid-September, rates for spot van and refrigerated freight varied little from averages in June, July, and August.
I'd advise shippers to not get complacent about transportation costs for the longer term, however. Some recent events signal that rate increases could be on the way.
Lessons from Hanjin
Hanjin Shipping Co.'s bankruptcy tied up nearly 500,000 Hanjin containers in ports and truck yards, occupying trailers that can't be used for other cargo—including holiday food and other goods.
As more Hanjin ships arrive in ports and unload containers, congestion and missed schedules should keep spot truckload capacity in demand—and rates high well into November, when the holiday freight season would ordinarily start to wind down.
Huge Harvests
The unpredictable amount of harvested goods can have a big influence on spot market trends.
In California, several years of drought has reduced yields from the Central Valley. But other parts of the U.S. have been far more fortunate.
This year's apple crop escaped late frosts and is now projected to achieve record harvests. The Michigan Apple Committee is forecasting a harvest of 31 million bushels, 7 million bushels more than last year and the biggest ever for the state. Colorado, Utah, and Idaho all appear to be on track for higher than normal onion and potato yields. The Pacific Northwest also has a strong harvest of tree fruit this year.
As a result, refrigerated trailer capacity may be at a premium, which could drive spot reefer rates higher. With fewer reefers competing for van freight this year, we can anticipate higher demand and rates for van trailers.
After months of smooth waters, we're about to see higher demand and rates ripple through the spot market. I know I'll be keeping a close watch on how this plays out, and I suggest you do the same.
Mark Montague is industry rate analyst for DAT Solutions, which operates the DAT® network of load boards and RateView rate-analysis tool. He has applied his expertise to logistics, rates, and routing for more than 30 years. Mark is based in Portland, Ore. For information, visit www.dat.com