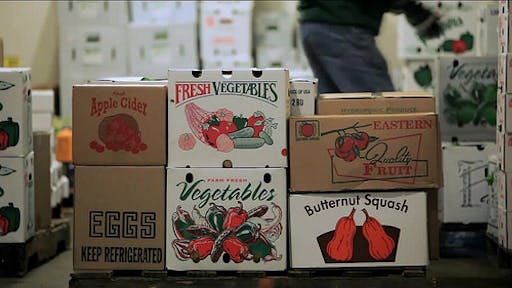 New York Investing $15 Million in Large-Scale Regional Food Distribution
Picture thousands of pounds of local, seasonal produce traveling by truck to a centralized location in New York City every day. Once there, the fruits and vegetables from upstate farms will get refrigerated, packed, and processed before being distributed to stores and institutions all across the five boroughs.
This is the vision behind the highly anticipated food hub that New York State governor Andrew Cuomo announced he was allocating $15 million toward building last month. The state-of-the-art hub is planned for the Hunts Point section of the South Bronx, an area with a complex history of aggregating the city's food.
The governor's news was met with cautious optimism among a wide-ranging group of organizations that considers the hub the best means of ending a distribution bottleneck between rural upstate farmers and urban downstate consumers. It's hoped that the vast 120,000-square-foot indoor/outdoor market, which may break ground as soon as fall 2017, will create some 245 jobs, increase New York farmers' access to wholesale customers and make fresh produce more affordable in vulnerable communities.
A.P. Moller–Maersk to Separate into Two Divisions: Transportation/Logistics and Energy
A.P. Moller - Maersk A/S will separate into two divisions; an integrated transport and logistics division and an energy division.
The main growth focus of A.P. Moller - Maersk A/S going forward will be delivering transportation and logistics services as an integrated transport and logistics company. Building on the group's position within container transport and port operations, and in supply chain management and freight forwarding, Transport & Logistics will leverage its position through new product offerings, digitalized services and individualized customer solutions.
As announced on June 23, 2016, the board of directors tasked the management of A.P. Moller - Maersk A/S to perform a review focusing on the strategic and structural options for the Maersk Group with the objective of generating growth, increasing agilities and synergies and unlocking and maximizing shareholder value with the long-term view.
"The industries in which we are operating are very different, and both face very different underlying fundamentals and competitive environments," said Michael Pram Rasmussen, chairman of the board. "Separating our transport and logistics businesses and our oil and oil related businesses into two independent divisions will enable both to focus on their respective markets. This will increase the strategic flexibility by enhancing synergies between businesses in transport and logistics, while ensuring the agility to pursue individual strategic solutions for the oil and oil related businesses".
Maplevale Farms Sues Chicken Producers for Manipulating Production to Drive Up Prices
Maplevale Farms, a New York food distributor, claims in an antitrust class action that Koch Foods, Tyson, Perdue and others have conspired for eight years to reduce chicken production, pushing up the price of broiler chickens by nearly 50 percent.
Maplevale Farms also sued Pilgrim's Pride, Sanderson Farms and others, on September 2 in Chicago Federal Court.
Maplevale claims that since 2008 the wholesale price of broiler chickens has risen by nearly 50 percent while feed prices have dropped more than 20 percent — and not because of a free market.
"(B)eginning at least as early as January 2008 defendants conspired and combined to fix, raise, maintain, and stabilize the price of Broilers," Maplevale says in the 113-page lawsuit. "The principal (but not exclusive) method by which defendants implemented and executed their conspiracy was by coordinating their output and limiting production with the intent and expected result of increasing prices of broilers in the United States."
Unlike prior production cuts, Maplevale says, in 2008 "defendants cut their ability to ramp up production for 18 months or more by destroying broiler breeder hens in their broiler breeder flocks responsible for supplying the eggs defendants raise into broilers. This destruction of the broiler breeder flock was unparalleled and the consequences continue to reverberate in the broiler industry to present day."
Poultry breeders faced a similar antitrust complaint in the 1970s, when major producers set production levels and prices for broilers in a weekly conference call.
Foodservice Chains Make Progress in Restricting Antibiotics in Meat
Since last year, twice as many of the nation's top fast food chains are responding to the public health concern about antibiotic resistance by adopting strong policies that prohibit the routine use of antibiotics, or medically-important antibiotics, in the meat and poultry they serve. This is according to the second annual Chain Reaction report and scorecard, released by a group of consumer, environmental and health organizations, which grades America's top 25 restaurant chains on their policies and practices regarding antibiotics use and transparency in their meat and poultry supply chains.
The nine chains earning passing grades are Panera Bread (PNRA), Chipotle Mexican Grill (CMG), Subway, Chick-fil-A, McDonald's (MCD), Wendy's (WEN), Taco Bell (YUM), Pizza Hut (YUM) and Papa John's Pizza (PZZA).
The report, Chain Reaction II: How Top Restaurants Rate on Reducing Use of Antibiotics in Their Meat Supply, is being released amidst a public outcry from consumers and shareholders urging chains like KFC, Olive Garden and In N Out Burger to adopt policies prohibiting the routine use of antibiotics in the meat and poultry they serve. The results from Chain Reaction II come one day before a high-profile meeting of the United Nations General Assembly on antimicrobial resistance, a major global health crisis caused by the misuse of antibiotics by the medical community and livestock industry.
USDA Announces Open Data Partnership for Public Health
Agriculture Secretary Tom Vilsack has announced the U.S. Department of Agriculture (USDA) Branded Food Products Database, a free online resource for families, the food industry and researchers containing nutrition details on more than 80,000 name brand prepared and packaged foods available at restaurants and grocery stores. The announcement was made at the Global Open Data for Agriculture and Nutrition (GODAN) Summit.
The USDA Agricultural Research Service partnered with the International Life Sciences Institute North America, GS1 US, 1WorldSync, and Label Insight to develop the new database and user-friendly interface to make it easier for private food companies to add and update data. The database provides a transparent source of information that can assist health professionals identifying foods and portion size for people with food allergies, diabetes, kidney disease and other conditions.
The Branded Food Products Database expands the USDA National Nutrient Database, which contained basic information on about 8,800 branded foods and has served as a main source of food composition data for government, researchers and the food industry. As information is added in the coming months, it is expected the new database will include up to 500,000 products with an expanded level of detail including serving size, servings per package and nutrients shown on the Nutrition Facts Panel or the Expanded Nutrition Facts Panel, plus weights and measures, ingredient list and sub-list, and a date stamp associated with current formulation of the product.
Trump Proposes Slashing the FDA's Power then Backtracks
In a fact sheet posted online in September while on the campaign trail, the Trump campaign highlighted a number of "specific regulations to be eliminated" under the GOP nominee's economic plan, including what they called the "FDA Food Police," according to The Hill.
"The FDA Food Police, which dictate how the federal government expects farmers to produce fruits and vegetables and even dictates the nutritional content of dog food," the Trump campaign fact sheet complained. "The rules govern the soil farmers use, farm and food production hygiene, food packaging, food temperatures and even what animals may roam which fields and when," the fact sheet continued. "It also greatly increased inspections of food 'facilities,' and levies new taxes to pay for this inspection overkill."
"My plan will embrace the truth that people flourish under a minimum government burden," Trump said, arguing that slashing protections and regulations would raise the nation's economic growth rate to at least 3.5 percent.
The Trump campaign deleted the controversial comments within days and has not commented on the subject since the release.
Bayer Agrees to Acquire Monsanto for $66 Billion
German drug and crop chemical maker Bayer clinched a $66 billion takeover of U.S. seeds company Monsanto, ending months of wrangling with a third sweetened offer that marks the largest all-cash deal on record, according to Reuters.
The $128-a-share deal, up from Bayer's previous offer of $127.50 a share, has emerged as the signature deal in a consolidation race that has roiled the agribusiness sector in recent years, due to shifting weather patterns, intense competition in grain exports and a souring global farm economy.
The proposed merger will likely face an intense and lengthy regulatory process in the United States, Canada, Brazil, the European Union and elsewhere. Hugh Grant, Monsanto's chief executive, said Wednesday the companies will need to file in about 30 jurisdictions for the merger.
If the deal closes, it will create a company commanding more than a quarter of the combined world market for seeds and pesticides in the fast-consolidating farm supplies industry.
Symbotic's Robot Systems Can Automate Entire Warehouses
The days of the human warehouse worker are numbered. Across the U.S., distribution centers are rolling out giant robot systems to automate the packing, stacking and sending process as much as possible. Symbotic, a company behind one such system, thinks that the next five years will transform the industry.
The system is easy enough to understand. When a package arrives, a driver uses a forklift to move the goods toward a robot arm, which unpacks the boxes and places the individual products on a conveyor belt. The products are scanned and sent to specially designed storage units, kitted out with robots that take the incoming packages and find shelf space. These tiny buildings aren't for humans: The robots whizz around at around 25 miles an hour and the aisles are less than 3 feet wide.
Those in the business believe that machines like these are the future. "In the long run, if you don't automate, eventually it will really limit your supply chain," Norman Leonhardt, head of sales for Witron, a company that makes factory automation systems, told the Wall Street Journal. "America is moving toward it. There aren't enough young people coming into the workforce who really want to work in warehouses."