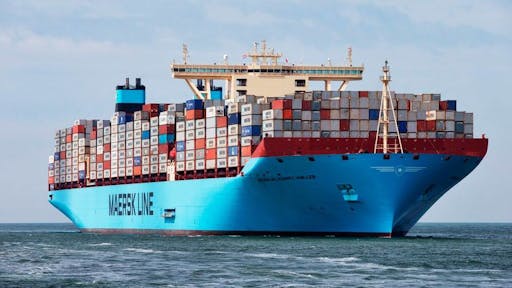 Maersk Line Halts Service to 10 Chinese Ports
Maersk Line, the world's biggest container shipper, has decided to stop services to and from 10 ports in China as part of a drive to reduce costs, according to Reuters. Maersk Line, like other container shipping companies, been hit by historically low freight rates in the first half of this year due to a slowdown in global growth and many new, larger vessels being added to the market. Maersk Line said it would stop serving ports in Chizhou, Luzhou, Yingkou, Jinzhou, Rizhao, Yueyang, Lijiao, Taiping, Jiaoxin and Nansha old port.
The ports are currently served by feeder vessels that move goods to larger ports where mega-vessels with a capacity of up to 20,000 20-foot containers take over and transport the goods to ports mostly in Europe and the United States.
Domino's Launches First-Ever Pizza Drone Delivery Service in New Zealand
Domino's Pizza Enterprises Ltd. has teamed with Flirtey on the first commercial pizza-by-drone delivery model. The two companies exhibited the first stage of their partnership with a demonstration of pizza delivery by drone in Auckland, New Zealand. The demonstration was conducted under Civil Aviation Rules Part 101 and marks a final step in Flirtey's approval process, following which the partnership will expand with flights to customer homes later this year from a select New Zealand store.
Beyond demonstrating Flirtey's leading drone delivery service and safety technology, the delivery also utilized state-of-the-art packaging that retained the temperature and taste of the freshly-cooked pizza during the delivery.
Florida East Coast Railway Celebrates First Big Ship via Expanded Panama Canal at PortMiami
Florida East Coast Railway (FECR) recently celebrated the arrival of MOL Majesty, the first neo-Panamax vessel to transit the expanded Panama Canal bound for PortMiami. The MOL Majesty is part of the G6 Alliance Transpacific PA2 service, originating in Asia.
Carlos A. Gimenez, Miami-Dade County mayor, and Panama Canal Authority administrator, Jorge Quijano, were among the distinguished guests who joined PortMiami, FECR and other partners to welcome the MOL Majesty.
FECR re-established on-dock intermodal rail service at PortMiami allowing import and export cargo to be loaded directly onto, or off of, awaiting trains, linking the port to 70 percent of the U.S population in four days or less. FECR can also facilitate the transloading of international freight into fewer domestic containers for inland moves, to markets such as Memphis, Chicago, Cincinnati and Dallas.
NFI Inc. Acquires United Express Service Inc.
NFI Inc. has acquired United Express Service Inc. in Glastonbury, Conn., expanding its brokerage offering in the Mid-Atlantic and Southeast Regions. Terms were not revealed.
NFI, based in Cherry Hill, N.J. with facilities and operations throughout North America, is one of the largest privately held integrated supply chain solutions providers in North America.
NFI continues to invest in the service to enhance and complement its suite of supply chain solutions consisting of dedicated transportation, warehousing, transportation management, intermodal, global logistics, and real estate.
The NFI brokerage team provides diverse, multi-modal capabilities to a variety of companies in diverse industries including retail, food, beverage, apparel, and consumer packaged goods. Its hands-on customer service combined with a 20,000 plus carrier base provides flexibility, consistent capacity, and reliable service.
Railex to Suspend Service in the Southeast
Railex LLC is ending service to the Southeast but expects a future return, according to The Packer. The Riverhead, N.Y.-based rail logistics transporter of refrigerated perishables planned to cease operations in Jacksonville, Fla., by mid-August.
Railex was unable to properly structure its operations at the undersized Jacksonville building it was operating from through a short-term lease. The company is working with the Union Pacific and CSX railroads to identify a service plan that will allow timely deliveries to Southeastern customers through a new location, he said.
FMC Commissioner Halts Ocean Alliance Agreement, Seeks Information
Commissioner William P. Doyle of the U.S. Federal Maritime Commission voted in favor of requesting additional information (RFAI) from The Ocean Alliance parties, effectively halting the agreement until the filing parties answer the questions proposed in the RFAI, according to marinelink.com. Once those questions are answered and filed with the Commission, a new 45-day clock commences.
The Ocean Alliance agreement was filed with the Commission in July and would have become effective on August 29, 2016, absent Commission action. The Ocean Alliance parties, which includes of COSCO Container Lines Company, CMA-CGM (with APL), Evergreen Marine Corporation and Orient Overseas Container Line (OOCL), are looking to go live with the alliance in or about April 2017.
The 2M Alliance Agreement provides safeguards for U.S. third-parties such as marine terminal operators, stevedores, tug operators and other providers or suppliers. The 2M parties must negotiate independently and enter into separate contracts with the third parties.
FMCSA Proposes Allowing 18-Year Olds to Drive Commercial Vehicles Across State Lines
The Federal Motor Carrier Safety Administration (FMCSA) has proposed a pilot program to allow a limited number of individuals between the ages of 18 and 21 to operate commercial motor vehicles (CMVs) in interstate commerce if they have received specified heavy-vehicle driver training while in military service and are sponsored by a participating motor carrier. During the three-year pilot program, the safety records of these younger drivers would be compared to the records of a control group of comparable size, comprised of drivers who are 21 years of age or older and who have comparable training and experience in driving vehicles requiring a commercial driver's license (CDL).
The control group would consist of volunteer drivers who meet specified criteria and are employed by a participating carrier. The comparison of the two groups' performance would help to determine whether age is a critical safety factor. FMCSA also proposes criteria for a working group to consult with the agency in conducting, monitoring, and evaluating the pilot program. Further, the agency outlines procedural steps and a data collection plan, and requests comments on these elements.
C.H. Robinson to Acquire APC Logistics
C.H. Robinson has entered into a definitive agreement to acquire APC Logistics, a provider of freight forwarding and customs brokerage services in Australia and New Zealand. The two companies have had a long-standing exclusive agent relationship for business in Australia and New Zealand. The agreement is subject to certain customary closing conditions, including regulatory approval.
APC Logistics is a privately held international freight forwarder, providing ocean, air, customs brokerage and consultancy services, currently serving over 3,000 customers and suppliers. Founded in 1974 and headquartered in Melbourne, Australia, APC Logistics employs approximately 300 people and has seven offices in Australia and two offices in New Zealand.
Once the deal closes, C.H. Robinson will integrate APC Logistics into its Global Forwarding division and single global technology platform, Navisphere.
Genessee & Wyoming to Acquire Providence and Worcester Railroad for $126 Million
Genesee & Wyoming Inc. (G&W) has agreed to acquire Providence and Worcester Railroad Company (P&W) for $25.00 per share, or approximately $126 million. Subject to satisfaction of customary closing conditions, the acquisition is expected to close following the receipt of P&W shareholder approval in the fourth quarter of 2016.
Based in Worcester, Mass., and operating in Rhode Island, Massachusetts, Connecticut and New York, P&W is contiguous with G&W's New England Central Railroad (NECR) and Connecticut Southern Railroad (CSO). Rail service is provided by approximately 140 P&W employees with 32 locomotives across 163 miles of owned track and over approximately 350 miles under track access agreements, including exclusive freight access over Amtrak's Northeast Corridor between New Haven, Conn., and Providence, R.I., and trackage rights over Metro-North Commuter Railroad, Amtrak and CSX Corp. between New Haven, Conn., and Queens, N.Y.
P&W interchanges with G&W's NECR and CSO railroads, as well as with CSX, Norfolk Southern, Pan Am Railways, Pan Am Southern, the Housatonic Railroad and the New York and Atlantic Railroad, and also connects to Canadian National and Canadian Pacific via NECR.
DAT SOLUTIONS' MONTHLY FREIGHT REPORT
Conditions Ripe for a TL Rate Hike
By Mark Montague
We're between seasons in the spot truckload freight market, as summer peach and plum harvests and back-to-school retail give way to fall apples and Halloween. Van and reefer rates typically hold steady and even decline a little from July through September. Same with freight volumes.
It's different this year. Spot market freight availability caught up with 2015 levels in July and have remained steady all summer. The increased volume can be attributed to recent cutbacks by the large fleets that typically work with shippers on a contractual basis.
Compared to July 2015, van freight volume increased 17 percent in July while reefers gained 5.2 percent. Despite these higher volumes, truckload rates fell for all spot market equipment year over year—a persistent trend for 14 months. But the rate declines in July were less steep compared to the first half of 2016, especially for vans and reefers which fell 6.5 percent and 6.0 percent, respectively compared to July 2015.
Bucking the typical trend, July's van rates exceeded the June average for the first time in the six years since DAT began publishing spot market rates, with a 1.4 percent (2 cents per mile) increase. Reefer rates fell 1.7 percent (3 cents per mile), but that's relatively strong compared to the 5.2 percent average decline in July of the previous six years.
What does that mean for rates? With large fleets withdrawing trucks from the marketplace, shippers are beginning to assign a larger portion of freight to third party logistics providers and freight brokers. If these trends continue, spot market volume could exceed 2015 levels this quarter.
The likely result? Higher rates on the spot truckload freight market.
Mark Montague is industry rate analyst for DAT Solutions, which operates the DAT network of load boards and RateView rate-analysis tool. He has applied his expertise to logistics, rates, and routing for more than 30 years. He is based in Portland, Ore. For information, visit www.dat.com.