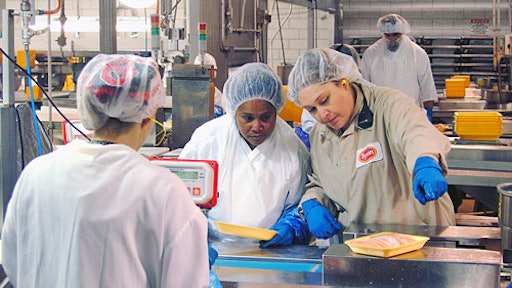 FDA Finalizes Food Facility Registration Rule Under FSMA
The U.S. Food and Drug Administration (FDA) finalized a rule to improve the accuracy of the food facility registration as part of the implementation of the Food Safety Modernization Act (FSMA). Facilities that manufacture/process, pack or hold food for consumption in the United States are required to register with the FDA, and this final rule adds new provisions to the current regulations to codify provisions of FSMA that were self-implementing and effective upon enactment of FSMA. Those provisions include the requirement of an email address for registration, required renewal of registration every two years, and that all food facility registrations must contain an assurance that the FDA will be permitted to inspect the facility at the times and in the manner permitted by the Federal Food, Drug and Cosmetic Act.
All food facility registrations are required to be submitted to the FDA electronically, although this requirement does not take effect until Jan. 4, 2020.
Registrations are now required to contain the type of activity conducted at the facility for each food product category. This will be required when the final rule becomes effective on July 14, 2016, which is prior to the October-December 2016 registration renewal period. Finally, beginning Oct. 1, 2020, food facilities will need to provide a unique facility identifier (UFI) as part of the registration process.
U.S. House Passes GMO Labeling Bill; Obama Set to Sign
The U.S. House of Representatives approved legislation that would for the first time require food to carry labels listing genetically modified organisms (GMOs), sending it to President Barack Obama for signing into law, according to Reuters. Lawmakers in the House voted 306-117 for the bill, which would display GMO contents with words, pictures or a bar code that can be scanned with smartphones. The U.S. Department of Agriculture would decide which ingredients would be considered genetically modified.
The White House has signaled that Obama would sign the legislation, which the Senate passed on July 7. Some Democrats criticized the bill, saying the labeling system fails to provide clear, transparent information and was tailored for industry instead of consumers.
General Mills Revamps Global Supply Chain, will Close Plants
General Mills Inc. has announced restructuring in its global supply chain, impacting its U.S., Brazil, and China operations.
The company will close a Vineland, N.J. manufacturing facility and transfer production to other U.S. facilities to eliminate excess soup capacity in its North America supply chain, eliminating 370 jobs. A Martel, Ohio facility will tentatively be sold to Mennel Milling Company, affecting 180 jobs. General Mills also said it will close or scale back three international plants, which will result in 420 jobs lost in Brazil and 440 jobs in China.
Campbell Soup Co. Commits to Antibiotic-Free Chicken
Campbell Soup Co. plans to use only antibiotic-free chicken in its products, but acknowledged the change won't come quickly, according to The Courier Post in Cherry Hill, N.J. The shift "will be implemented over the next few years," said the producer, which uses tens of millions of pounds of chicken annually.
"We won't allow antibiotics to be added to the feed, water or any commercial vaccines used by any of our chicken suppliers," said company spokesman Thomas Hushen. "We're working with our suppliers to develop a stable, sustainable supply chain."
Campbell President Denise Morrison said the planned change reflects a "real food philosophy" at Campbell, which has previously vowed to remove artificial colors and flavors from North American products by year-end 2018.
The company also has backed mandatory national labeling of products that may contain genetically modified organisms, or GMOs.
Ahold Delhaize Merger Brings Mega Food Retailer
Ahold Delhaize will officially start trading on Euronext Amsterdam and Euronext Brussels following the successful completion of its merger, according to Yahoo News. Ahold Delhaize becomes one of the world`s largest food retail groups, a leader in supermarkets and e-commerce.
Ahold Delhaize was created from the merger of Ahold and Delhaize Group, which was announced on June 24, 2015, and became effective on July 24, 2016. The combined company traces its roots back nearly 150 years. Ahold Delhaize's 22 local brands serve more than 50 million customers each week in 11 countries and have a combined workforce of more than 375,000 associates.
Dannon Commits to Voluntary GMO Labeling, Builds Non-GMO Portfolio
Dannon has joined the list of food suppliers that will label products that contain genetically modified organisms (GMOs). All Dannon products in the U.S. that have GMO ingredients will be labeled as such, independent of actions taken (or not) by the federal government.
Starting in 2017 and completing the transformation by the end of 2018, Dannon will go a step further to ensure that the cows that supply Dannon's milk for three brands will be fed non-GMO feed, a first for a leading non-organic yogurt maker. This will involve the conversion of an estimated 80,000 acres of farmland to produce non-GMO crops in order to provide non-GMO feed for the milk used to make Dannon, Oikos and Danimals brand products.
New yogurts with non-GMO ingredients are available for the first time from Dannon. The company introduced the first Dannon and Oikos branded products that contain more natural and non-GMO ingredients, beginning of the transformation of the company's Danimals, Oikos and Dannon brands, which over time will evolve to contain non-GMO ingredients to add more choices. 
Wendy's Hit by Massive Cyber Attack, Blames Service Provider
Wendy's reported that in recent months, some of its restaurants have been the victim of malicious cyber activity targeting customers' payment card information. The company is conducting an investigation.
Wendy's first reported unusual payment card activity affecting some restaurants in February 2016. In May, the company confirmed evidence of malware being installed on some restaurants' point-of-sale systems, and worked to disable it. On June 9, the company discovered additional malicious cyber activity involving other restaurants. That malware has also been disabled in all franchisee restaurants where it was discovered.
The malware targeted cardholder name, credit or debit card number, expiration date, cardholder verification value, and service code. 
Wendy's has worked with third-party forensic experts and federal law enforcement on this investigation. The company has arranged to offer fraud consultation and identity restoration services to customers who used a payment card at a potentially affected restaurant during the time when the restaurant may have been affected.
GMO Labeling Bill Causes Split in Organic Food Industry
The Organic Seed Growers and Trade Association (OSGATA) has withdrawn its membership from the Organic Trade Association (OTA) over federal legislation that would for the first time require food to carry labels listing genetically-modified ingredients. The U.S. Senate passed such a bill last week. 
OSGATA claimed its decision was prompted by OTA's duplicity towards organic farmers and consumers when a small number of OTA board members endorsed the bill that would preempt existing strong state GMO labeling laws that OSGAT claims are widely supported by the organic community and 90 percent of consumers.
OSGTA claims OTA created close partnerships with Monsanto, including lobbying efforts by the biotech-linked lobbyist Podesta Group on behalf of the bill. The Senate bill's primary intent is to nullify mandatory GMO labeling laws passed in Vermont, Maine, Connecticut and Alaska legislatures, OSGATA claims.
OTA claims the bill not only requires disclosure of GMO ingredients, but includes important provisions that are excellent for organic farmers and food makers – and for the millions of consumers who choose to buy organic products.
Brewers to Add Nutrition Labels to Beer
Anheuser-Busch InBev, Molson Coors, Constellation Brands and Heineken, which produce more than 80 percent of the beer sold in the U.S., will begin providing consumers more nutritional information about the beers they sell, according to CBS News.
The Beer Institute, an industry trade group, stated that brewers will disclose calories, carbohydrates, alcohol content by volume and portion size, both on labels affixed to bottles and cans and on websites that will be accessible via a QR code. Major beer makers, which have been trying to reverse declining U.S. consumption for years, are also providing dates when the beer is produced.
The Beer Institute's move, which it hopes will be finished by 2020, got kudos from the Center for Science and the Public Interest (CSPI), a nonprofit that's often critical of the food industry.
Danone to Acquire WhiteWave Foods Company for $12.5 Billion
Danone will acquire WhiteWave Foods Company for $56.25 per share in an all-cash transaction, representing a total enterprise value of approximately $12.5 billion, including debt and certain other WhiteWave liabilities. The transaction is expected to close by the end of the year, subject to the approval of WhiteWave's shareholders, regulatory approvals, and customary conditions.
WhiteWave generated $4 billion in sales in 2015 and has a portfolio of large and leading branded platforms in North America and Europe in food and beverage categories which focus on premium organic dairy, non-GMO, plant-based alternatives to milk and yogurt, fresh foods, and coffee creamers.
WhiteWave's business includes brands such as Silk, So Delicious, Vega, Alpro, Provamel, Horizon Organic, Wallaby Organic, Earthbound Farm and International Delight.
Utz Quality Foods Inc. to Acquire Golden Enterprises Inc.
Utz Quality Foods, Inc., a privately held snack company, has agreed to acquire Golden Enterprises Inc., a holding company that owns Golden Flake Snack Foods Inc. Company stockholders will receive $12.00 per share in cash. This price represents a premium of approximately 71 percent over the company's 30-day average closing trading price of $7.00.
"This merger will allow the Golden Flake brand to continue to grow in our core southeastern markets, while expanding the product selections for our consumers. Utz is a very community oriented company and we look forward to the future that Utz and Golden Flake
will create together," said Mark McCutcheon, Utz Quality Foods CEO.
McDonald's Franchisees Fear Switch to Fresh Beef
A planned switch by McDonald's Corporation to fresh, never-frozen beef patties has franchisees concerned that a major change to the chain's operations could give way to a food safety disaster, according to CNBC. In a recent survey by Nomura, franchisees noted that switching to fresh beef would not only impact the speed at which burgers could be served, but opened up the chain to potential foodborne illness outbreaks.
The company is currently testing fresh beef in 14 locations in Dallas, according to The Street.
"An uncaring employee doing something that puts the entire system at risk," one franchisee said. "We are the lightning rod. Chipotle will be a walk in the park if we have an incident." Another wrote, "If we do not handle the meat perfectly there is the opportunity for bacterial invasion of our product."