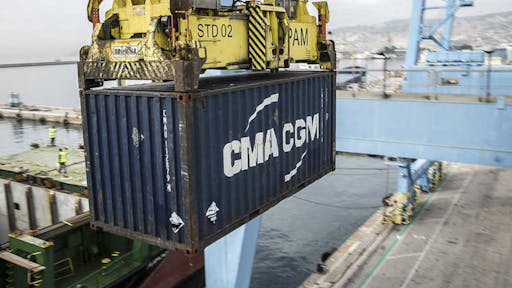 Shippers Claim Carriers and Service Providers Exploit VGM Rules
Global Shippers Forum (GSF) members, mainly in Asia and Africa, report that some carriers and other service providers are exploiting the new Safety of Life at Sea (SOLAS), verified gross mass (VGM) weighing rules by imposing exorbitant and unjustified charges. The GSF is calling for those charges to be withdrawn immediately.
Chris Welsh, GSF Secretary-General, said: "Shippers worldwide support the safety goals of the container weighing requirements and are committed to fulfilling their regulatory requirements, but this should not be used by supply chain partners as an excuse to impose unjustified fees. This is particularly concerning for developing countries, especially in Africa and Oceania, which according to the United Nations Conference on Trade and Development (UNCTAD) pay 40 to 70 percent more on average for the international transport of their imports than developed countries."
Expanded Panama Canal Smashes Toll Record
A cargo ship paid a record $829,468 toll with the opening of the expanded Panama Canal in June, according to gCaptain.com. The toll was paid by the Mitsui O.S.K. Lines-operated MOL Benefactor for a northbound transit of the canal on July 1, 2016, the Panama Canal Authority has confirmed. The previous toll record was paid by the COSCO Shipping Panama for its inaugural transit of expanded locks to the tune of $575,545. The 10,000 TEU MOL Benefactor was the first "neopanamax" containership to use the new locks since commercial operations began June 27, so the transit offers a glimpse of what is likely to come in terms of toll revenue.
Sysco Corp. Acquires E-Commerce Platform for Restaurant Supplies and Equipment
Sysco Corp. has acquired Supplies on the Fly, an e-commerce platform providing restaurant supplies and equipment exclusively to Sysco customers. The price of the acquisition was not disclosed. Based in Kennesaw, Ga., Supplies on the Fly allows Sysco customers to place orders for more than 170,000 products online or by telephone via an e-commerce platform that is fully integrated with Sysco's business information systems.
In 2009, Sysco entered into an agreement with Instawares Holding LLC, the owner of Supplies on the Fly, to develop www.suppliesonthefly.com. Sysco also secured an option to purchase all of the equity interests of Supplies on the Fly, which it has now exercised.
"We are very excited to welcome our partners from Supplies on the Fly into the Sysco family of companies and we look forward to maximizing this opportunity to drive new growth in the $10 billion restaurant supplies and equipment segment," said Bill Day, Sysco's executive vice president of merchandising and Sysco business services. "With annual revenue of approximately $105 million, Supplies on the Fly has delivered consistent and impressive sales growth over the past three years, significantly outpacing category growth in supplies and equipment over the same period."
Ports of Los Angeles and Long Beach Terminals to Raise Mitigation Fees
The West Coast Marine Terminal Operators Agreement (WCMTOA) announced a 1.9 percent increase in the Traffic Mitigation Fee (TMF) at the Ports of Los Angeles and Long Beach, scheduled to take effect on Aug. 8, 2016. The increase will sustain continued operation of PierPass OffPeak gates amid labor cost increases.
Beginning Aug. 8, the TMF will be increased to $70.49 per TEU (twenty-foot equivalent unit) or $140.98 per forty-foot container.
The adjustment falls under Rule 7 of WCMTOA's Marine Terminal Schedule No. 1, which states, "Beginning in mid-2012, the fee shall be adjusted annually to reflect increases in labor costs based on Pacific Maritime Association (PMA) maritime labor cost figures." The PMA negotiates and administers maritime labor agreements with the International Longshore and Warehouse Union (ILWU).
PierPass launched the OffPeak program in 2005 to reduce severe cargo-related congestion on local streets and highways around the Los Angeles and Long Beach ports. OffPeak established regular night and Saturday work shifts to handle trucks delivering and picking up containers at the 13 container terminals in the two adjacent ports.
U.S. DOT Proposes Air Cargo Flights to Cuba
U.S. Department of Transportation (DOT) has proposed eight U.S. airlines to begin scheduled flights, as early as the third quarter in 2016, between Havana, Cuba and the following U.S. cities: Atlanta, Charlotte, Fort Lauderdale, Houston, Los Angeles, Miami, Newark, New York City, Orlando and Tampa, according to Air Cargo World.. The airlines are Alaska Airlines, American Airlines, Delta Air Lines, Frontier Airlines, JetBlue Airways, Southwest Airlines, Spirit Airlines and United Airlines.
The news comes months after the U.S. Airforwarders Association (AFA) urged the DOT to assign routes to U.S. airlines that also offer cargo services. In February, the U.S. and Cuba signed a memorandum of understanding to re-establish a broad spectrum of services between the two countries that had been terminated more than 50 years.
Feds to Test Online Grocery Delivery to Food Stamp Recipients
The U.S. Department of Agriculture (USDA) plans to test online delivery of food stamp grocery purchases, although the program could raise fraud concerns, according to Fox News. A USDA spokesperson said the agency they will be seeking volunteers for the pilot program in the fall. The spokesperson said "getting the proper technology in place to ensure process integrity" has been a major factor, as few companies have developed the correct encrypted PIN capabilities.
The Washington Post reported that online delivery services like Peapod, FreshDirect, and Thrive Market are supporting the push. If the USDA determines the pilot program is successful, it will deploy it nationwide.
AFN Logistics Acquires HA Advantage to Strengthen its LTL Offering
AFN Logistics, which provides customized supply chain solutions to manufacturers, retailers and carriers in the U.S., has acquired Columbus, Ohio-based HA Advantage, the Transportation Management System (TMS) and Less-Than-Truckload LTL division of HA Logistics. The move will enhance AFN's holistic product offerings and ultimately the value delivered to its clients.
HA Advantage is a TMS and LTL freight management company which empowers its clients to lower their total landed costs through increased visibility, efficiency, business intelligence and control. The proprietary TMS developed by HA Advantage is a scalable, web-based, mobile-optimized solution that enables smarter, faster transportation decisions.
Several HA Advantage employees have joined the AFN team as part of the acquisition, including those in business development and account management roles. The addition of new technology and team members will enhance AFN's existing LTL service offering, which is already a core capability for the company, as well as the service AFN provides to its LTL customers.
7-Eleven Makes First Drone Food Delivery in Reno, Nevada
7-Eleven has partnered with a tech startup called Flirtey, delivering the first order made by drones to a customer's home in Reno, Nevada, according to Blasting News, an online social journalism website.
Through the use of precision GPS, the items delivered included: Slurpee drinks, donuts, coffee, candy, and a sandwich. The Flirtey drone successfully lowered each food package into the family's backyard within a few minutes of the delivery. Already delivering food items through services such as those offered by Postmates and Tapingo, 7-Eleven has stated that it intends to widely launch a delivery service powered by drones sometime in the future.
The 7-Eleven drone delivery preempts statements Amazon had stated in the past, when it intended to be the first to offer delivery services through drones.
Matson Logistics to Acquire Span Alaska Transportation
Matson Logistics Inc. will acquire 100 percent of the equity of Span Alaska Transportation LLC, for a cash purchase price of $197.6 million. The transaction is expected to be treated as an asset purchase agreement for federal tax purposes which will allow for a step-up in tax basis of the assets producing an anticipated approximate $35 million net present value benefit to Matson.
Matson expects to fund the transaction from available borrowings under its revolving credit facility and the transaction is expected to close in the third quarter 2016, subject to Hart-Scott-Rodino waiting period and other customary closing conditions.
Matson also announced that it has entered into a commitment letter under which it expects to issue $200 million of 15-year senior unsecured notes at a fixed interest rate of 3.14 percent within the next 60 days. Proceeds of the notes are expected to be used to pay down the company's revolving credit facility and for general corporate purposes.
DAT SOLUTIONS' MONTHLY FREIGHT REPORT
The High Cost of Truck Detention Hammers the Freight Industry
By Mark Montague
If there's one area where carriers, freight brokers, and shippers can agree, it's that more productivity is good for business. Unfortunately, the loading dock—where shippers and carriers literally come together—is where so much productivity gets lost.
At DAT Solutions, we surveyed 257 carriers, and nearly 63 percent said their truck drivers spend more than three hours at docks waiting for their vehicle to be loaded and unloaded. Roughly 54 percent reported typical waits of three to four hours, while 9 percent said five hours or more was common.
Lost productivity is a big issue when you're paid by mile and need to keep the wheels turning. In fact, 84 percent of motor carriers said detention is one of the top five business problems they face.
By contrast, among the 50 freight brokers who responded to the survey, only 20 percent agreed that detention is one of their top five problems.
Both brokers and carriers defined detention as holding a driver and truck at the dock for more than two hours while loading or unloading. Most of the carriers said they are seldom paid for detention, and when payment is offered, only 3 percent of carriers said they were paid on 90 percent or more of their claims. The average rate was between $30 and $50 per hour, a level of compensation that did not cover the opportunity costs to their business.
Carriers said they have turned down other loads while their trucks were detained. One owner-operator reported losing two loads—with combined revenue of $1,900—because his truck was held up at a receiver's dock.
Driver detention costs the trucking industry as much as $4 billion a year in lost productivity, according to a 2009 U.S. Department of Transportation study. This month, the Federal Motor Carrier Safety Administration is preparing an audit to measure its potential effects on truck driver fatigue and crash risks as it lays the groundwork for new regulations on shippers and receivers.
For details about the DAT Detention Survey, go to www.dat.com/detention.
Mark Montague is industry rate analyst for DAT Solutions, which operates the DAT network of load boards and RateView rate-analysis tool. He has applied his expertise to logistics, rates, and routing for more than 30 years. He is based in Portland, Ore. For information, visit www.dat.com.