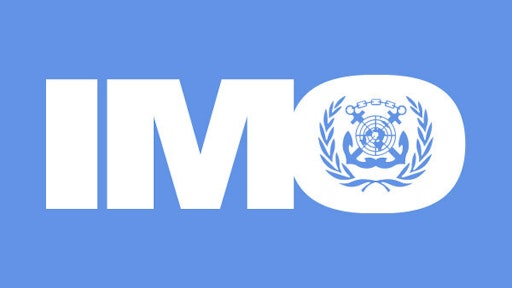 IMO Calls For 3-Month Grace Period On Container Weight Rule: Coast Guard To Follow Existing Laws
The Maritime Safety Committee (MSC) of the International Maritime Organization (IMO), advised port control authorities to take a "practical and pragmatic approach" when enforcing Safety of Life at Sea (SOLAS) container weight requirements for a period of three months immediately following 1 July 2016. The committee noted some leeway should be provided in order for any problems resulting from software updates, required for the electronic collection and transmittal of verified gross mass data, to be rectified without causing delays to containers being loaded.
The U.S. Coast Guard, which enforces maritime rules, has stated existing U.S. rules for providing verified container weights are equivalent to the requirements in the SOLAS regulation. Shippers, carriers, terminals, and maritime associations have outlined multiple acceptable methods for providing verified gross mass (VGM). Two examples are: 1) the terminal weighs the container, and when duly authorized, verifies the VGM on behalf of the shipper, and 2) the shipper and carrier reach agreement whereby the shipper verifies the weight of the cargo, dunnage, and other securing material, and the container's tare weight is provided and verified by the carrier.
The moratorium would help ensure that containers that are loaded before July 1, 2016, but transhipped on or after that date reach their final port of discharge without a verified gross mass and it would provide flexibility to all the stakeholders in containerized transport to refine, if necessary, procedures (e.g., updated software) for documenting, communicating and sharing electronic verified gross mass data.
The MSC emphasized that the stability and safe operation of ships, including the safe packing, handling and transport of containers, is not limited to the provision and use of VGM information and is also covered by a number of SOLAS regulations.
Wal-Mart Tests Drones In Distribution And Fulfillment Centers
Wal-Mart is testing drones inside its distribution and fulfillment centers, believing the technology could be rolled out in six to nine months as a way to check inventory more efficiently to keep up with customer demands, according to Arkansas Online.
The retailer recently provided a peek of its use of the technology during a media tour of its Bentonville, Ark. distribution center. The drone is fully automated, but was manually controlled during the demonstration as it flew up and down warehouse shelves, captured images and determined whether products were in the right place in the distribution center.
Checking inventory is done by workers who have to use lifts and are harnessed in for safety as they scan products throughout the warehouse. The switch to drones could cut the time it takes to check the inventory throughout a facility that spans roughly 1.2 million square feet, or the equivalent of 26 football fields, from one month to one day.
Shekar Natarajan, Wal-Mart's vice president of logistics strategy, said the cameras mounted to the drones have been custom-built for the retailer and give Wal-Mart the ability to deploy technology that can capture video and images in real time. Natarajan said when the technology is rolled out, distribution centers will have a central location where the automated drone's activity can be monitored and inventory errors can be quickly corrected.
Target Cracks Down On Suppliers, Invests $5 Billion In Supply Chain
Target Corp is cracking down on suppliers as part of a multi-billion dollar overhaul to speed up its supply chain and better compete with rivals including Wal-Mart and Amazon, according to Reuters. The sixth-largest U.S. retailer by sales plans to tighten deadlines for deliveries to its warehouses, hike fines for late deliveries, and could institute penalties of up to $10,000 for inaccuracies in product information, according to a letter sent to suppliers and obtained by Reuters and an interview with Target's chief operating officer, John Mulligan.
The moves, effective May 30, are the first major steps Target has taken since Mulligan was appointed as COO late in 2015 to fix supply problems that emerged after it expanded product offerings, including fresh food, several years ago.
A tighter grip on its deliveries is seen as crucial to keeping shelves stocked, maximizing sales and controlling costs. Target has already announced an investment of over $5 billion in supply chain and technology infrastructure between 2015 and 2017.
Great Lakes Ports Sue Coast Guard Over Pilotage Rates
An alliance of U.S. Great Lakes ports, vessel-operating companies and maritime trade associations filed suit in the U.S. District Court for the District of Columbia, challenging the U.S. Coast Guard's 58 percent increase in Great Lakes pilotage rates.
"Great Lakes pilotage costs have gone up 114 percent over the last 10 years," said Will Friedman, president of the Cleveland-Cuyahoga County Port Authority. "The Coast Guard wants to increase them another 58 percent by 2017. These increases are unsustainable and will ultimately erode the viability of international trade through Great Lakes ports."
Under federal law, all oceangoing vessels on the Great Lakes Seaway System must hire local pilots — navigators familiar with local conditions — to assist with navigation. The Coast Guard regulates and sets rates for Great Lakes pilotage. The coalition argues that the Coast Guard violated the Administrative Procedures Act by making "arbitrary and unsubstantiated decisions during development of the 2016 pilotage rates," the news release stated. The plaintiffs have asked the court to remand the rulemaking back to the Coast Guard for revision.
China And European Commission Approve CMA CGM Acquisition Of Neptune Orient Lines
China and the European Commission have both granted regulatory clearance for CMA CGM, the world's third-largest container shipping firm, is to go ahead with its planned acquisition of Singapore's Neptune Orient Lines (NOL).
CMA CGM received confirmation of the approval by the anti-monopoly Bureau of the Chinese Ministry of Commerce (MOFCOM), it said in a statement. "With regulatory approvals now received from MOFCOM and the European Commission on its proposed voluntary general cash offer for NOL as announced on 7 December 2015 (Offer), CMA CGM expects to announce the Offer by June 2, 2016 (before 7am) at the latest," it said.
The European Commission gave its approval to the deal at the end of April.
The takeover offer worth $2.4 billion marks CMA CGM's biggest acquisition and comes as container lines seek to cope with a severe market downturn through greater scale.