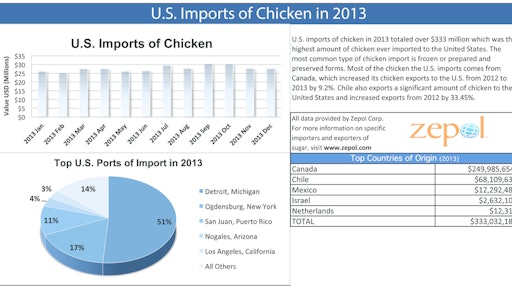 Virus in Pig Industry Could Send Prices to Record High
The Porcine epidemic diarrhea virus, or the PED virus, that kills young pigs is causing havoc across the U.S. pork industry, prompting some traders and investors to speculate that hog prices could set records this year.
The virus, which has spread to farms in 22 states, is fatal only to young pigs and poses no threat to human health or food safety, according to swine veterinarians. The U.S. strain is nearly identical to a version that hurt hog production in China in 2012.
Meatpackers, including Smithfield Foods Inc., the world's largest pork producer, previously estimated that about 10 percent of the nation's sows, or adult female hogs, have been infected by the virus, which can spread to their offspring.
Smithfield said last month the virus could result in a loss to U.S. pig production this year of two million to three million head, or up to 3 percent of the industry's total. Hormel Foods Corp., also warned recently its earnings for fiscal 2014 could be affected by "potentially volatile hog costs" due to the virus.
Ryan Companies Tapped to Expand Americold DC
Ryan Companies US, Inc., was selected to provide design-build services for an $8.8 million expansion project on the Americold Cold Storage Distribution Center in Leesport, Pennsylvania. The project is scheduled to be completed by spring 2014 and will add 96,000 square feet to the existing 225,000 square foot distribution center.
"Americold is the global leader in temperature-controlled warehousing and logistics," said Bob West, Ryan's Director of Business Development – Food and Beverage. "We are honored to partner with a company whose reputation is that of the top thought leaders and trend setters in the industry."
China To Remove Polluted Farmland For Food Safety
Chen Xiwen, deputy director of the central agricultural work leading team, the top agriculture authority in China, announced in January the start of a pilot restoration plan where arable land contaminated by heavy metals across China will be withdrawn from agricultural production.
The government will remove agricultural land with high levels of heavy metals, and farm land near river sources, especially drinking water sources, will also retreat from production if use of fertilizers and pesticides may cause pollution, Xiwen announced during the release of "No.1 Central Document", the first policy document of 2014 from the Chinese government.
China will start pilot restoration of contaminated farmland this year, according to the document that includes a comprehensive plan to address prominent agricultural and environmental obstructions to sustainable development is also in the pipeline.
According to the Environmental Protection Ministry, some 12 million tons of grain are polluted by heavy metals in China, which also ranks first globally in total fertilizer use and use of chemical pesticides is much higher than the world average.
Hy-Vee to Source Sustainable Seafood, McDonalds Commits to Sustainable Beef
Hy-Vee Food Stores has partnered with non-profit FishWise to outline a Responsible Sourcing Commitment for seafood, pledging that by the end of 2015 Hy-Vee will only source seafood that is designated green or yellow by the Monterey Bay Aquarium's Seafood Watch program, certified by an equivalent system, or from fisheries with credible, time-bound improvement processes.
"It is Hy-Vee's mission to do business in a manner that promotes the well-being of our customers, employees, communities, and the global environment," Nate Stewart, Hy-Vee's VP of perishables, said in a press release.
Another major global food company McDonald's Corp. also made headlines recently with their pledge to purchase "verified sustainable" beef for its restaurants by 2016, according to a new "Beef Sustainability" page on its website.
McDonald's said it would "listen, learn and collaborate with stakeholders from farm to the front counter" to move its supply chain toward more sources of sustainable beef. We want to do our part to improve environmental practices in the way beef is produced, support positive workplaces in the beef industry, and drive continuous improvement in animal health and welfare."