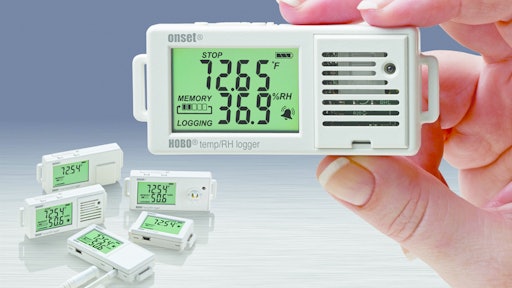 Next-gen Temp Logger Introduced by Onset
Onset has unveiled the HOBO UX100 Series, the   company's next generation family of data loggers for tracking temperature and relative humidity in indoor   environments.
"The HOBO UX100 Series sets a new standard for portable temp/RH data logging," said Jessica Frackelton, Onset's senior manager of product marketing.
Among other things, the UX100 Series data loggers can be used to track food storage conditions in warehouses and log temperature trends in server rooms.
NaturaLINE Boosts Green Shipping Efforts
Carrier Transicold's NaturaLINE unit is demonstrating the practicality of a natural refrigerant-based system for intermodal shipping.
"Carrier's natural leadership in refrigeration technologies provides marine and intermodal shipping operations with an unprecedented opportunity to further improve their environmental stewardship," said David Appel, president of Carrier Transicold, during the Intermodal Europe trade show in Amsterdam. "Along with the PrimeLINE unit, the NaturaLINE unit leverages environmental technologies to consume less energy over its expected life compared to our previous equipment, reduce overall operating costs and increase the recyclability of its components when they reach the end of their useful life."
The NaturaLINE sea trial included shipments of Caribbean-grown bananas, Belgian beer, European wines, cookie dough, ice cream, meats and cheeses.
Ocean Spray Cranberries Cuts GHG, Transportation Costs
A study conducted by the Center for Transportation & Logistics at the Massachusetts Institute of Technology (MIT CTL) shows Ocean Spray Cranberries gained a 20 percent reduction in greenhouse gases (GHG) along with a 40 percent savings in transportation costs by making smart process changes to one of its primary transportation and distribution routes.
There were several unique aspects to the study, which attempted to measure sustainability improvements after Ocean Spray, a $2.2 billion agricultural cooperative and fruit juice and food manufacturer, opened a new distribution center and partnered with a competitor to improve transportation efficiency.
Ocean Spray's first process change to reduce GHG emissions and transportation costs was to open a new distribution center in Florida, bringing product supply closer to demand. At the same time, the company learned that a competing juice company had a New Jersey-to-Florida backhaul opportunity. Ocean Spray investigated whether it was possible to fill the competitor's vacant railcars with Ocean Spray product already headed in that direction by truck.
Following 12 months of collaboration, Ocean Spray reported:
•           A shift of 80 percent of its freight traffic between New Jersey and Florida to a new rail route
•           A 20 percent overall carbon footprint reduction in that lane
•           An estimated 40 percent savings on transportation costs in that lane—about $200 per truckload
•           A savings of 1,300 metric tons of carbon dioxide (equivalent to saving over 100,000 gallons of fuel)
Jason Mathers, Senior Manager, Supply Chain Logistics at Environmental Defense Fund (EDF), which sponsored the study, said, "Ocean Spray has shown that concrete and measurable sustainability results can be found within projects that were previously identified for cost savings only. We encourage all companies who identify cost cutting opportunities within their logistics operations to also calculate potential emissions reductions to add greater overall value to their organizations."
Crowley Opens New Cold Storage in Miami
Crowley Maritime Corp. and Customized Brokers, the company's Miami-based customs brokerage arm, recently opened a new cold storage warehouse facility, Crowley Fresh, in Miami.
The 400,000 cubic foot Crowley Fresh facility features multiple humidity and temperature-controlled coolers and is open 24/7 to store and handle perishables imported and exported to markets in Latin and South America, the Caribbean, Europe, Asia and the Far East.
"When you're shipping temperature-sensitive goods, every second counts. Shippers of perishables need a reliable and committed cold-chain logistics partner who has industry leading specialized equipment and experience," said Crowley's Nelly Yunta, vice president, sales, marketing and customer care.
Foodservice Distributor Deploys topVox's Lydia
Hawaiian foodservice distributor Suisan recently deployed topVOX's Lydia solution for its 53,000 square foot refrigerated warehouse in Hilo, Hawaii.
"We were looking for a solution to help us increase pick productivity and I believed that voice would be the most cost-effective solution," says Paul J. Agamata, Suisan's IT director. "I also liked the idea of hands-free picking—I knew it would create a safer work environment."
Within the first two months of implementation, the company had a 30 percent increase in fulfillment accuracy along with a 20 percent increase in picks per hour.
The topVOX Lydia solution is speaker independent, so it wasn't necessary for employees to create a voice template to use the system. This allowed workers to utilize the solution at a much quicker rate.
"This project has been hugely successful for us and there's been no downside to what we've done," notes Agamata. "This is just the beginning of another transformation for Suisan. And we couldn't have achieved these results without the topVOX team."
Chilean Berry Exporter Picks Port of Savannah
A major Chilean exporter of fresh blueberries, Giumarra International Berry, has picked Georgia's Port of Savannah for its U.S. gateway to serve Atlanta and other markets in the region.
"We're excited to enter this new partnership with Giumarra International Berry, which highlights the Georgia Ports Authority's commitment to the refrigerated cargo market," said GPA Executive Director Curtis Foltz. "Because of our direct Interstate access, as well as having two Class I rail services on our facility, we can serve the Atlanta and Southeast regions more efficiently by importing this fresh produce directly through the Port of Savannah."
Shipments of conventional and organic blueberries will arrive at the Port through late March or early April. Giumarra International Berry maintains a packing plant in Alma, Georgia, which can pack bulk produce into pack sizes based on customer demand.
According to the U.S. Department of Agriculture, blueberry imports from Mexico and the Southern Hemisphere are rising fast and are considered one of the hottest categories in fresh produce. Chilean blueberry imports have increased $128 million—or nearly two-and-a-half times—in the past four years.
Fleet Telematics Growing in BRIC Economies
The BRIC economies—Brazil, Russia, India and China—are among the top markets for future growth in fleet telematics, according to a report by Telematics Update. Although North America reigns as the leading global telematics market, developing countries, such as the BRIC economies, hold plenty of potential.
Part of the appeal of the BRIC countries for telematics providers is that the current market penetration remains incredibly low. "In terms of fleet telematics, the BRIC countries are very far behind," says Michael Sena, president of Michael L. Sena Consulting, which works principally with vehicle OEMs on navigation and service infrastructure solutions.
But the shipping sector in these countries is growing, and that means opportunity for anyone that can provide affordable telematics solutions.
In Brazil, the attraction for telematics is due to that country's high rates of cargo theft. For example, Ituran, one tracking and asset recovery company operating in Brazil, has recovered more than 18,000 vehicles in that country in the last ten years.
Nonetheless, the primary obstacle for the telematics industry in BRIC countries, not surprisingly, is cost. "The dynamics of fleet telematics are very much related to the affordability of systems," explains Sena. "If you look at who is actually running the fleets, outside of North America, many are owned by individual business owners. So the size of the fleets is very small, which means that the return on investment has to be obvious and has to be quick."
Pressure Mounts to Delay July 1 Implementation of HOS Rule
The Commercial Vehicle Safety Alliance (CVSA) is the latest industry group requesting the Federal Motor Carrier Safety Administration (FMCSA) to delay the July 1 implementation of the Hours of Service (HOS) rule for truckers.
In January, the American Trucking Associations (ATA) lodged a similar request with the FMCSA.
"This request is to help to avoid potentially duplicative and unnecessary training for both enforcement and industry, and to prevent confusion if the court's decision alters the final rule in any manner," wrote Steve Keppler, the executive director for the CVSA.
A report by Transport Topics stated that, "ATA's letter also cited potentially unnecessary training for law enforcement and trucking companies if the U.S. Court of Appeals for the District of Columbia Circuit changes the rule after hearing oral arguments March 1."
FMCSA spokesman Duane DeBruyne confirmed that the agency had received both requests and they are under review.
South African Beverage Company Chooses Logility
South Africa's Peninsula Beverage Company, one of the country's bottlers and distributors of Coca-Cola products, has chosen Logility's Voyager Solutions for its supply chain operations.
Following the implementation, Peninsula Beverage Company increased forecast accuracy by 20 percent at the item/plant level and is able to utilize the enhanced visibility and more accurate data to strengthen its sales and operations planning (S&OP) process. In addition, the company has been able to centralize its demand planning, improve service levels and reduce inventory by 25 percent while increasing on-time, in-full order fill rates from 94 percent to 99 percent.
Logility's supply chain solutions are used by over 1,250 companies worldwide.