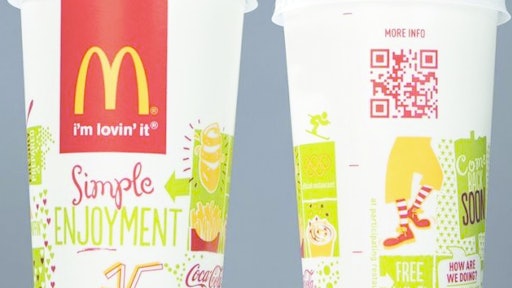 Color-changing Labels Detect Food Freshness
UK-based Insignia Technologies will soon launch their latest color-changing labels, which are aimed at decreasing food waste and boosting food safety. Their first product, set to launch this spring in the UK, is the Novas Embedded Label. The color-changing label, which is integrated into the food packaging film, is triggered when the package is opened and exposed to carbon dioxide. With the timer activated, the consumer knows how long a package has been opened.
"Our color-changing labels will give a clear indication as to how long the packet has been opened and if it's still fit for consumption," says Stephen Currie, chief operating officer of Insignia Technologies.
Once Insignia Technologies completes their launch phase within the UK market, the U.S. will be its next priority.
"We've been over to America three times in the past year and have started to build solid relationships with several of the leading retailers as well as a few of the branded food manufacturers," notes Currie. "We are very keen to further develop additional relationships with key players within the American food industry."
Insignia Technologies has plans to roll out their products to the rest of the UK market, then will focus on the U.S., Germany and France.
Tighter Safety Regulations for Kenya-EU Food Shipments
As of January, exports of food products from Kenya to the EU will face more stringent safety checks. Specifically, new regulations from Kenya's Horticultural Crops Development Authority (HCDA), which became effective on January 1, 2013, require all exporters of vegetables to the EU to provide details as to the safety of their produce.
According to the notice: "All exporters of beans and peas including French beans, runner beans, sugar snaps, snow peas and garden peas are required to fill the common entry document Annex II in line with new EU requirements."
The move comes on the heels of the EU's efforts to stems harmful elements in produce, particularly Aflatoxins, pesticide residues and metals such as lead. Meanwhile, tighter pesticide regulations in recent years have threatened to curtail Kenya's export growth.
Terra Technology Unveils Sustainability Calculator
Terra Technology has introduced an online Sustainability Calculator designed to help manufacturers determine the environmental impact of reducing excess stocks through better demand prediction and inventory optimization.
According to the company, "Carbon and water embodied in the estimated $8 trillion of global inventory is the equivalent of roughly 11 percent of the total annual global carbon emissions and 40 percent of global water use." Although some inventory is necessary, excessive inventory resulting from forecasting errors creates huge environmental and financial burdens.
"Cutting inventory eliminates carbon emissions and water use from many parts of the product lifecycle, including manufacturing, raw materials, packaging and distribution. For most companies, manufacturing represents less than 10 percent of the total life cycle footprint, so achieving truly impactful reduction requires that sustainability programs reach beyond factory walls. Moreover, manufacturers that depend on agriculture or livestock for production are more likely to find that raw materials account for 80 to 90 percent of their total footprint," the company stated in a press release.
The Sustainability Calculator is available at terratechnology.com/sustainability-calculator.
McDonald's Uses QR Codes to Highlight Nutritional Info
McDonald's has updated packaging for its carryout bags and fountain beverage cups with QR codes that communicate "brand stories" and provide nutritional information and other facts to consumers.
"Our new packaging is designed to engage with customers in relevant ways and celebrate our brand," says Kevin Newell, chief brand officer for Oak Brook, Illinois-based McDonald's. "Customers tell us they want to know more about the food they are eating and we want to make that as easy as possible by putting this information right at their fingertips."
The global launch started in January in the U.S. and will roll out worldwide this year, with text being translated into 18 different languages.
United Nations' Global Campaign Targets Food Waste
The UN Environment Programme (UNEP), the Food and Agriculture Organization (FAO), and partners have launched a new global campaign targeting food waste. Called "Think.Eat.Save. Reduce Your Foodprint," the campaign hopes to educate consumers, retailers and the hospitality industry with simple steps that can help reduce the 1.3 billion tons of food lost or wasted every year.
"In a world of seven billion people, set to grow to nine billion by 2050, wasting food makes no sense—economically, environmentally and ethically," says Achim Steiner, UN Under-Secretary-General and UNEP executive director. "Aside from the cost implications, all the land, water, fertilizers and labor needed to grow that food is wasted—not to mention the generation of greenhouse gas emissions produced by food decomposing on landfill and the transport of food that is ultimately thrown away."
A UNEP press release states that: "Worldwide, about one-third of all food produced, worth around $1 trillion, gets lost or wasted in food production and consumption systems, according to data released by FAO. Food loss occurs mostly at the production stages—harvesting, processing and distribution—while food waste typically takes place at the retailer and consumer end of the food supply chain."
Russian Ban on U.S. Meat Stirs Controversy
Russia's ban on U.S. meat imports, which has grown in recent weeks to include beef, pork and turkey, is being called 'protectionist' by western food producers, even though Russian officials claim the ban is an attempt to prevent a feed additive called ractopamine from entering the Russian food supply.
The ban affects over $500 million in annual U.S. meat exports to Russia.
"These actions threaten to undermine our bilateral trade relationship," said Andrea Mead, a spokeswoman for the U.S. Trade Representative's office. "They are not consistent with international standards and appear to be inconsistent with Russia's WTO commitments."
According to Russia's Veterinary and Phyto-Sanitary Surveillance Service (VPSS), U.S. meat producers have had adequate time to comply with the restrictions on ractopamine, a growth stimulant used to produce leaner meat, considering the notification was issued early last year.
In the meantime, both Brazilian and Canadian meat producers say they intend to comply with Russia's restrictions on the feed additive.
Hain Celestial Sees Opportunity in Mature Markets
Although many food companies are whetting their appetite on emerging markets like China and India, the Hain Celestial Group is taking a different approach and going after developed markets like the UK, Canada and Europe.
"Before a few years ago, 80 percent, 90 percent of our sales were sold within the U.S.," said Irwin Simon, president and CEO, during a presentation at the ICR XChange Conference in January. "If you look at it today, close to 60 percent is still in the U.S., and 40 percent outside the U.S., with the UK being the biggest part. And I like that breakdown."
In the meantime, Hain Celestial is busy with acquisitions and introducing new products. Last year, the company introduced 80 products, said Simon.
Hain Celestial also introduced 80 products last year, Simon said. "Innovation is key," he explained. "And being out there in front with chia seed, being out there in front with flaxseed products, being out in front with a lot more Greek yogurt products, being out in front with extruded snacks. And that's key with Hain, is how we're out there and ahead of trends and what consumers want."
USTR and DOT's LaHood Resign
The U.S. Trade Representative, Ron Kirk, is resigning from his position at the end of February. During his tenure, USTR Kirk implemented trade agreements with Korea, Colombia, and Panama, and made significant progress on negotiations toward the Trans-Pacific Partnership pact.
Ray LaHood, Secretary of the Department of Transportation is also leaving after serving for four years on President Obama's cabinet. In an email to DOT employees, LaHood praised his colleagues for their work on initiatives targeting distracted driving and pilot fatigue; improving the safety of the nation's transit systems, pipelines and highways; reducing roadway fatalities; and boosting consumer protections with new regulations for buses, trucks and airlines.
He also noted the department's role in helping the country's economic recovery using $48 billion in transportation funding from the American Recovery and Investment Act of 2009, including the funding of 130 transportation projects across the nation through $2.7 billion in Transportation Investment Generating Economic Recovery (TIGER) grants.
Rapid Expansion for Global Cold Chain Market
Research firm MarketsandMarkets estimates that the value of the global cold chain market will reach $157,142.2 million by 2017, at a CAGR of 13.2 percent from 2012 to 2017.
North America comprises 40 percent of the total cold chain market revenue and is expected to grow at a CAGR of 12 percent over the next five years. Europe is responsible for 30 percent of the global cold chain market revenue, while Asia makes up roughly 22 percent. Emerging economies will continue to drive growth in the near future.