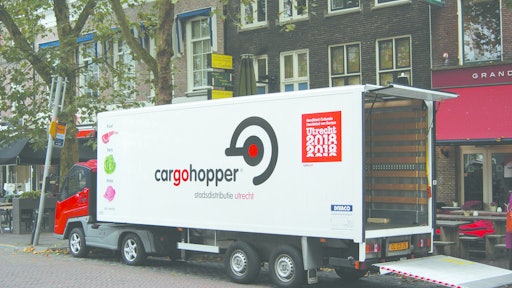 Cargohopper Addresses Niche Transport Needs
Many Old World towns and cities throughout Europe, while charming for their narrow, cobblestone streets, are a headache for modern-day delivery trucks and vans. The Dutch city of Utrecht is one example. Busy shops and restaurants require constant servicing, but standard trucks not only have a tough time navigating the streets, they're a nuisance to local residents.
A transportation company called Cargohopper has designed a solution that is gaining favor in Utrecht and getting noticed elsewhere throughout the continent. First, Cargohopper consolidates Utrecht-bound shipments at a DC outside the city, then they're placed on a 52-foot, solar powered caravan that's barely bigger than a golf cart, or a small-sized trailer. It's estimated that the service saves 5,200 gallons of diesel and 33 tons of CO2 annually compared to regular delivery trucks.
Higher Food Prices Blamed for Spike in Meat Thefts
Drought conditions across the U.S. and its effect on food prices are being blamed for a spike in thefts of meat, including beef, pork and chicken. According to FreightWatch, meat thefts started their spike in 2011, climbing from an average of 1.75 thefts per month in 2010 to four per month in 2011.
So far this year, meat thefts are averaging about 3.2 per month, but the busiest months are in the final quarter.
Most meat thefts tend to occur where cargo volumes are high in general, such as Southern California, South Florida, Houston and Atlanta. However, the Corn Belt, and Iowa in particular, has experienced a disproportionate amount of meat thefts compared to other goods.
Given that drought conditions in the U.S. are the worst they've been since 1956, and with corn prices continuing to rise, it's likely that meat thefts will do the same.
Driver Shortage: From Bad to Worse
The American Trucking Associations' (ATA) recent analysis of the driver shortage in the trucking sector finds that the situation will likely become more profound over the long term. Although the current shortage is already severe, it's limited primarily to the truckload business. But, LTL and private fleets are expected to feel the impact more in the coming years.
According to the ATA's "Trucker Driver Shortage Update" released in November, the current driver shortage is approximately 20,000 to 25,000 in the for-hire truckload market and it is expected to increase to 239,000 by 2022. Changes to the hours-of-service (HOS) rule in 2013 will also affect the driver shortage and likely reduce productivity by 3 percent. Consequently, carriers will have to add more trucks and drivers to haul the same amount of freight, further aggravating the shortage.
"Carriers and fleet executives have begun expressing concern about their ability to identify and hire qualified professional drivers," says ATA's chief economist Bob Costello. "And with this report, we tried to identify where the impacts were being felt the most, why the shortage is increasingly worrisome and why it has the potential to get worse." He added that, "On average, trucking will need to recruit nearly 100,000 new drivers every year to keep up with demand for drivers with nearly two-thirds of the need coming from industry growth and retirements."
FSMA's Foreign Supplier Verification Program Rolls Out in January
The latest requirement from the Food and Drug Administration's (FDA's) Food Safety Modernization Act (FSMA) will become effective in January 2013. Specifically, the FSMA will require importers to implement a foreign supplier verification program to guarantee all imported food is supplied in agreement with U.S. food safety regulations.
Verification could include lot-by-lot certification, periodic onsite inspections, review of a facility's HACCP (Hazard Analysis & Critical Control Points) plan, and/or sampling and testing of shipments.
Food imports will be denied customs clearance if the U.S. importer does not have a foreign supplier verification program.
Food Lion Puts Fresh Produce Front and Center
Grocery retailer Food Lion has launched a new program, entitled "Fresh From the Field," that aims to put more fresh produce in the stores while teaching consumers how get the most shelf-life as possible. The program includes a "double your money back" guarantee for any fruit or vegetable in unsatisfactory condition along with in-store tips for how to care for and store fresh produce at home.
"We have made a new commitment to fresh produce," emphasized Cathy Green Burns, president of Food Lion. "We heard from our customers that they wanted fresher produce for their families."
The initiative is not only taking shape in-store, but in the warehouse too. Food Lion piloted the Fresh From the Field program at its Salisbury, North Carolina distribution center—one of six Food Lion DCs in the Southeast U.S. The DCs receive fresh produce every day now in order to assure quicker turnaround of stored fruits and vegetables, while the retail stores receive shipments of fresh produce every other day, up from three times a week.
Don's Cold Storage Plans New Facility in Missouri
Arkansas-based Don's Cold Storage is building a new $14 million cold storage facility in Joplin, Missouri. The 150,000 square-foot facility is expected to create 52 local jobs.
The company provides temperature-controlled warehouse and transportation services, including blast freezing and cold and dry storage, to industries in the continental U.S. as well as product export services around the world.
C.H. Robinson Introduces the Eco-Crate
C.H. Robinson Worldwide introduced the Eco-Crate at the Produce Marketing Association's Fresh Summit in October. The Eco-Crate is a fully recyclable crate that weighs less than conventional products. Aside from its stacking capabilities, shippers can get up to 30 percent more Eco-Crates into a truckload.
The Eco-crate is also safer than wooden crates and labels adhere to it better than most other crates.
"Several surveys identified wood crates as the single most difficult and most injury-producing container at DC and store levels, both domestically and in Europe," notes Daniel Whittles, director of grower programs and business development for Rosemont Farms, which is owned by C.H. Robinson. "Those handling the Eco-Crate at the various points of contact from packing to merchandising will be thrilled at the reduced hazard, thanks to the elimination of metal wire and splintered wood."
New EPA Emission Standards for Refrigerated Units in 2013
The Environmental Protection Agency's (EPA) Tier 4 Final emission standards on engines, which will impact transport refrigeration unit (TRU) diesel engines, will become effective at the start of 2013.
"The EPA regulations for greater than 25, but less than 50 horsepower TRU engines require reductions of about 90 percent in particulate matter (PM) and 37 percent in nitrogen oxide (NOx) emissions from the interim standards that have been in effect since 2008," explains Doug Lenz, director of product management and marketing for Thermo King. "In addition all TRU engines, regardless of horsepower, need to comply with new not-to-exceed (NTE) PM and NOx limits at elevations of 5,500 feet. Previous standards were based on emissions at sea level."
At the same time, new regulations from the California Air Resource Board (CARB) will require haulers to become more fuel efficient and decrease the mass of their loads. CARB also requires the trucking industry to replace or upgrade refrigeration unit diesel engines that are more than seven years old.
Food Distributor Nash Finch Closing Iowa DC
Nash Finch, the second-largest publicly traded wholesale food distributor in the U.S., announced that it is closing a DC in Cedar Rapids, Iowa, which has operated since 1962, and will "transition" the DC's business to other DCs in Omaha, Nebraska and St. Could, Minnesota.
"Combining the volume handled by Cedar Rapids into the other distribution centers will allow for increased efficiency and additional product selection for our Cedar Rapids customers," the company explained in a statement.
America's Dominance in Corn Exports Waning
For years, the U.S. has been the "king of corn,"—the source of over half of the corn on the international market. According to the Department of Agriculture, during the 2007-08 marketing year, the U.S. exported 2.4 billion bushels of corn. But, that number is expected to drop to 1.1 billion bushels for the 2012-13 marketing year, and it's likely that foreign markets are changing permanently.
For one, because of high corn prices, many countries expanded their own corn production to become more self-sufficient. U.S. regulations surrounding ethanol are also responsible, say economists. Specifically, the federal Renewable Fuel Standard mandates that gasoline sold in the U.S. be blended with ethanol. In 2012, the law required oil companies to blend 13.2 billion gallons of ethanol with the gas they formulated. Next year, the blending requirement will rise to 13.8 billion gallons.
Corn is the main feedstock for ethanol, and 5.5 billion bushels of American-grown corn were used for ethanol during 2011-12.