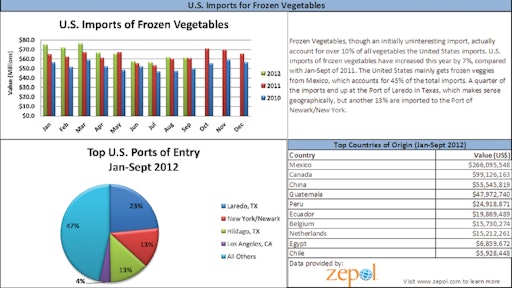 Canada-Panama Free Trade Agreement Moves Forward
The Canadian House of Commons has approved the Canada-Panama Free Trade Agreement, setting the stage for the pact to become law.
Under the agreement, over 90 percent of Canadian goods exported to Panama will become duty-free, providing an immediate benefit to the aerospace, pharmaceutical, pulp and paper, agriculture and agri-food industries.
Panama ranks as Canada's second-largest export market in Central America, behind Costa Rica. Bilateral merchandise trade grew 10.1 percent last year to hit $234.9 million (C$325.3 million).
Over the past six years, the Canadian government has forged free trade agreements with nine countries, including Colombia, Honduras, Jordan, Panama, Peru and the European Free Trade Association member nations of Iceland, Liechtenstein, Norway and Switzerland.
Currently, Canada is participating in the Trans-Pacific Partnership negotiations with the EU, India and Japan.
New Agricultural Processing Plant Under Construction in Florida
A new vegetable processing plant is being constructed in western Flagler County, which lies roughly 45 miles south of Jacksonville, Florida. The 34,000 square-foot plant is expected to be completed in the late spring or summer of 2013. Once completed, it will be the second vegetable packing plant in Flagler County.
Agriculture is a key economic driver for Flagler County. The county's vegetables, including cabbage and potatoes, are sold throughout the U.S. during winter months. According to the latest USDA Agricultural Census, the market value of Flagler Country's products stands at $35.1 million.
Sustainability a Sweet Thing for World's Largest Chocolate Company
The world's largest chocolate company is sweetening its sustainability efforts with plans to invest $400 million over the next 10 years to help its suppliers enhance productivity and boost sustainability.
Mondelez International took its queue from another successful sustainability program called "Cocoa Life," which was launched by its subsidiary Cadbury in Ghana, India and the Dominican Republic. Cadbury has already committed $70 million to its sustainability initiatives. In Ghana, the chocolate maker reports that cocoa yields for farmers taking part in the program have increased 20 percent.
In the meantime, Mondelez International's $400 million investment will include $100 million set aside to specifically to support 75,000 farmers in Côte d'Ivoire, the world's largest cocoa producing country.
All told, Mondelez International says its sustainability efforts will enhance the livelihoods and living conditions of 200,000 cocoa farmers globally, while also reducing biodiversity loss and soil erosion and promoting better water efficiency and yields.
UK Consumers Willing to Pay More for Animals' Welfare
Researchers at the UK's University of Reading say consumers are willing to pay more for meat if it means the animals receive more humane care. At the same time, consumers tend to favor the welfare of cows and chickens over pigs.
Richard Bennett, an agricultural economist who is involved in the research says scientists have a good idea of how animals feel. "With better understanding of animal behavior, we can accurately measure the welfare of an individual animal in terms of its freedom from hunger, thirst, pain, injury, fear, and its ability to express normal behavior—in short, what makes animals happy on a 0-100 scale," he says. "Our research shows that people are overwhelmingly concerned about the welfare of animals bred for meat, and would be willing to pay more each year for even a one-point increase on the happiness scale of the animals they eat."