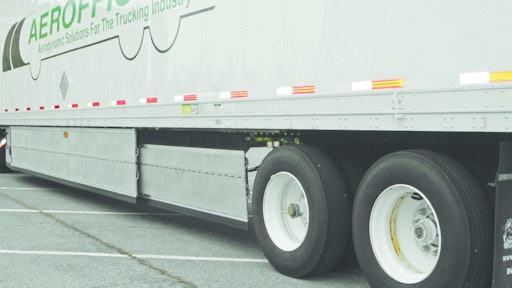 Airships Could Revolutionize Food Transportation in Alaska
Residents of Alaska rely on airfreight for so much of their basic necessities, including food. In the near future, airships could play a major role in the transportation mix, particularly for isolated villages. About 200 communities across the state are inaccessible by road.
The potential for airships in transporting food and other cargoes was explored during a recent gathering of airship manufacturers in Anchorage.
Thermo King Receives EPA and CARB Certification for 2013
Transport refrigeration manufacturer, Thermo King, is the first to receive Environmental Protection Agency (EPA) and California Air Resources Board (CARB) certification for 2013 engines greater than 25 horsepower without the use of a diesel particulate filter.
In comparison to the interim Tier 4 standards, these regulations require an engine to be 37 percent cleaner for particulate matter and 90 percent cleaner for nitrogen oxides.
"Customers can now keep their transport refrigeration units longer than seven years, and, if they do decide to sell, values should remain higher because no incremental investment will be required," commented Doug Lenz, director of product management and marketing for Thermo King. "Throughout the life of the units, they will have a more sustainable solution, which is increasingly important for customers who need to respond to corporate-wide commitments to sustainability."
These new 2013 engines will be available in the Precedent platform in January 2013.
Maersk Raises Reefer Rates by 30 Percent
In September, Maersk Line, the world's largest container line, announced a 30 percent rate hike on refrigerated containers in a bid to restore profitability.
The company's chief executive, Soren Skou, made the announcement during a recent cold chain logistics conference in Antwerp, Belgium. He said the liner was raising rates by $1,500 per 40-foot unit starting on January 1, 2013.
Skou explained that over the past seven years Maersk's reefer rates had not even kept up with inflation and over the past 18 months they have lagged rising bunker fuel costs.
Green Roof Grows Energy Savings at Sysco
A green roof installation at a Sysco foodservice facility in Vancouver, Canada is reducing annual cooling costs at the facility by 7 percent. The patented Green Living Roof, designed by Green Living Technologies International (GLTi), was installed in March 2010.
In addition to the 7 percent reduction of annual cooling costs, it is also estimated that even more energy savings could be achieved if the HVAC system was downsized.
Wine Shippers Preparing for East Coast Port Disruption
Even though contract talks between the International Longshoremen's Association (ILA) of dockworkers and the U.S. Maritime Alliance (USMX), which operates all East and Gulf Coast ports from Boston to Houston, have been suspended until the end of the year, wine and spirits shippers aren't taking any chances with their supply chain.
Jim Lisa, import director at Kobrand, told an industry publication that his contingency plan includes diverting imports "that we deemed urgent over to the West Coast and then have them moved [by rail] to the East Coast for our distributors."
Meanwhile, specialty food importers are very worried about a possible strike because they don't have the resources to divert freight.
Old Dominion Turns to Solar for North Carolina Warehouse
Old Dominion Freight Line, based in Thomasville, NC, has implemented a 160,000 square-foot rooftop solar panel system at one of its warehouses—the third-largest of its kind in North Carolina.
Solar energy firm SunEnergy1 was tapped for the project.
The system, which has been operating since late December, can produce more than 2.2 million kilowatt hours of electricity a year—enough to offset more than 90 percent of the building's electricity while reducing Old Dominion's carbon footprint.
A total of 7,600 individual solar panels are installed on the roof.
Aerofficient Receives Frost & Sullivan Innovation Award
Aerofficient has been awarded the coveted Frost & Sullivan 2012 North American Trailer Aerodynamics New Product Innovation Award for its Aerofficient Slider product. The product stands out for its ability to automatically expand and contract when the trailer's wheel assemblies are moved forward and rearward.
According to lab and fleet testing, Aerofficient's Slider technology achieved an increase in fuel savings of up to 80 percent in zero wind conditions with a trailer setting of 41 feet, compared to only having a standard side fairing installed. Generally, fleets can expect to see an approximate 7 percent increase in fuel economy compared to only using a fixed-side fairing, which provides on average 3 to 5 percent in fuel savings.
UPS Adds 40 Hybrid Vehicles to Fleet
United Parcel Service has added 40 new hydraulic hybrid vehicles to its fleet, 20 in Baltimore and 20 in Atlanta. The vehicles can achieve up to 35 percent improved fuel economy and up to 30 percent carbon dioxide emissions reduction over traditional diesel-powered vehicles.
Both deployments were supported in part by grants from the U.S. Department of Energy's Clean Cities program, which aims to further the nation's economic, environmental, and energy security by supporting local actions to reduce petroleum consumption in transportation.
The vehicles in Baltimore will be deployed immediately while the vehicles in Atlanta will be introduced before the end of 2012. "Our long-term goal is to minimize our dependence on foreign energy and one way we will get there is through the deployment of a wide variety of technologies and designs in our fleet," stated Mike Britt, UPS director of alternative fuel vehicle engineering.
UPS currently operates 2,593 vehicles powered by alternative fuels or technology, including hybrid electric, electric, liquefied natural gas, compressed natural gas, bio-methane and propane-powered vehicles. As of 2011, the company's alternative fuel and technology fleet has logged more than 240 million miles and is on track to reach UPS's goal of 400 million miles by 2017
Counterfeit Gas Still a Concern for Reefer Equipment
The use of fake refrigerants in reefer containers serviced in Vietnam continues its fallout in the maritime industry. Investigators have determined that 1,181 reefer units serviced in Ho Chi Minh City, Vietnam during the first nine months of 2011 may be at risk. It appears that highly explosive R40 (methyl chloride gas) has been disguised as R134a gas and used during the servicing of reefer containers.
Last year, three containers exploded at the Vietnam's Saigon New Port and another explosion occurred in Brazil, resulting in the deaths of three workers. Longshoremen at U.S. West Coast ports refused to handle any reefer that was serviced in Vietnam and the ban remains in place today.
The reason for the use of counterfeit gas could be traced back to the phase-out of HCFCs as a refrigerant several years ago. Many countries had a large stockpile of HCFCs and some found its way onto the black market where it was sold to dealers who altered it slightly so it could be re-sold as R134a.
"In the developing nations there was a surplus of HCFCs, which are very expensive to recycle and then they got into the black market where it was cheaper to get rid of it. The sources, according to the United Nations, are from South China, which is repackaging HCFCs as R134a and selling it globally, at a significant discount," explained Mark Bennett, international moderator for the Container Operators Association and a speaker at the recent CoolLogistics Global Conference in Antwerp, Belgium.
Great Dane Delivers First Trailer from Statesboro Plant
Great Dane delivered the first refrigerated trailer made at its new Statesboro, GA plant to Rowland Transportation in August. The trucking company has been a Great Dane customer for 70 years.
"Our relationship with Great Dane goes back to the 1940s when my great-grandfather hauled fresh produce out of Florida and North Carolina to Boston, using wet bed ice bunkers to keep the product cool," said Rowland Transportation's president, Doc Hyder.
Great Dane's Statesboro facility encompasses 450,000 square feet, including office space and a 3,000 square foot climate-controlled, noise-free customer preview center. It features a range of technologies such as robotic welding, automated production processes, computer-controlled foaming operations and an optimized material handling system for quality and efficiency.
The facility is dedicated to manufacturing Everest refrigerated trailers, the TL model reefer for truckload carriers and the CL model reefer built especially for the unique needs of multi-temp and foodservice operations, especially those in the Southeast.