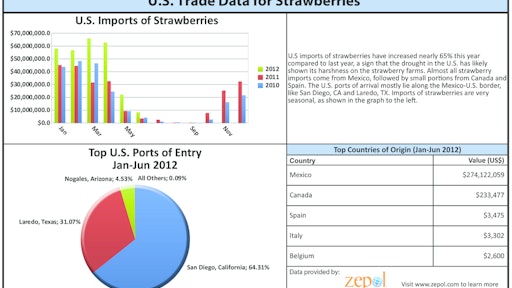 Canadian Government Improves Food Safety Inspections
The Canadian Food Inspection Agency (CFIA) is introducing a single approach to food inspection that will offer consistent and appropriate oversight across all regulated food commodities, which includes imported or domestic food items.
"We have a world class food safety system in Canada, but we want it to be the best," said agriculture minister Gerry Ritz. "A single inspection approach will make an even stronger system that will benefit all Canadians."
Funding for the program will be used to provide better training and more modern tools to front line food inspectors and will build additional capacity in CFIA laboratories.
From the Test Tube to the Dinner Table...
To help reduce the environmental impact of meat production while creating a protein source to feed future generations, scientists are promoting the benefits of lab-grown synthetic meat as a viable alternative to animals.
"This product isn't going to be for the masses at the beginning," acknowledges Hungarian-born scientist, Gabor Forgacs, who has already produced—and eaten—lab-grown meat and is the founder of Modern Meadow, Inc. "It's going to be for eco-conscious people and people who don't eat meat for ethical reasons."
Since its launch in 2011, Modern Meadows has attracted a number of investors, including the U.S. Department of Agriculture, according to Forgacs.
Forty Percent of Food in U.S. is Tossed Out
A new study by the Natural Resources Defense Council (NRDC) finds that Americans throw out 40 percent of food in the U.S., equal to $165 billion every year.
Some of the highlights include:
• The average American family of four ends up throwing away an equivalent of up to $2,275 annually in food
• Food waste is the single largest component of solid waste in U.S. landfills
• Just a 15 percent reduction in losses in the U.S. food supply would save enough food to feed 25 million Americans annually
• There has been a 50 percent jump in U.S. food waste since the 1970s
While some reasons for the waste are legitimate, other reasons, like retailers' overuse of fresh produce in displays, can be curtailed, says the NRDC. Consumers can also do their part by cutting back on portions that are too large.
FedEx Raises the Bar on Sustainability
Four years ago, FedEx pledged to reduce carbon emissions and improve fuel efficiency by 20 percent by 2020.
The company is ahead of schedule, having nearly achieved its goals and announcing a revised, more aggressive target for the future.
"FedEx is dedicated to providing sustainable solutions for our customers," affirmed Mitch Jackson, staff vice president of environmental affairs and sustainability at the global transportation company. "This year's Global Citizenship Report showcases our tireless efforts to maximize our efficiency while advancing our commitment to connect the world in responsible and resourceful ways."
As part of its new green goals, FedEx is replacing aircraft in their fleet with more fuel-efficient models. By 2015, all aircraft in the company's fleet will be new, fuel-efficient models. FedEx is also boosting its alternative fuel powered fleet by 18 percent this year to approximately 118 electric and 364 hybrid-electric vehicles.