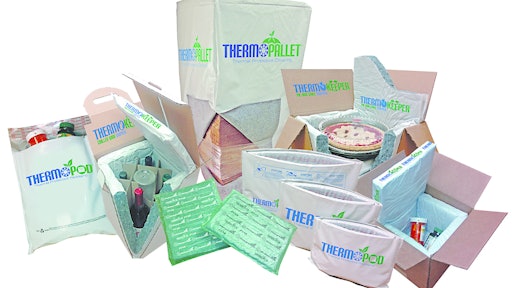 Cold Train on Track for Expansion
Rail Logistics plans to expand its Cold Train service with the addition of more refrigerated containers and new destinations.
The Cold Train launched in 2010 with express refrigerated intermodal service from the Pacific Northwest to Chicagoland, in partnership with the BNSF Railway and Washington state's Port of Quincy to transport fresh and frozen foods and vegetables from the Pacific Northwest to the Midwest.
During that first year, Cold Train shipped approximately 100 containers of perishable commodities per month. In 2011, the number of shipments grew to about 300 containers per month, and today its stands close to 400 containers each month. Company executives estimate that Cold Train will be transporting over 600 containers per month by the end of 2012.
The company is expanding its refrigerated container fleet to 300 state-of-the-art 53-foot containers (all built by Hyundai). Furthermore, Cold Train is adding service to Florida, Georgia, Pennsylvania, and New England.
"Our customers continue to trade highway miles for rail miles," said Steve Lawson, president of Rail Logistics-Cold Train. "We are excited to provide additional capacity and service to meet the needs of our current and future customers in 2012 and beyond."
New Orleans Cold Storage Switches to Digital Lumens
New Orleans Cold Storage, the oldest cold storage company in North America, has chosen Digital Lumens' Intelligent Lighting System for its newest facility located at the Port of New Orleans.
The 142,000 square-foot facility is designed as a state-of-the-art, energy-efficient facility that supports New Orleans Cold Storage's export business. For lighting, the engineering team selected the Digital Lumens Intelligent Lighting System, which uses 60 percent less energy than traditional high-intensity fluorescent (HIF) industrial lighting.
"We had the opportunity to implement best practices for every aspect of this project, including lighting," said Mark Blanchard, president and CEO of New Orleans Cold Storage. "With the Digital Lumens Intelligent Lighting System, we're able to minimize direct lighting energy use, while reducing the burden on our chiller systems because the LED high bays don't add the heat load of traditional industrial lighting. We also have the added benefit of detailed LightRules reports that show exactly how much lighting energy is being used at any time, so we are gaining control and reducing the energy intensity of the building."
U.S., Canada Unveil New System to Reduce Border Wait Times
Two bridges along the U.S.-Canada border have been equipped with sensor technology that will help facilitate trade flows along the northern border and reduce wait times.
The Peace Bridge, which connects Buffalo, NY to Fort Erie, Ontario and the Queenston-Lewiston Bridge, which connects Lewiston, NY to Queenston, Ontario are major ports of entry, and the sensors are expected to help reduce border wait times by up to one million hours per year for both commercial carriers and the traveling public.
"This technology demonstrates significant progress on behalf of the Beyond the Border Action Plan by updating critical infrastructure at our ports and enhancement of the border-crossing experience for travelers," said acting Customs and Border Protection (CBP) commissioner David Aguilar. "This latest example of U.S.-Canadian collaboration demonstrates our nations' partnership to ensure continued economic competitiveness."
The sensor technology will also assist customs personnel in focusing more on security and simultaneously reduce vehicle emissions associated with delays and excessive idling.
New Cold Chain Packaging Completely Biodegradable
ThermoPod has introduced a new product, ThermoKeeper insulated box liners, that are designed for preserving cold temperatures for mail order items like meats, seafood, chocolate, cakes and pies, wine, and more.
The ThermoKeeper liners are made with completely biodegradable components. The temperature controlled, waterproof liner offers an alternative to foam-lined coolers and it also includes an EPA-approved anti-microbial additive to prevent cross-contamination in case of accidental spills or leakages.
After use, the liners can be collapsed and stored for later use or recycled.
Joint Venture Aims to Boost CNG Network in the U.S.
Trillium CNG and AMP Americas have announced a joint venture, AMP Trillium, which aims to build a network of compressed natural gas (CNG) stations across the U.S. for heavy-duty and long-haul trucking fleets.
AMP Trillium will build stations along the I-65 and I-75 trucking corridors and major routes in Texas. The first CNG station will be available by fall 2012.
To emphasize the project's sustainability benefits, AMP Trillium plans to use renewable CNG whenever possible. Renewable CNG is the chemical equivalent of fossil-based natural gas and is obtained from biomass, often food or animal waste.
"We're very excited by what this joint venture means to AMP and our industry. It allows us to complete more renewable CNG projects alongside a strong financial and operating partner," said Nate Laurell, AMP's founder and CEO. "Oil, being globally priced, is expensive, but natural gas is not only abundant in the U.S., it's also cleaner, producing 20 to 30 percent fewer greenhouse emissions than diesel fuel."
C.H. Robinson Expands in Europe to Target Cold Chain Shipments
C.H. Robinson Europe, a division of C.H. Robinson Worldwide, has opened a new office in Rotterdam to target temperature controlled shipments.
According to the company, the segment is one of the fastest growing for C.H. Robinson Europe on the continent.
"Rotterdam was chosen for its strategic location thanks to its harbor that plays a key role in the import and export of goods on the continent. C.H. Robinson has 34 offices in Europe, some of which already have a strong presence in refrigerated transportation. However, the Rotterdam office is the company's first in Europe to specifically focus on the service," the company stated in a press release.
Southwest Air Cargo Unveils New Service for Perishables, Others
Perishable shippers and others whose products are high-value and time- and temperature-sensitive have a new option with Southwest Air Cargo. The carrier recently introduced Cargo Companion, described as a comprehensive asset tracking service that provides shippers with complete visibility regarding the location and environmental status of high-value and time- and temperature-sensitive shipments.
The state-of-the-art wireless asset tracking devices monitor the location, shock, light, temperature, pressure, and humidity of cargo during transit and alerts shippers via email when their shipment crosses predefined checkpoints; arrives at its destination; or if potential issues arise during transit.
"Cargo Companion gives customers a new level of visibility regarding the status of their cargo," explained Wally Devereaux, director of cargo sales and marketing for Southwest Airlines. "The information provided by this service will enhance the customer experience and improve operational efficiencies and minimize the impact of delays within the supply chain."
New Service Blends Wine Co. With Rail Provider
Railex LLC and Ste. Michelle Wine Estates are expanding their working relationship to launch a new service to transport wine cross-country via temperature-controlled rail cars. In addition, Railex is building a new Wine Services Distribution Center neighboring their existing transload facility in Wallula, Washington.
"Ste. Michelle is an expert at growing grapes and making wine," said Rob McKinney, vice president of operations.
"Although we have expertise with transportation and distribution issues, we determined that our business has grown to a scale that requires a third-party logistics provider to manage our distribution requirements according to our exacting standards."
The Railex Wine Service Distribution Center will offer refrigerated, humidity-controlled storage and numerous other transportation and logistics features for their customers. The wine distribution center is scheduled to open in February 2013.
Zero Emission Corridor Could be Operational by 2035
A recent study by CALSTART, a California-based organization that promotes clean transportation technologies, asserts that zero emission trucks could be tested in the next few years and eventually be deployed on a zero emission corridor running out of the Port of Los Angeles by 2035.
The zero emission corridor would parallel Interstate 710, which runs from the Los Angeles port complex northward for 18 miles to the railhead used by BNSF and Union Pacific. I-710 is a major roadway serving the port. It handles 120,000 commuters and 30,000 trucks daily, but is a growing source of congestion and air pollution.
According to CALSTART, a dual mode or range extender hybrid electric vehicle with some EV-only capability would be the most feasible solution for the corridor, especially if it was combined with an infrastructure power source installed in an overhead catenary or in the road.
Before the project is launched, however, developers would need to assure that a viable market exists for the corridor, said CALSTART. In addition, truck manufacturers would need to invest time and resources to develop the new vehicles.