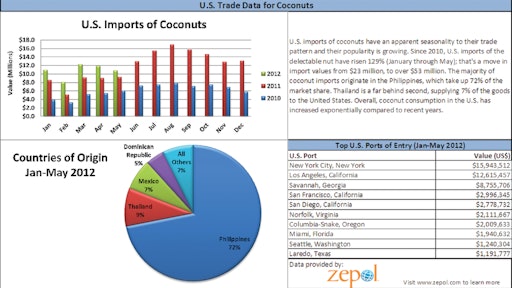 U.S. Ranks High on Global Food Security Index
The newly launched Global Food Security Index, commissioned by DuPont, ranks the U.S., Denmark, Norway, and France among the world leaders in food security thanks to ample supplies, high incomes, low costs for food relative to other expenditures, and significant R&D aimed at food production.
However, while consumers in the U.S. and other developed nations consume an average of 1,200 calories per day more than those in low-income countries, even wealthy nations' food supplies are lacking in micro-nutrients, according to the study.
The Global Food Security Index ranks and measures food security in 105 countries by looking at such things as food affordability, availability, nutritional quality, and safety.
The least food secure nations were largely found in sub-Saharan Africa, including Ethiopia, Rwanda, Nigeria and Mozambique.
Africa has long been an region of concern. In May, the Obama administration said the U.S. and other members of the G8 group of industrialized countries were working with African leaders to increase agricultural investment and enhance productivity.
According to the United Nations, by 2030 the world will need at least 50 percent more food to feed a growing population.
The interactive Global Food Security Index is available online at foodsecurityindex.eiu.com.
Canada Proposes Regulations to Track Pigs
In an effort to improve the safety of the food supply chain, the Canadian government is creating regulations that would make traceability mandatory for pigs in order to protect the health of Canadians and overseas buyers.
According to a press release, the Canadian Food Inspection Agency is proposing to identify all farmed pigs and farmed wild boars using approved methods, and record and report all movements of pigs from birth or import, to slaughter or export.
The Canadian government already has mandatory identification systems in place for livestock such as cattle, bison, and sheep.
About 70 percent of Canada's pork sales are intended for international markets. Therefore, such a system would boost overseas buyers' confidence in the safety of Canada's pork products, say supporters of the proposed regulations.
Castle & Cooke Cold Storage Acquired By Lineage Logistics
Warehousing and logistics company, Lineage Logistics, has acquired Colton, California-based Castle & Cooke Cold Storage (CCCS), a third-party warehousing logistics company.  
The acquisition increases Lineage's capacity to 12 million square feet and 240 million cubic feet.
"Lineage combines a deep heritage of customer-centric and entrepreneurial values with significant financial resources provided by committed, long-term investors," said Kevin Marchetti, managing director of Bay Grove Capital LLC, which sponsors Lineage Logistics. "This is a transformative deal that will double Lineage's size, expand its capabilities and strengthen its customer-first culture. The acquisition firmly establishes Lineage as a leading logistics partner for customers nationwide."
Castle & Cooke Cold Storage operates 24 facilities totaling 112 million cubic feet located across California, Illinois, Maryland, Missouri, Georgia, and Texas. The company provides cold and dry storage for a wide range of customers, including food and non-food producers, distributors, and retailers. In addition, the company's asset-light transportation logistics business provides nationwide solutions for product movement.
Rocky Ford Cantaloupes Back on Grocery Shelves
One year after a listeria outbreak in cantaloupes grown near Rocky Ford, Colorado caused the deaths of 30 people, the fruit is going back on grocery shelves, but with a new strategy.
For starters, farmers near the eastern Colorado town have come together to create an $800,000 fund to provide safety upgrades to assure another outbreak does not occur. They also patented the name "Rocky Ford" and are now trying to convince consumers that the cantaloupes are safe to eat.
According to news reports, farmers have hired a full-time food safety manager to monitor melon-picking and started paying the seasonal pickers by the hour, not by the amount of cantaloupes picked. The farmers also built a new central packing shed where all Rocky Ford-labeled melons will be washed with soap and a chlorine oxide, then rinsed with well water tested for contamination.
After being washed, the melons will be cooled to reduce condensation and then packed into boxes labeled with codes traceable to the fields where the melons were grown. The boxes will be packed with slips that consumers can scan using a smartphone to find out where the melons originated.
However, it may take some time to ease consumers' concerns. And, that's partly why some farmers decided to abandon the crop altogether, leaving only about one-third of the land devoted to growing the cantaloupes last year to this year's crop, according to the USDA's Farm Service Agency.
Sysco Says It Will Eliminate Gestation Crates
Sysco has become the latest food company to ban the use of gestation crates from its pork supply chain.
The company, which ranks as the largest foodservice distributor in North America, stated: "Sysco takes its role as a responsible corporate citizen in the food supply chain seriously. We use science-based standards for animal welfare and work diligently with our suppliers to ensure humane treatment of animals. We also listen closely to our customers' desires. Although there are many ways to house sows, several customers and suppliers have expressed their desire to eliminate gestation crates from their supply chains. Therefore, Sysco is committed to working with its suppliers to create a gestation crate-free supply system, for the good of all. Like many of our customers, we're going to work with our pork suppliers to develop a timeline to achieve this goal."
The move to abandon the use of gestation crates has been gaining ground this year with a number of restaurant chains, grocery companies, foodservice distributors, and food manufacturers adopting similar policies.
Growing Support for GE Food Labeling Initiative
The proposed labeling of genetically engineered (GE) foods, known as Proposition 37, has been gaining traction in California.
According to an online poll by the California Business Roundtable and Pepperdine University School of Public Policy, 27.2 percent of voters stated they strongly support the Genetically Engineered Food Act; 19.6 percent somewhat support it; and 18.1 percent are leaning toward a "yes" vote. Meanwhile, 11.3 percent of the voters are unsure; 10.1 percent are leaning toward "no"; 7.6 percent stated they will vote against Prop 37; and 6.2 percent indicate a "strongly no" for the measure.
In October 2011, an alliance of about 400 organizations filed a petition with the U.S. Food and Drug Administration (FDA) calling for the mandatory labeling on food products that use genetically modified ingredients.
If California's proposed labeling proposition does pass, it will be mandatory that most foods will have the label disclosure "genetically engineered," and it is prohibited from then using the terms "natural," "naturally made", "naturally grown" or "all natural" on its label.
Creating a Practical Fast-Food Chain For Organic Produce
Mike Roberts, former president and COO of McDonald's Corporation and current president and CEO of Lyfe Kitchen, is looking to expand his radical idea for a sustainable and organic fast-food chain throughout the U.S., but he faces some supply chain challenges.
The biggest challenge is whether America's farmers can grow, process, and deliver fresh, organic and hormone-free products to the fast-food chain in a timely and efficient manner.
Expanding is difficult under the present regulations for organic produce.
It takes three years to certify a field as organic, and five to seven years before the soil becomes truly productive.
According to Jon Kiley, Earthbound's senior manager for national food service, organic root vegetables are tricky to supply since they take a long time to grow and are also susceptible to insects, which makes it more difficult to deliver (since no chemical pesticides are allowed).
"It may be viable if you have 50 stores," Kiley says. But 20 times that? The question remains unanswered.
Cloverland Dairy Earns Highest Food Safety Rating
Baltimore-based Cloverland Dairy has achieved a Level 3 Certification from the Safety Quality Foods Institute (SQF). SQF is among the leading global food safety and quality certification and management systems.
"Consumers demand proof that food safety control systems have been implemented by those who produce and supply food items that they consume," responded Ralph Kemp, president of Cloverland. "As dairy farmers and milk processors, we're a family business dedicated to providing the public with the most wholesome milk products available. And, this SQF rating testifies to the extent of Cloverland's commitment to safety."
Recognized by the Global Food Safety Initiative (GFSI), the SQF program assures buyers and customers that food has been produced, processed and handled according to the highest standards.