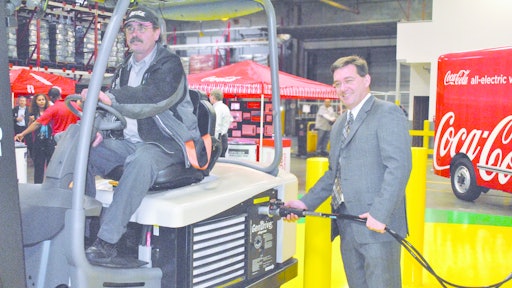 Port of Stockton Receives Grant to Maintain Deep Water Channel
The Port of Stockton, a key West Coast port with 7 million square feet of U.S. Dept. of Agriculture-approved storage, has been awarded a $7.2 million portion of the San Joaquin County's California Transportation Commission grant funding for maintaining the port's 35-foot mean low tide depth, as well as performing overdraft dredging to deepen parts to 37 feet.
There is an on-going battle to control silt build up that can reduce the draft allowance.
"The dredging," said Port of Stockton Deputy Port Director Mark Tollini, "will allow the port to continue to provide accommodations for large ocean-going cargo vessels transiting up the channel from the San Francisco Bay."
The deeper the draft, the better (financially) for vessels and shippers. There is a current federally funded environmental study underway through the U.S Army Corps of Engineers regarding deepening the draft to 40 feet. The ability to offer 40-foot draft to carriers and shippers would tremendously increase the value of the port.
Rail Logistics Adds New Refrigerated Cars to its Fleet
Rail Logistics, known for its Cold Train service that transports Washington state produce to the Midwest, has partnered with Iowa Pacific Holdings to manage, operate, and market Iowa Pacific's refrigerated railcar fleet.
The state-of-the-art refrigerated railcar fleet will initially be equipped with 150 cars. Iowa Pacific has ordered an additional one-hundred 64-foot refrigerated boxcars, which will be added to the fleet in 2013. All cars in the Iowa Pacific fleet are electronically tracked and internal temperatures are monitored to ensure product quality on delivery.
"The partnership with Rail Logistics will enable us to deploy our expanded car fleet beyond our traditional Colorado potato business," said Steve Gregory, executive vice president marketing for Iowa Pacific. "With tight truck capacity and high fuel prices, we think there is a solid market for refrigerated rail transportation."
New Reefers for Horizon Lines' Hawaii Tradelane
Horizon Lines is deploying 400 new state-of-the-art refrigerated containers in the Hawaii tradelane. The new containers feature enhanced insulation and stronger floors that improve operating efficiency and durability. Each container is equipped with a new style of door lock seal, and the cooling unit itself is bolted into place with a wire-seal to detect unauthorized access. These advancements make the containers more secure to handle high-value perishable inventory.
"Our service linking the mainland and Hawaii is a lifeline to the island economy and we take this responsibility very seriously," said Ali Nikkhoo, vice president and general manager, Hawaii. "In particular, shippers of perishables require the latest equipment to ensure they deliver the freshest quality products to the Hawaii consumer. This is why we have made a big investment in the new equipment and are excited to deploy the reefer containers for our customers."
GreenRoad Delivers Mobile App for Fleet Drivers
GreenRoad has launched its GreenRoad Central mobile app for drivers, the fleet industry's first mobile app completely designed and optimized to give drivers anytime, anywhere access to key performance data.
The mobile app allows drivers to access their safety score, idling rate, team rank, and trip details from the past seven days, with the goal of enabling them to self-correct and improve their driving habits and save money through better fuel efficiency.
Coca-Cola Goes Green with Fuel Cell for Lift Trucks
Plug Power and Coca-Cola have partnered on a sustainability initiative that involves the installation of Plug Power's GenDrive fuel cell system at Coca-Cola's distribution center in San Leandro, California.
Plug Power's GenDrive fuel cells run off hydrogen, producing zero emissions during operation. Unlike conventional batteries, fuel cells don't leave behind any lead and sulfuric acid. The only by-products of hydrogen fuel cells are heat and water. Not only is it environmentally-friendly, it also eliminates the costs associated with the handling and storing of toxic chemicals. Coca-Cola's adoption of Plug Power's GenDrive systems also promotes the build-out of a California hydrogen economy.
In addition, refueling a GenDrive fuel cell takes as little as 60 seconds. There's no waiting in line and no swapping out heavy batteries. Operators simply drive up to one of several compact refueling dispensing stations strategically located within a facility and fill up their lift truck with hydrogen gas. The time saved in this transition increases the performance and productivity of the material handling fleet as well.