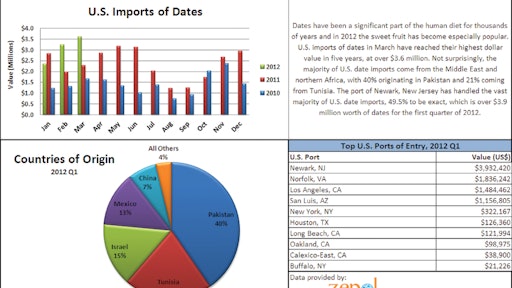 U.S. Seeks WTO Involvement Over India's Poultry Ban
U.S. Trade Representative Ron Kirk has asked the WTO to establish a dispute settlement panel over India's ban on U.S. poultry.
India claims the ban on U.S. poultry is aimed at preventing the entry of avian influenza into its market. The U.S. contends the ban isn't based on scientific finding, however.
Although trade officials from both countries met in April to try and resolve the issue, the negotiations didn't produce a resolution.
Despite India's restrictions, U.S. poultry exports rose 14 percent in volume and 27 percent in value in the first quarter from the same period a year ago, according to the U.S. Foreign Agricultural Service.
Demand for Food Safety Products to Reach $4.5 Billion in 2016
Research firm The Freedonia Group says U.S. demand for food safety products is forecast to reach $4.5 billion in 2016, with smart labels and tags the fastest growing products.
A combination of increased public awareness, tougher government rules, and a more global food supply chain are all driving interest in food safety products. Specifically, the demand for smart labels and tags will be boosted by increased emphasis on traceability in the food supply chain and expanded adoption of newer smart label technology in food packaging to reduce losses in perishable foods.
Opportunities will also exist in the livestock market as large cattle and pig farms seek ways to speed animal transfer and processing at feed lots and slaughterhouses and to improve the traceability of animals to their point of origin, especially in the event of animal disease outbreaks.
According to the firm, food processing plants represent the largest market for food safety products, accounting for 60 percent of the total in 2011. Overall demand growth in this market is expected to be in line with the industry average, reflecting the continued industry focus on food safety as a primary concern.
Finally, while all submarkets will post strong gain, the fastest growth is expected in the seafood, fresh prepared food, and beverage segments.
NAFTA Trade Hits Record High in March
The value of surface transportation trade between the U.S. and Canada and Mexico hit a monthly record in March, topping $85.7 million, reported the U.S. Department of Transportation.
During March, 86.2 percent of U.S. trade by value with its NAFTA partners moved via land, 9.8 percent by vessel, and 4 percent by air. The top U.S. trade commodity with Canada was motor vehicles, valued at $9.8 billion. Electrical machinery, valued at $7.6 billion, was the top transport commodity between U.S. and Mexico.