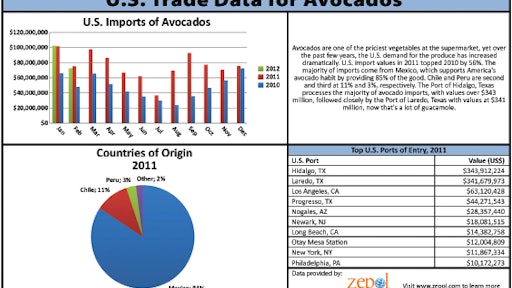 U.S.-Colombia FTA Set to Take Effect on May 15
President Obama and Colombian President Santos Juan Manuel Santos have announced that the U.S.-Colombia Free Trade Agreement (FTA) will enter into force on May 15.
Under the terms of the trade pact, more than 80 percent of industrial and manufactured products exported from the U.S. and Colombia will immediately become duty free, making it cheaper for American businesses to sell their goods to the South American country. More than half of U.S. agriculture exports to Colombia will also become duty free, including wheat, barley, soybeans, high-quality beef, bacon and nearly all fruits and vegetables.
"This agreement will provide American businesses, farmers and ranchers with significantly improved access to the third largest economy in South America," U.S. trade representative Ron Kirk remarked.
Burger King Commits to Cage-Free Chickens and Pigs
Chalking up a victory for animal welfare activists seeking to get livestock out of cramped cages, Burger King announced that it will become the first major U.S. fast-food chain to give all of its chickens and pigs some room to roam.
The world's second-biggest burger chain pledged that all of its eggs and pork will come from cage-free chickens and pigs by 2017, hoping to satisfy rising consumer demand for humanely produced fare and increase its sales in the process.
Conventionally raised eggs come from hens confined in "battery cages," which give them roughly the same space as a sheet of standard notebook paper. Most pork comes from sows confined in narrow crates during their four-month pregnancies. The hens would still be housed in a barn, but they will have room to move and perches and nesting boxes. Sows will also be held indoors, but they would not be confined to the cramped crates while they are pregnant.
Burger King handles hundreds of millions of eggs and tens of millions of pounds of pork annually, and its decision could be a game-changing move in the supply business as a huge new market opens up for humanely raised food animals.
California Bill Aims to Prevent Seafood Fraud
The California Senate Committee on Health has passed SB 1486 (Lieu- D), a seafood labeling bill with important ramifications for human health, environmental sustainability, and consumer protection.
According to Senator Lieu, the bill "would help protect public health and the environment while providing consumers a more accurate understanding of the source of the seafood they eat in restaurants." He added that, "Despite federal attempts to require point-of-origin labeling, the source of much of the seafood Californians eat remains a potentially dangerous mystery."
SB 1486 would require chain restaurants with 19 or more locations to provide consumers with key information about the seafood they are served, including the scientific common name of the seafood; the country in which the seafood was raised or caught; and whether the seafood was farm-raised or wild-caught.
International advocacy group Oceana states that seafood fraud in California is a more prevalent issue than previously thought. For example, a recent article in the Los Angeles Times reported that genetic testing of seafood samples collected by Oceana last year in Los Angeles and Orange Counties found shockingly high frequencies of seafood fraud at multiple points of sale.
Specifically, 55 percent of seafood purchased by Oceana from grocery stores, restaurants, and sushi venues combined were fraudulently mislabeled according to federal guidelines, with sushi restaurants having the highest rate of fraud (87 percent). In many cases, the mislabeling obscured key information relevant to health advice by the FDA. And, while the U.S. imports approximately 84 percent of its seafood, according to a 2009 government audit, less than 0.001 percent was inspected for seafood fraud.
U.S. Beef Industry Profits from Exports
The U.S. beef industry shipped a record $5.4 billion worth of beef abroad last year, which means big business and growing profits.
It was the first year sales surpassed those in 2003, when exports to Asia collapsed amid the first U.S. mad cow disease scare. Prior to the April 23 announcement that mad cow disease had been found in a California dairy cow, the U.S. Department of Agriculture predicted exports would drop slightly this year as ranchers limit production because of drought and high feed costs.
Last year, 14 percent of the beef produced in the U.S. was shipped overseas. Measured in both sales and volume, exports saw growth of more than 20 percent according to the U.S. Meat Export Federation. Four countries, Canada, Mexico, Japan and South Korea, accounted for 65 percent of last year's beef exports.
Supervalu Expands     Sustainability Program
Supervalu has introduced a major expansion of its environmental sustainability program that includes a commitment to have 300 stores redirect 90 percent or more of their waste from local landfills by the end of the current fiscal year, next February 2013.
The goal, which will involve the addition of nearly 250 of the company's current stores, is a major milestone in Supervalu's journey to achieve zero waste throughout its operations.
"Last year marked incredible progress in our zero waste efforts and we're even more excited about what lies ahead," said Craig Herkert, Supervalu CEO and president. "Keeping waste out of landfills is better for the environment, better for our customers and better for the bottom line. It's simply the right thing for us to do."
Supervalu notes there was a reduction of more than 28,000 tons of landfill waste in 2011, compared to calendar year 2010. There was also a 98 percent increase in mixed paper recycling, 55 percent increase in hard plastic recycling and 293 percent increase in the number of stores composting or diverting organic material.
"A key part of our effort to eliminate waste is Supervalu's Fresh Rescue program, which provides significant donations of fresh meats, produce and vegetables to our community partners," Herkert said. "This is a vital part of serving our neighborhoods, helping put to good use food that might have otherwise ended up being wasted."
Global Food Prices Trending Higher
The World Bank Group's latest Food Price Watch finds that global food prices increased by 8 percent from December 2011 to March 2012 due to higher oil prices, adverse weather conditions, and Asia's strong demand for food imports. Furthermore, if the current forecasts for increased food production do not materialize, global food prices could reach even higher levels.
"After four months of consecutive price declines, food prices are on the rise again threatening the food security of millions of people," warned Otaviano Canuto, World Bank Vice President for Poverty Reduction and Economic Management (PREM). "Putting food first must remain a priority for the international community and in our work in developing countries."
According to the quarterly Food Price Watch report, prices of all key staples increased between last December and March of this year, except for rice, due to both abundant supply and strong competition among exporters. Maize prices increased by 9 percent, soybean oil by 7 percent, wheat by 6 percent, and sugar by 5 percent. Crude oil prices, meanwhile, rose by 13 percent.
In addition, domestic food prices remain high, especially in Africa, due to a combination of large food imports and local factors, such as trade restrictions between neighboring countries, hoarding, civil unrest, high fuel and transportation costs, and bad weather conditions.
Wal-Mart Aims to End Landfill Waste By 2025
Wal-Mart CEO Mike Duke stated recently that environmental sustainability is one of the company's top five priorities. Even small improvements in Wal-Mart's operations can make a big difference because of the massive scale of its retail outlets and global supply chain.
"Understandably, in some areas our progress is slower than we would like, and sometimes we hit temporary roadblocks," Duke acknowledged in a statement, as the company released an annual update of its environmental sustainability efforts.
Wal-Mart said it was on track for its U.S. stores to stop sending any waste to landfills by 2025. By the end of 2011, it sent roughly 20 percent of its waste to landfills. Two years ago, it sent 36 percent of its waste to landfills. The company said 22 percent of the electricity it used in its global operations during all of 2010 came from renewable sources, while 15 percent of all the energy it used came from renewables. The company is still calculating its renewable use for 2011.