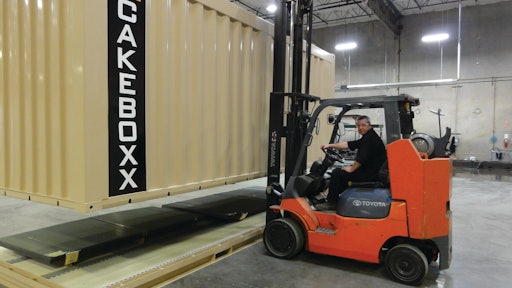 Isuzu Helps Drive Sustainability for Deli Express Fleet
Isuzu NPR ECO-MAX trucks are now helping one of the nation's largest food purveyors achieve its goals of reduced fuel consumption and a smaller carbon footprint.
Deli Express has deployed several of the Isuzu trucks in its fleet with more on the way.
Already, the trucks have exceeded the company's highest expectations. According to Gregg Hodgdon, head of fleet operations Deli Express: "These vehicles are demonstrating nearly 50 percent better fuel economy then the rest of our fleet and are emitting about 700 pounds less carbon dioxide every month."
Over a twelve-month period, the Isuzu NPR ECO-MAX trucks emit 4.2 tons less carbon dioxide than a similar, conventional model.
FG Products Celebrates 50 Year Anniversary
From a garage shop in an unincorporated Wisconsin town, Sylvester Severson crafted the industry's first Insulated Bulkhead in 1962. The first fiberglass and aluminum faced bulkheads used inner tube style seals and bicycle pumps to inflate them once positioned.
In the five decades that have passed, FG has introduced such products as the Air Return Bulkhead, the Center Partition System, the Side Duct Air Chute, and recently the COOL-R Kit Sprinter Van Insulation Package.
FG's products are used by grocery, foodservice, and convenience store distributors across North America and the UK.
The company believes its success is due largely to the customer service focus, spirit of innovation and quality of the products they produce. Matt Nelson, co-owner of FG Products states, "You won't make it 50 years in any industry without great products, great service and great relationships. Thank you to all our customers and friends in the industry."
FG remains family owned and operated in Rice Lake, Wisconsin.
SBA Increases Size Standards in Transportation and Warehousing Sector
The U.S. Small Business Administration (SBA) has published a final rule in the Federal Register raising the size definitions of small businesses in the Transportation and Warehousing sector. The increases reflect changes in marketplace conditions.
Under the final rule, as many as 1,200 additional firms could become eligible for SBA programs, the agency estimates.
As part of an ongoing review of all size standards, the SBA takes into account the structural characteristics within individual industries.
The revisions to the size standards in these sectors will enable more small businesses to retain their small business status, give federal agencies a larger selection of small businesses to choose from for small business procurement opportunities, and help eligible small businesses benefit from the SBA's loan programs.
UPS Drivers Establish Remarkable Safety Record
UPS announced the induction of 1,235 drivers into its elite "Circle of Honor," raising to 5,842 the number of drivers who have steered clear of accidents for 25 years or more.
Of the Circle of Honor members, 322 have been accident-free for 35 or more years, with 33 of those having driven more than 40 years without an accident. This year, 36 new inductees are females and 16 women have joined the ranks of those with more than 30 years of safe driving.
UPS's 102,000 drivers worldwide are among the safest on the roads, logging more than 3 billion miles per year with less than one accident per million miles driven.
CakeBoxx Looks to Revolutionize Container Shipping
CakeBoxx Technologies is preparing to launch a completely new type of intermodal cargo shipping container, called the CakeBoxx.
The patented, doorless CakeBoxx container is the first major design upgrade to the standard intermodal cargo container since its debut in the 1950s.
CakeBoxx containers are compliant with ISO standards, exceed all CSC certification testing requirements, and are dimensionally identical to standard, "back door" style shipping containers. They also provide improved security and theft prevention, better cargo safety and damage resistance, more usable interior volume, and reduced fuel costs.
The CakeBoxx containers can be loaded or unloaded from either side over the end or by an overhead crane, just like a flatbed trailer, and can carry a wide variety of cargoes, including liquids.