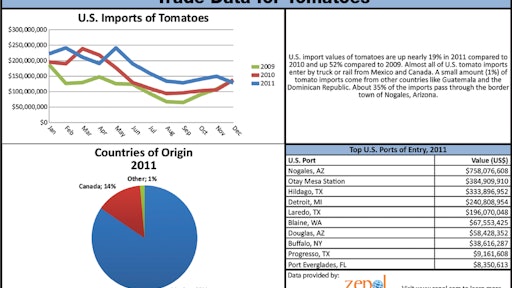 New Labels for Meat, Poultry Effective on March 1
On March 1, 2012, the USDA's Food Safety & Inspection Service's (FSIS) new rule requiring nutrition labels on meat and poultry products became effective.
"The Food Safety and Inspection Service is improving the way consumers receive nutritional information about the meat and poultry products they most frequently purchase," wrote Dr. Elisabeth Hagen, FSIS under secretary for food safety, on the USDA's official blog.
The packages must now include the Nutrition Facts label that is seen on most other food and beverage products, with the exception of some items, whose nutrition information must be made easily available at point of sale via signs or posters, for example.
"Mushroom" Packaging Gaining Favor with Shippers
Sustainable packaging options have begun to sprout in recent years, and one leading manufacturer is using mushrooms as a key ingredient for its pale, soft blocks that are used to cushion products ranging from Dell Inc. servers to furniture for Crate and Barrel.
The blocks are actually made with mycelium—the hidden "roots" of the mushroom that usually thread beneath dirt or wood. Ecovative Design, a New York-based company, has discovered how to grow the cottony filaments in a way that binds together seed husks or other agricultural byproducts into preset packaging shapes.
Now, the company is expanding their sustainable packaging line to a range of other products, including footwear and car bumpers.
Ecovative has already attracted more than $10 million in grants and equity investment, as well as some well-known customers. Dell's director of procurement, Oliver Campbell, said his company has a pilot program using the Ecovative product instead of polyethylene foam for shipping a high-end server.
"To cushion $25,000 worth of servers with mushrooms, that's kind of a radical thought," admitted Campbell.
Canadian Food Inspection Cutbacks "Would be Devastating"
The Canadian Food Inspection Agency (CFIA) could lose more than 200 food safety workers if the federal budget, which is to be delivered later this month, is cut sharply.
Meanwhile, the country's Agricultural Union has warned that the potential cuts would reduce the number of front-line food safety program staff to below the level it was in 2008, when a listeriosis outbreak killed 28 people.
"It would be devastating," said union president Bob Kingston, who added that funding is already so tight that the CFIA is reacting to food contamination incidents only after people have been sickened rather than detecting them before they happen.
The agency currently relies on assurances of safety from countries, such as India and China, which adhere to less stringent standards than those in Canada.
Roughly 2 percent of imported foods are inspected by CFIA workers, but that figure is likely to drop, Kingston noted.