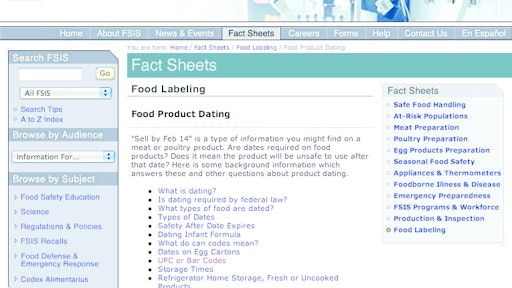 Argentina-based Molinos Rio de la Plata made the decision to implement the voice solution of topVOX Corporation at several of their distribution centers in Argentina. Key to the decision to select topVOX was that the solution integrates directly with Molinos' SAP WMS and employs a speaker independent system, so operators are trained and operational in a matter of minutes.
Smithfield, VA-based Smithfield Foods Inc. launched its new interactive Corporate Social Responsibility (CSR) website, www.smithfieldcommitments.com, which targets consumers who wish to know more about the food they eat, allowing for a deeper, timelier dialogue with the company as well as up-to-date information about the company's CSR activities.
The Dependable Companies is implementing a 1.2 MW solar photovoltaic (PV) system atop its headquarters in Los Angeles. Upon completion, the installation will be the largest solar electricity system on an industrial high-rise in the world. For its efforts, the company was selected by the International Warehouse Logistics Association (IWLA) to participate in an energy efficiency analysis.
Minneapolis-based Target Corporation says that by 2015 all of the fresh and frozen seafood it sells will be sustainable and traceable. The chain currently carries over 50 Marine Stewardship Council (MSC)-certified or Best Aquaculture Practices (BAP)-certified fresh and frozen seafood products. Target plans to buy seafood from third-party certified fisheries and farms. It will also educate shoppers about seafood sustainability and encourage them to make informed seafood purchases.
Wailuku, Maui, HI-based HNU Energy has installed a modern solar PV system at the Maui Food Bank. As a result, up to 100 percent of the energy consumed at the Maui Food Bank now comes from a clean, safe, state of the art, renewable energy system. "Reducing our electric bill by $50,000 annually helps us provide more food to those most in need in Maui County," says Rich Yust, Maui Food Bank's executive director.
Swisslog Warehouse & Distribution Solutions of Newport News, VA recently previewed the newest generation shuttle system for the storage and transport of items in totes and trays, SmartCarrier. SmartCarrier is exceptional for its ability to consolidate and release product at high rates in required sequences. The lightweight, autonomously operating shuttles delivers an excellent weight/payload ratio for rapid and efficient movement of goods.
Columbus, WI-based Lyco Manufacturing has opened a food product development laboratory to assist its customers with product recipe development and machinery trials. Commercial food processors will now have access to the most advanced technology in commercial continuous-process cooking and cooling equipment to trial their recipes, such as Lyco's Clean-Flow blancher/cooker. Clean-Flow is one of the most automated, effective and rapid clean-in-place commercial cooking systems available. The new facility is designed for testing continuous-process blanching, cooking, pasteurizing, and cooling processes.
Unregulated Date Labels Contribute to Food Waste
The "use by" labels currently found on food products do not truly provide a consumer with an accurate measure of a product's safety, nor are they regulated.
According to USDA's Food Safety Web site, the dating of food products are not required by federal law except for infant formula, although expiration dates may be state required. The dates given on other food products are generally suggestions that are recommendations for best flavor quality.
The goal of sell-by dates is to help stores stock and shelve their goods. Sell-by dates are designed to indicate a product is still fresh enough for a consumer to take it home and keep in their fridge for days or weeks. Most stores discard products as soon as they're past their sell-by dates, ultimately causing more food waste.
And, the cost of this waste is significant. In American Wasteland, a book that examines the massive quantities of food wasted from farm to fork, an industry expert estimates grocery stores discard $2,300 worth of "out-of-date" food each day. The waste continues at home since many consumers also misinterpret this date and discard products with weeks of good shelf life remaining. All this adds up to a huge amount of wasted resources, with serious impacts to resources such as land, air, and water.
For more on food storage time charts and related information, visit www.fsis.usda.gov/factsheets/food_product_dating/index.asp#9.