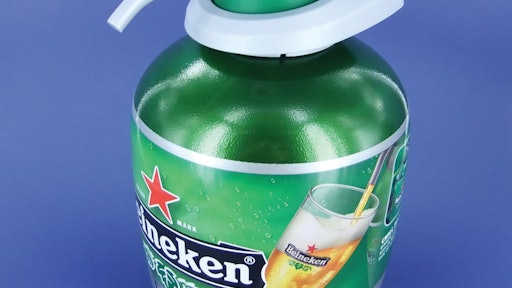 Potentially Hazardous Containers Close Two Terminals at the Port of Oakland
Workers from the International Longshore and Warehouse Union (ILWU) forced the shutdown of two marine terminals at the Port of Oakland in late October over concerns that refrigerated container units that were serviced in Vietnam during March and April could explode when they were powered up.
The companies that supply the containers have issued safety bulletins. Memos addressed to the Port of Oakland marine terminals stated that the ILWU would not allow any refrigerated units through the gates until it received a list of all refrigerated units serviced or re-gassed in Vietnam, which was said to be where the faulty containers were serviced.
According to World Cargo News, refrigerated containers have been quarantined around the world after reports of "compressor explosions and incidents of spontaneous combustion that have resulted in at least three fatalities."
The problem could have something to do with the addition of incompatible or unsuitable refrigerant gas, the article stated.
The shutdown at the Port of Oakland directly affected the SSA and TraPac terminals, but also impacted operations throughout the port and for truckers moving in and out of the port complex.
According to a statement issued by the Pacific Maritime Association, multiple international shipping agencies are conducting a comprehensive review of refrigerated containers processed at a Vietnam port after some units exploded, reportedly killing two mechanics in Vietnam and one in Brazil.
Paper: The New Pallet in Town
Wooden pallets are facing a challenge from a cardboard rival that's an innovation of furniture retailer Ikea Group.
Ikea will ditch wood pallets by January in favor of a lighter, thinner, paper-based alternative, which the Swedish company claims will shave 10 percent from transport costs.
"We don't know if the paper pallet will be the ultimate solution, but it's better than wood," says Jeanette Skjelmose, sustainability manager at Ikea's supply chain unit. Although it's made from folded corrugated-card, the design can support a load of 750 kilograms (1,650 pounds), the same as timber, she adds.
The pallets will be good for a single delivery before being pulped by the retailer. One-third the height of wooden trays at 5 centimeters (2 inches) and 90 percent lighter at 2.5 kilos, they'll save thousands of truck trips and cut transport bills by 140 million euros ($193 million) a year at a cost of 90 million euros for paper purchases and new forklifts, Ikea says.
"We hope this will be a start in making transportation systems smarter and freight as compact as possible," Skjelmose said during an interview in Helsingborg, where Ikea has its Swedish base. The world's No. 1 home-furniture company will help ease the transition from wood by shipping ready-to-assemble pallets to some of its suppliers, about 330 of which are based in China.
Meanwhile, paper pallets designed to last for a single journey could represent a challenge to pooling systems used by many of the container industry's biggest customers.
Nonetheless, CHEP doesn't use paper-based pallets and has no plans to change, according to James Hall, a spokesman for Australia-based Brambles Limited, the world's leading provider of pallet and container pooling solutions, through the CHEP and IFCO brands.
"Paper pallets and other cardboard packaging products are not suitable for pooling," Hall says. "They're not durable enough, not capable of withstanding heavy loads or extremes of weather and temperature, and they can't be repaired. It's not what our customers are looking for."
Pallet pooling is especially useful for companies that need to turn around products quickly, such as food suppliers, while a wooden structure is preferable for industries dealing in heavier goods, clarified Russell Shaw, an analyst with MacQuarie Group Ltd., based in Sydney, Australia. "Wood helps to prevent product damage," he says. "If you're transporting something really light such as cushions or candles, like Ikea, you probably don't need a high-quality pallet."
Paper will most likely go the same way as an experiment 10 years ago, when CHEP made thousands of plastic pallets for its pool before dropping the plan, he continued, not least because they proved more prone to "disappear" than wooden ones, being harder-wearing and therefore more useful for a multitude of secondary purposes.
The deciding factor in Ikea's foray into paper will be whether the savings on transportation costs from the lighter loads, higher volumes and one-way travel outweigh those from deploying wooden pallets on multiple trips, says Jeff McBee, a pallet analyst at Industrial Reporting Inc. in Ashland, Virginia.
"This obviously looks good to Ikea on paper, but I'd like to see what they have to say a year from now," he says. "I'm not necessarily skeptical, but it may be closer to a wash than they suspect."
GMA Plays Role in Creating World's First Global Food Safety Fund
Pamela G. Bailey, president and CEO of the Grocery Manufacturers Association (GMA), joined the U.S. government and World Bank officials in announcing an innovative public private partnership that has pledged $1 million for the creation of the world's first Global Food Safety Fund for capacity building.
To be managed by the World Bank, the proposed fund will leverage the tripartite approach pioneered in APEC (Asia-Pacific Economic Cooperation) that enlists a wide range of stakeholders in training programs designed to enhance food safety and to facilitate trade.
"GMA was honored to be a founding member of a unique partnership in APEC that inspired the concept of the fund's creation. In APEC, we brought together food safety regulators, multi-lateral institutions like the World Bank, academia and industry—stakeholders all focused on a common mission of improving food safety," stated Bailey. "Building on the landmark MOU between the APEC Food Safety Cooperation Forum and the World Bank signed in May 2011, the proposed fund will leverage APEC's unique food safety training programs together with World Bank international reach to help improve the safety of the global food supply—in APEC economies and beyond."
Public and private sector stakeholders have pledged $1 million to create the trust fund. In the next decade, the fund is expected to grow to $15 to $20 million.
"Food and beverage companies have a vast amount of experience, knowledge and understanding when it comes to developing and manufacturing safe products. We know what works, what doesn't work and how to apply best practices along the entire global supply chain to ensure our products are safe. This fund will allow us to share our skills and technical expertise in food safety on a much broader scale," noted Bailey.
U.S. Congress Proposes Voluntary Air Cargo Screening
The U.S. Senate Subcommittee on Transportation Security has proposed a new Transportation Security Administration (TSA) bill, which includes a voluntary air cargo screening program.
The proposed air cargo advanced screening (ACAS) program encourages cargo carriers to provide shipment level data for air cargo bound for the U.S., enabling the TSA to target and inspect high-risk cargo at the point of departure.
Per ACAS, the advance information must be submitted electronically no later than loading of the cargo onto aircraft at the last point of departure before entering the U.S.
"Screening all cargo before flight to the United States would slow the international supply chain to a crawl. Given the tones of air cargo shipped every day, a risk-based approach is the only feasible solution to finding threats in the supply chain," states an American Airlines Cargo blog.
The TSA bill also establishes a certification process for third-party explosives detection dogs to be used in air cargo screening.
Congress is taking a collaborative approach to ACAS, with plans to consult with the industry to ensure the program is "operationally feasible and practical."
If adopted, the program will take a noticeably different direction than the TSA's original 100 percent screening mandate, which was scheduled to take effect at the end of the year (2011), but is expected to be postponed.
HR 3011, entitled the Transportation Security Administration Authorization Act of 2011, was introduced by Congressman Mike Rogers of Alabama, and is currently in committee review.
Award Winning Beer Keg Now on Tap: the Heineken Tapje
A new user friendly take-home beer keg is getting noticed from consumers and may make shipping more cost effective too.
The Heineken Tapje is a 4 liter take-home keg of beer that is easy to use and more attractive in its appearance than many other kegs currently on the market. The rounded PET body makes full use of the green color associated with the Heineken brand and ensures that it stands out on the shelf in store.
The beer remains fresh for up to 30 days after opening and is dispensed under 1 bar of pressure via an aerosol system with a lever-style tap actuator that is very easy to operate and quite intuitive to use. For ultimate consumer friendliness, there is even a thermo-chromic indicator on the label, signaling that the beer has reached the optimum temperature for drinking.
The keg received the Pack-Track Innovation of the Month award in October. Pack-Track is an international subscription-based service, focusing specifically on packaging innovation around the world. It is a wholly owned subsidiary of Datamonitor.
Pack-Track Global Packaging Innovations Director Andrew Streeter said about this pack: "I am sure there will be a lot of commentary about the technical innovations of this new Heineken draft beer pack, but over and above that is the fact that this is the first pack that truly makes draft beer at home accessible. Previously it has been packed in metal kegs which, with 5 liters of beer inside, are heavy and bulky, not really fridge friendly and require a bit of 'muscle' to handle," he said. "This pack is much lighter in weight and really looks the part. It's curvy, clean, a bit see-through and, with lots of on-pack usage features, it's overtly modern and will fit comfortably in the fridge. It works well and fulfils many needs of a contemporary Packaged Brand."
Streeter added that, "We have been following this pack format since its first launch under the Maes brand in the Netherlands and have been impressed, although not wholly, as under our tests and deconstruction the beer is rather foamy and the tap drips after closing off. An easier means of carrying the pack might also help open up the market for the (lighter built) female user, so I suspect there will be some improvements to come, but that said, it's a big step forward and what I regard as a game changer in the beer market."