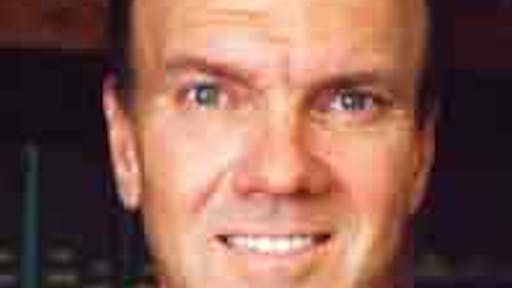 Global Cold Chain Alliance Launched
For years, several organizations in the cold chain industry have been moving toward closer relationships. Now it's official: The Global Cold Chain Alliance, an umbrella organization that unites partners to facilitate communication, networking and education for the perishable food industry, has launched.
The launch took place at the annual convention of the International Association of Refrigerated Warehouses (IARW), World Food Logistics Organization (WFLO), and the International Refrigerated Transportation Association (IRTA), held this past April in Phoenix.
These three organizations, along with the International Association for Cold Storage Construction (IACSC) are the four "core partners" of the Alliance. All are managed by a group of association professionals based in Alexandria, VA.
Each offers unique value in a critical sector of the cold chain and across many international boundaries. Bill Hudson, president and CEO of the four Core Partner organizations, describes three critical trends facing the cold chain industry that drove the formation of the Alliance.
"First, we're seeing increasing integration in the business models of PRWs, from warehousing to logistics providers.
Refrigerated warehouses have invested in trucking assets and are entering arrangements and structures with customers," he says.
"Second, we see an evolving international business structure. As we did more work in emerging economies we saw that so often a single company would operate all aspects of the cold chain from food production to food delivery. In many countries, the third party provider is a developing concept.
"Third, we continue to work to reinforce the core competencies of the industry maintaining proper temperature and instilling best practices. It is important that we connect links from manufacturing, transportation, warehousing and logistics to retailing."
Hudson says the goals of the Global Cold Chain Alliance include:
Build relationships and networking for business and trade across the cold chain, delivering greater exposure, relationships and opportunities to members.
Integrate international cold chain organizations with which we are forming partnerships, thereby increasing communication and an exchange of information and expertise.
"The Alliance allows us to build a larger leadership role in our ever-changing food industry," Hudson adds. In addition to the Core Partners, he says the Alliance will include organizations that represent processing, cold storage, refrigerated transportation, retail, specific commodities, government, and educational institutions.
Royal Ahold To Spin Off U.S. Foodservice
Two investment firms have reached an agreement to acquire U.S. Foodservice, the second largest foodservice distributor in the U.S., from Royal Ahold N.V.
Clayton, Dubilier & Rice Inc. (CD&R) and Kohlberg Kravis Roberts & Co. L.P. (KKR), equal partners in the transaction, will acquire U.S. Foodservice for $7.1 billion.
With revenues in 2006 of more than $19 billion, U.S. Foodservice's operations cover a geographic area in which over 95 percent of the U.S. population resides. The company provides food and related products to independent restaurants, healthcare and hospitality customers, educational institutions and multi-unit restaurant companies.
"KKR has a long history of acquiring industry-leading franchises. U.S. Foodservice has built one of the leading businesses in the foodservice distribution industry, with a wide range of growth and operational improvement opportunities," says Michael M. Calbert, a member of KKR.
"We and our partners at CD&R look forward to working with the company's management team, which has done an excellent job of refocusing the business in recent years, to continue executing the strategic initiatives in place."
"We are pleased to be partnering with two outstanding firms­—two of the oldest private equity firms in the business—which have a great understanding of our industry, from both a financial and operating standpoint," says Robert Aiken, president of U.S. Foodservice. "We have great confidence the strategic and financial support of these two firms will enable us to grow and better serve our customers."
Completion of the transaction is expected to occur in the second half of the year.
U.S. Cold Storage To Double Capacity
United States Cold Storage has announced a massive project involving new construction and expansion of five warehouse facilities in Florida, North Carolina, Pennsylvania and California that will double the company's storage capacity to over 150 million cubic feet by early next year.
"The expansion of our business in each geographic area is based on our belief in the logistical advantages of these locations including the excellent highway, rail and transportation efficiencies they provide," says David Harlan, president and CEO of Cherry Hill, NJ-based USCS.
The five projects also reflect the company's commitment to bringing energy efficient technology and environmentally-friendly systems to its facilities. Citing the new facility in Bethlehem, PA, as an example, the company reports it teamed with M&M Refrigeration, Federalsburg, MD, to develop an all new CO2 refrigeration system designed to maximize efficiency and minimize contamination risks. This technology will also be installed in future facilities.
The five projects are in Fresno, CA; Lake City, FL; Warsaw, NC; and in Hazleton and Bethlehem, PA.
Of the five, three are already underway, with two more scheduled to begin this summer. By 2008, USCS will be able to offer clients temperature-controlled warehousing and handling space in 30 facilities in nine states that include Illinois, Nebraska, Delaware, Tennessee and Texas, in addition to the newest projects.
"These new facilities represent the best the industry has to offer," says Jerome Scherer, vice president of national sales, marketing and governmental affairs.
"As part of the company's mandate to remain best-in-class, we are committed to continuous improvement—always finding ways to better serve the needs of the frozen food industry either with improved efficiency, reduced risk or cost control."
Supermarket Sales Increase In 2006
Supermarket industry sales increased 5.3 percent in 2006, and same-store sales rose 4 percent, the highest mark for this performance measure in more than a decade, according to the Food Retailing Industry Speaks: Annual State of the Industry Review 2007, released last month by Food Marketing Institute at the annual FMI Show in Chicago.
Sales figures were up 4.6 percent and 2.4 percent, respectively, in 2005.
The national chains reported a banner year in sales and profit growth, but the picture was far less rosy for many other retailers. In fact, same-store sales decreased for nearly one quarter (23.5 percent) of food retailers. All together, nearly half (47.1 percent) lost ground in same-store sales when factoring in inflation.
"These results are impressive in view of all the rising costs the industry must bear, including energy, healthcare, credit card interchange fees and the imperative to keep improving products and services in today's extraordinarily competitive marketplace," says Michael Sansolo, senior vice president, Food Marketing Institute, Arlington, VA.
"However, it is also clear that many retailers are struggling to solve the puzzle of cutting costs as much as possible while continually improving customer service," says Sansolo.
The FMI report shows retailers are responding aggressively to diverse and changing customer demands by offering fresh, healthful and convenient products storewide.
They are offering meal solutions in multiple forms, including:
Hot service counters, 89.2 percent;
Self-service refrigerated cases, 83.8 percent;
Made-to-order sandwiches, 71.6 percent;
Soup bars, 67.6 percent;
Catering, 62.2 percent;
Separate checkouts for prepared foods, 58.1 percent;
Salad bars, 56.8 percent;
Sushi stations, 52.9 percent;
Snack/juice/coffee bars, 50 percent.
Raymond Celebrates 85th Anniversary
The Raymond Corp. celebrated its 85th anniversary earlier this month with a day-long event for employees, their families and the local community at its Greene, NY, headquarters. A number of local and state officials attended, as well as representatives from its parent company, Toyota Industries Corp. and Toyota Material Handling USA.
Jim Malvaso, Raymond's president, said it was a great time to recognize its employee's contributions, which have helped make the company a leader in the materials handling industry.
"Our desire here is to continue the economic development by bringing people, products and suppliers into this area. Right now, we do business with about 200 companies in New York State," he said.
"I think that's very important that we continue to grow the manufacturing base of New York State and in Chenango County and this tri-county area overall."
Raymond was founded in 1922, when George Raymond Sr. purchased Lyon Iron Works, a small foundry in Greene, NY. The company has invented and patented technologies that have become industry standards, such as the hydraulic hand pallet truck, the double-faced pallet and the narrow aisle reach-fork truck. It continues its tradition of innovation by researching ways to improve material handling performance through new technologies such as fuel cell-powered and RFID-enabled lift trucks.
Raymond also unveiled two counterbalanced lift truck models for tough dock applications or dock-to-stock needs. The Model 4200 is designed for warehouse systems and other high-productivity applications with load capacities from 3,000 lbs. to 5,000 lbs. The Model 4100 has the power and stamina for demanding dock applications, and features a load capacity of 3,000 lbs. or 3,400 lbs.
"The three-wheeled stand-up design on these trucks provides a smaller turning radius for greater maneuverability and easier handling in tight spaces," said Jeff Leggett, director for counterbalanced trucks.
Raymond also rolled out the Model 4400 three-wheel, sit-down electric lift truck that is ideal for numerous applications—from heavy-duty dock operations to higher-speed transport for supplying rack systems and moving picked orders. The attachment-ready truck handles cartons, paper rolls and slipsheets with ease and has lift capacities from 3,000 lbs. to 4,000 lbs. "The Model 4400 can move easily through doorways and into low shipping containers and trailers," said Leggett.
4Front Engineered Solutions Takes The Show On The Road
Coming soon to a location near you is the 4Front Engineered Solutions mobile showroom—a 53-foot semi-trailer that showcases the latest dock and door products from the Carrollton, TX-based company.
The trailer is equipped with 4Front's full line of dock levelers, vehicle restraints, doors, control panels, seals and shelters and other product solutions.
"It's outfitted with full-size, working equipment that we can demonstrate to customers at their locations," says Steve Sprunger, vice president of sales and marketing. "The idea is to bring our solutions to the customer in order to enhance their design, evaluation and selection process."
The enclosed and air-conditioned interior provides a comfortable and interactive learning environment. In addition to the equipment, the trailer incorporates a state-of-the-art audio/visual system including a satellite dish and 42-inch LCD monitors that allow customers access to live streaming video of 4Front's manufacturing facilities.
One side of the trailer slides out an additional four feet to accommodate group demonstrations, AIA and other related dock education programs as well as operator and service training.
The trailer has been on the road for the past six months and has been a big hit with customers, says Michael Brittingham, 4Front's manager of marketing services. "They appreciate the fact that they can get hands-on experience with the equipment without having to travel far from home," he says. "And they're able to bring in employees that might not get an opportunity otherwise to test our products."
A typical "tour" of the showroom takes about an hour.
Crown Rolls Out RC 5500 Series Lift Truck
Crown Equipment Corp. recently unveiled its latest stand-up counterbalanced lift truck, the RC 5500 Series, to reporters who had gathered at its New Bremen, OH facility.
At the RC 5500 Media Event, Crown's director of marketing and product management, Matt Logan, talked about the company's new slogan: "Technovation," which he described as "the fusion of technology and innovation."
Technovation fuels the creation of Crown's line of products and is visible in everything the company does, on down to the individual components that make up the RC 5500, including its frictionless braking system and Intrinsic Stability System.
The lift truck has been designed to provide the operator with an increased view, allowing them to better see what's around them in the warehouse or tractor trailer, thereby increasing safety and throughput.
When operating a stand-up counterbalanced lift truck, operators tend to look down the right side of the lift truck while they're working. With this in mind, the RC 5500 Series was designed with a curve to the right side, creating a better view of the front right corner. There is also an orange indicator on the fender, which the operator can use as a visual reference point in low-light scenarios.
In addition, the mast and pillar design allows for more visibility by aligning the right pillar directly behind the forklift mast, thereby eliminating it from the operator's line of sight. Crown has also angled the left pillar to allow for more line-of-sight space between it and the left forklift mast.
Another safety feature on the RC 5500 is an entry bar safety switch on the lip of the floor board, which automatically stops the vehicle if the operator places their foot over the bar and outside the truck while the vehicle is in operation.
GMA To Study Better Ways To Use DSD
Grocery Manufacturers Association has chosen Durham, NC-based Clarkston Consulting and Boston's AMR Research to conduct a study of how CPG companies and their trading partners can more effectively employ direct store delivery (DSD) as a marketing tool.
"Our mission is to help our member companies grow and we believe a key component of that involves looking at the effective use of DSD," notes Pamela Stegeman, GMA's vice president of supply chain and technology. "Our hope is that this study will promote industry dialogue and help change the perception of DSD from a distribution model to a marketing/sales execution model."
"Product availability and effective merchandising have dramatically increased in importance compared to traditional marketing tools such as advertising," adds Thomas Bornemann, managing partner of consumer products at Clarkston. "DSD is one of the most effective methods available—not only in terms of influencing product presence at the store shelf, but also in growing revenues when used as an extension of the marketing and sales execution model."
Earlier GMA studies on the effective use of DSD have looked at ways for trading partners to boost efficiency by adopting best practices.
This latest study, "Growing through DSD," will build on the previous reports by investigating how closer collaboration with retailers can help create demand, improve supply chain effectiveness and, ultimately, better serve consumer needs. The study will additionally identify the many benefits that DSD provides to retailers in expanding their businesses.
For the study Clarkston will re-examine statistical information from GMA's 1999 study, "The Power of DSD," particularly data related to purchase frequency, new product introductions, inventory efficiencies, category growth, and the effectiveness of promotions.
A crucial feature of the study is to illustrate the DSD model of the future. Clarkston has suggested that CPG companies should use DSD strategically, rather than simply as a distribution method, by using a model based on extensive collaboration with retailers, in which intelligent, fact-based DSD becomes an integrated part of marketing and revenue-generating activities.
Fenway Partners, Roadlink Acquire World S.S. Inc.
Fenway Partners, the NY-based private equity firm, in conjunction with its intermodal trucking and logistics portfolio company RoadLink USA, has entered into an agreement to acquire World S.S. Inc. (WSS), a North American unloading and outsource warehouse services provider in Phoenix.
WSS represents Fenway's 20th acquisition in the transportation and logistics space. Financial terms of the transaction were not disclosed.
"WSS is a complementary addition to Fenway's portfolio of transportation and logistics investments," says Marc Kramer, managing director of Fenway Partners and co-head of the firm's transportation and logistics practice.
"The company fits Fenway's investment criteria, as it holds a strong position in an attractive niche of the logistics industry, operates in a highly fragmented market, and has an outstanding ability to generate free cash flow."
Founded in 1978 by Chairman Don An, WSS is a leader in the $22 billion value-added warehousing and distribution segment of the third party logistics industry, and is a leading provider of unloading services.
In addition to unloading, WSS offers a range of services to warehouse clients and the common carriers delivering to them, including palletizing, order selection and staffing for special projects such as short-term backlog reduction.
Boasting a national footprint, the company currently operates in 35 distribution centers across the U.S., and has a particularly strong presence within the grocery industry, with Safeway, Kroger, Supervalu and Albertsons as clients.
As part of the transaction, WSS will become a division of RoadLink USA. WSS president John Boultier and other members of the WSS management team will continue to serve in their current roles and be located in the company's headquarters.
Companies in this article