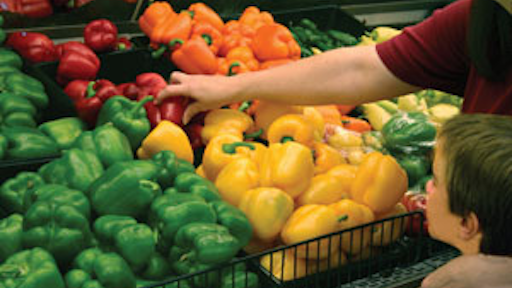 Wakefern Announces Expanded Wholesale Sales Operations
After more than 60 years of selling almost exclusively to its ShopRite members, Wakefern Food Corp. is expanding its wholesale sales to other supermarkets and institutional customers––both within and beyond its traditional Northeastern market.
Joe Colalillo, Wakefern's chairman, says new customers will benefit from Wakefern's buying power and expertise in procurement, with the company's full range of brands, products and services available to them.
"The key to ShopRite being the recognized low-price leader is our ability to effectively manage the acquisition cost of our products," Colalillo says. "In essence, our focus on the top line is going to be reflected in our customers' bottom line."
The marketing and distribution arm of ShopRite supermarkets, Wakefern was founded in 1946 as a buying cooperative of eight member grocers in New Jersey. It is now the nation's largest retail cooperative, with 43 members, 200 ShopRites and more than 30 PriceRite stores in Connecticut, Massachusetts, New York, Pennsylvania and Rhode Island.
Colalillo adds that Wakefern's cooperative structure and the independence of its member-owners in operating their ShopRite stores also will enable the company to create wholesale programs that meet customers' specific needs.
Dave Baer, who last fall became director of wholesale sales and is leading the growth initiative, says the Elizabeth, NJ-based company recently began selling more than 300 ShopRite-brand grocery and non-food items to Heinen's Fine Foods, a 17-store chain based in Ohio. Previously, the brand was available only at ShopRites in New York, New Jersey, Delaware, Connecticut and Pennsylvania and in a few other supermarkets overseas.
"Our relationship with Heinen's is really a win-win because they're now able to offer their customers a full range of high quality, value-priced products that are unique in their markets," says Baer.
PRW Crisis Management Advisory Group Formed
The PRW Crisis Management Advisory Group has been formed to strengthen the capacity of cold storage companies to rapidly and effectively respond to serious and unpredictable crises.
A team of six senior managers from leading cold storage warehouses wants to sound the alarm throughout the public refrigerated warehouse industry that "being prepared is not an accident" and encourage their colleagues to take an active management role in the crisis management education and training of their facility teams.
"Every company and every facility in our industry must be prepared for the unthinkable," says Darryl Kawano of Unicold Cold Storage in Hawaii. "We hold millions of pounds of product in nearly every facility. While catastrophic events are rare they still happen. To not be prepared is to put your people and company at risk."
The PRW Crisis Management Advisory Group is composed of Kawano of Unicold Cold Storage (HI); Frank Breen of Seafreeze Cold Storage (WA); Doug Thomas of Bellingham Cold Storage (WA); Bonnie Geise of SCS Refrigerated Services (WA); Mike McClendon of Richmond Cold Storage (VA); and Ken Johnson of Merchant's Terminal (MD).
Longtime industry veteran Benjamin Milk, retired IARW vice president, serves as counselor to the advisory group.
The advisory group works closely with The Communications Workshop, LLC which presents the Coping With Crisis 101-Managing a PRW Disaster training course. Each of the advisory group companies put their professional teams through this unique training course specially designed for cold storage warehouse facilities and encourage their industry colleagues to do the same.
The PRW Crisis Management Advisory Group held its organization meeting in late June and met again at the IARW Assembly of Committee Meetings held earlier this month in Washington. For more information, go to www.thecommunicationsworkshop.com.
On-Line Grocer Celebrates Five Year Anniversary
FreshDirect, one of the nation's leading on-line gourmet food manufacturing and delivery services, celebrated its five year anniversary earlier this month.
Operating out of a single warehouse in Long Island City, FreshDirect has watched its business grow year-by-year, churning out an average of 40,000 orders per week.
Twenty-five percent of customers who placed orders during the company's first week of business are still avid FreshDirect users and to-date, FreshDirect has had more than 462,000 unique customers.