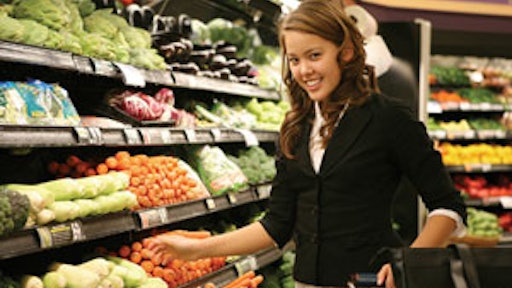 Stolen Trailer Found,Tainted Meat Missing
American Fresh Foods, a Fort Worth, TX-based meat processor, reported some 14,800 pounds of ground beef products were stolen from its parking lot last December 17.
Some of the product had tested positive for E.coli bacteria and was pulled back from sale to grocery stores and food-service operations. It was temporarily stored in a refrigerated truck on the plant's property. The trailer also contained some uncontaminated beef products that were close to their expiration date.
"Consumers need to know that our meat products being sold through normal retail channels-such as grocery stores-are safe," says Tim Biela, chief food safety and quality assurance officer for American Fresh. "Our primary concern, however, is for the safety of those people who may be persuaded to buy beef products under questionable circumstances. Our first priority is their safety. We do not know how this product has been handled since it left our control. The stolen truck had only a limited supply of refrigeration fuel."
The trailer was eventually found in Dallas, but according to published reports, more than 80 percent of the ground meat products, including some that tested positive for E. coli bacteria, are still missing.
Supervalu Closing Warehouse In Lehigh Valley, PA
Supervalu Inc. is closing its warehouse facility in suburban Allentown, PA later in the year. Phillips Feed and Pet Supply, a local pet supply distributor, bought the building in November and will move in sometime thereafter.
Supervalu said last year it planned to shut the warehouse down within three years. It bought the facility in 1994 when it took over the now-defunct Laneco supermarket chain.
The Minneapolis-based company said it plans to consolidate operations into a large warehouse facility in Denver, PA. The warehouse closing will affect 125 employees, some of whom may be offered jobs with Phillips Feed and Pet Supply when it officially takes over.

Safeway Reduces Carbon Footprint With Green Trucks
Safeway Inc.'s fleet of more than 1,000 trucks nationwide will run on cleaner-burning biodiesel fuel. This is the latest step the Pleasanton, CA-based grocery store chain is taking in an initiative to reduce its carbon footprint.
The trucks will operate using a blend of traditional diesel and biodiesel fuel, derived from vegetable oils or animal fat instead of petroleum. Safeway estimates the switch will help reduce its annual carbon dioxide emissions by 75 million pounds, the equivalent of taking nearly 7,500 cars off the road annually.
"Our customers care about these types of sustainability issues and we are proud to be a leader in environmental best practices," says Joe Pettus, senior vice president for energy operations.
The trucks are part of its larger Greenhouse Gas Reduction Initiative, which is designed to manage the chain's carbon footprint, address climate change and reduce air pollution.
Aurora Organic Dairy To Reduce Carbon Emissions
Aurora Organic Dairy, a Boulder, CO-based private-label organic milk producer, is beginning a venture with the University of Michigan to measure and reduce its carbon emissions.
According to Aurora, the research is going to be funded by the newly-established Aurora Organic Dairy Foundation, whose first grant of $320,000 will fund the research partnership with the Center for Sustainable Systems at the university in Ann Arbor, MI.
Initially, the study will focus on developing an energy and carbon footprint model, creating a baseline against which Aurora Organic can make improvements.
The research will look at the entire product life cycle, including growing cattle feed, manufacturing and distribution to store shelves.
Schwan To Shutter Spartanburg Plant
Schwan Food Co. is closing its pie manufacturing facility in Spartanburg, SC, just five years after it bought the plant. The plant employs 525 people. Schwan obtained the plant after it bought Mrs. Smith's, a dessert manufacturing subsidiary of Flowers Food Inc., in 2003.
Senior vice president Bill McCormack notes that work from the Spartanburg plant will be moved to the Schwan dessert plant in Stillwell, OK.
"The Stillwell plant has a capacity of 630,000 square feet," McCormack says. "You can imagine how big that is. There is room for expansion, to continue the operations and be more efficient. That is important to us."
Schwan, based in Marshall, MN, will continue to operate a dessert plant in the Atlanta area as well as the Stillwell plant. According to McCormack, the Spartanburg plant closure is driven by the need to be more efficient and more competitive.
"Every company is faced with increased costs," McCormack notes, referring to increased fuel prices and increases in the ingredients used to manufacture foods.
McCormack says Schwan will likely sell the Spartanburg plant. "We will look for a buyer who can use that type of facility, another food manufacturer."
Companies in this article