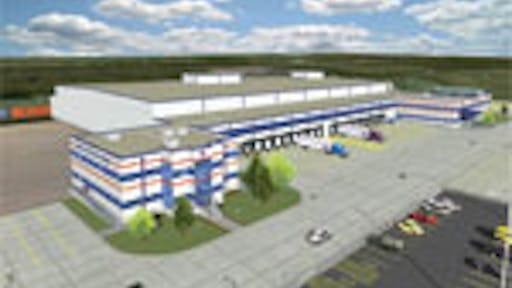 Publix Super Markets Inc., Lakeland, FL, has selected the Transportation Lifecycle Management (TLM) suite from Atlanta-based Manhattan Associates Inc. to optimize its transportation management processes. TLM is an integrated solution that will enable Publix to control its network and make the right transportation decisions across departments based on service needs and costs.
Lithuanian ice cream manufacturer dadu has selected a handheld computer for use in its refrigerated warehousing facilities from LXE Inc., Atlanta. The MX7CS is the smallest, lightest handheld on the market that is specifically designed for use in sub-freezing temperatures (down to minus 30 degrees Celsius).
Watermelon grower and distributor Leger & Son, Cordele, GA, will begin delivering watermelons that can be traced at the individual unit level this month to major food retail chains in the Southeast. The grower is using the HarvestMark solution from YottaMark Inc., Redwood City, CA, to provide traceback and produce information to retail produce buyers and consumers.
Toronto-based Cott Corp. will begin to ship its beverages on plastic pallets from Intelligent Global Pooling Systems' (iGPS), Orlando, FL. The pallets meet all GMA requirements, weigh 30 percent less than typical multi-use wood pallets, are UL 2335 certified fire-retardant and are 100 percent recyclable.
Mission Foods Corp., Oldsmar, FL, has purchased a deep lane pallet flow system from Westfalia Technologies Inc., York, PA, for its flour tortilla and chip foodservice distribution facility in Roanoke, TX. The system is designed to handle larger product flows throughout the warehouse by providing higher density storage.
Winn-Dixie Stores Inc., Jacksonville, FL, is working with manufacturers to better align merchandising, marketing and store operations, with a focus on driving more traffic to stores, increasing the average basket size per customer visit and enhancing customer satisfaction. To support this effort, the supermarket retailer is working with IBM, Priva Technologies and True Demand Software.
Bumble Bee Foods, San Diego, has selected Des Plaines, IL-based DSC Logistics to provide the food manufacturer with logistics management services out of DSC's Mira Loma, CA, Logistics Center. DSC will provide inventory management as well as transportation services.
METRO Group's Future Store in Toenisvorst, Germany is using Avery Dennison RFID AD-222 inlays for a meat tracking pilot program. The AD-222 inlay will be used to tag the foam meat packing trays used in METRO's Future Store. The meat tagging application will help METRO better manage the flow of its perishables.
Spartan Stores Inc., Grand Rapids, MI, is rolling out a computer-assisted ordering system (CAO) to its corporate stores. The system applies to warehouse-supplied items, but Spartan has begun to automate ordering of direct-store delivery items through one of its vendors.
Companies in this article