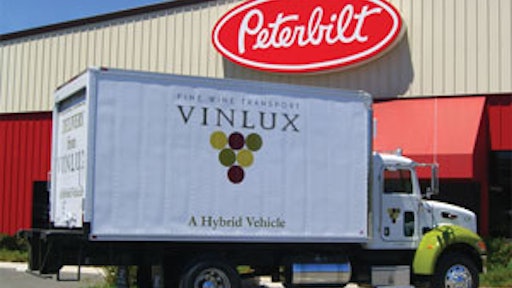 Wine Distributor Goes Green With Hybrid Trucks
Peterbilt rolls out electric-diesel vehicles that cut fuel costs, emissions.
VinLux Fine Wine Transport, a wine distributor based in Napa, CA, is using two temperature-controlled hybrid electric medium-duty trucks to reduce fuel costs and emissions.
The Model 335 hybrid trucks are the first production models produced by Peterbilt Motors Co., Denton, TX. Last month, VinLux began using the trucks to service restaurants and retailers in the San Francisco Bay area from its Napa warehouse.
"We're committed to going green and protecting the Californian environment, and Peterbilt hybrids are a perfect solution for us," says Fred Biagi, owner of VinLux, a joint venture between warehousing and transportation company Biagi Bros. Inc. and Jackson Family Estates.
With diesel costs around $5 a gallon in California, the company expects to see a 30 percent to 40 percent improvement in fuel economy. The hybrids costs about 40 percent more than a regular truck, but Biagi estimates a 20 to 30 month payback based on fuel savings and tax incentives. The tax credit, currently available through 2009, is up to $12,000 for the Class 7 hybrid.
VinLux plans to use the hybrids in urban areas such as San Francisco, where frequent stops maximize regenerative braking, which allows vehicles to recoup some of the energy that is lost during stopping. The company has 35 trucks making deliveries from the Napa location as well as a warehouse in southern California. Biagi says that any new trucks added in the future will be hybrids.
"We expect that fuel efficiency and energy savings will be impressive while driving our high profile delivery routes," says Tom Tunt, president of VinLux. "Peterbilt's hybrid technologies will be an important component of our efforts to reduce our carbon footprint while still meeting the delivery needs of our California customers."
The vehicles were jointly developed with Eaton Corp., Cleveland, which has spent years developing a hybrid drive system for heavy vehicles.
The Model 335 is designed for a variety of applications, including inner-city pickup and delivery and beverage--making them a good choice for food and beverage distributors. According to Peterbilt, the truck utilizes components that provide up to an 80 percent reduction in engine idling in addition to the fuel efficiency gains.
The truck uses Eaton's hybrid electric power system with an electric motor that assists the PACCAR PC-6 engine with supplemental torque for improved fuel economy. The system stores energy during regenerative braking and then reuses it for acceleration. Fuel use, emissions and noise are greatly reduced.
In addition, Peterbilt is working on a Class 8 Model 386 hybrid electric tractor for WalMart's private fleet. The vehicle is expected to cut fuel use by 15 percent through improved over-the-road efficiency and by providing no-idle cooling, heating and electric power. The company expects to begin production of the vehicle by the end of 2009.
Peterbilt also announced a demonstration tour to allow prospective customers in the United States and Canada to evaluate the hybrids for applications such as beverage and delivery trucks. For more information, visit www.peterbilt.com.
---
Hennisngsen Selects On-Demand TMS
Henningsen Cold Storage, Hillsboro, OR, has chosen LeanLogistics' On-Demand TMS to manage inbound and outbound transportation from its frozen and refrigerated distribution centers.
LeanLogistics, the Holland, MI-based division of CHEP, will centralize transportation management for the entire Henningsen network from its load control center in its Scranton, PA distribution center. Centrally managing both inbound and outbound operations will allow Henningsen to eliminate inefficiencies in its transportation operations, lower freight costs and better meet customer delivery expectations.
Henningsen's business has been rapidly expanding. The company was recently selected by the Port of Benton, WA, to manage a new freight Transload Center in Richland, WA, and plans to build a 5million cubic foot temperature-controlled distribution center in Portland, OR.
---
FDA Approves Irradiation For Spinach, Lettuce
Amid increasing outbreaks of foodborne illness tied to produce, the government said it will allow growers to begin treating fresh spinach and iceberg lettuce with irradiation, to kill any present E. coli and other dangerous germs.
It is the first time the U.S. Food and Drug Administration has allowed any produce to be irradiated at levels needed to protect against pathogens. The agency says it determined that modern irradiation techniques can kill food-poisoning germs without compromising the safety or nutrient value of raw spinach and lettuce.
The FDA also is reportedly assessing the possible use of irradiation on other types of produce.
Caroline Smith DeWaal, food safety director for the Center for Science in the Public Interest, says while the process "may be safe and effective in treating some pathogens, it is not--and should not--be mistaken for a silver bullet. CSPI has urged FDA to adopt a series of preventive measures starting at the farm that could control foodborne pathogens.
The Washington-based Grocery Manufacturers of America supports the FDA's action.
"This decision by FDA is a significant step forward in helping to improve the safety of fresh produce.This technology is simply one more tool that industry will have at its disposal to provide consumers with safe food products," says GMA's Robert Brackett, chief science officer.
"However, the adoption of this technology cannot in any way serve as a substitute for industry adherence to good agricultural and sanitary practices that are so essential to maintaining a safe food supply. GMA has been an outspoken advocate for making these good agricultural practices mandatory and today's announcement in no way alters that position."
---
ATA Introduces Line Of Trucking Solutions
The American Trucking Associations has launched ATA Business Solutions, a line of information products, business tools, services, training programs and conferences specifically designed to address the critical issues affecting trucking- related companies.
"We are bringing together some of the top minds in the industry to tackle the most pressing business issues, such as fuel efficiency, state taxes, driver safety training, security and much more," says Bill Graves, president and CEO of the Arlington, VA-based trade group.
"ATA Business Solutions are an ATA service designed to help make trucking-related companies more profitable and efficient in today's difficult economic times."
ATA Business Solutions are developed and approved by top trucking-industry professionals and they are tailored to all segments of the industry, from large fleets, to owner-operators, to companies whose business depends on trucks to deliver their goods.
Initially, ATA Business Solutions will focus on the following areas:
• Accounting, tax, finance and risk:
• Safety;
• Technology and maintenance;
• Fuel economy/efficiency;
• Economics;
• Security and loss prevention;* Information technology and logistics.
A few of the ATA Business Solutions being launched include:
• ATA Safety on Demand, a revolutionary web-based system that will help companies provide critical driver safety training any time, any where there is an internet connection;
• ATA Online State Tax Guide, a trucking-specific state tax guide available for all of the 48 contiguous states;
• ATA Fuel Crisis Survival Kit, which will provide trucking-related companies with a comprehensive approach to reducing fuel consumption and costs.
In addition, ATA Business Solutions will include the complete line of the industry-standard ATA Technology and Maintenance Council (TMC) products and services, as well as ATA's industry economics reports.
---
Anheuser-Busch To Brew With Renewable Fuel
By the end of 2009, Anheuser-Busch Cos. Inc. says that one-in-seven beers it produces will be brewed using renewable fuel. This will account for 15 percent of its sourced energy.
The company's breweries in Houston and Fairfield, CA, are now installing brewing technology that will be fueled by alternative energy sources and should be running by the end of 2008. Both breweries will use a technology that turns brewing waste water into fuel, called BERS or bio-energy recovery system.
Currently, the brewery in Houston also uses bio-gas from a nearby landfill. In addition to the two plants, the company is building a BERS system at its brewery in Williamsburg, VA, as well as at seven other plants.
Headquartered in St. Louis, Anheuser-Busch expects that more than five billion 12-oz. servings of beer will be brewed using renewable fuel by the end of next year.
METRO Group, DHL Start RFID Rollout In France
Next month, METRO Group and DHL will begin the first national rollout of radio frequency identification (RFID) in France.
DHL, a third-party logistics provider based in Bonn, Germany, will equip all pallet shipments to the 89 METRO Cash & Carry self-service wholesale stores in France with RFID tags.
DHL will tag some 1.3 million pallets per year at five of its distribution centers to facilitate automated monitoring of the supply chain. The tags will be read as the pallets are loaded onto delivery trucks and transmit the shipment data to METRO Cash & Carry. The pallets will be read again as they are received at the retail stores and the data will be compared to the previously-sent order and shipment information to verify delivery accuracy.
The companies say it is the largest RFID rollout in France. "This project is setting the trend for the whole logistics industry as it brings the era of pilot projects in the RFID technology to an end," John Allan, CFO of Deutsche Post World Net, DHL's parent company, said in the announcement. "RFID is ready for everyday use."
DHL says it expects the project to send a signal to the entire retail industry. METRO Group is the first retail company to join the DHL Innovation Initiative, whose members are primarily technology companies.